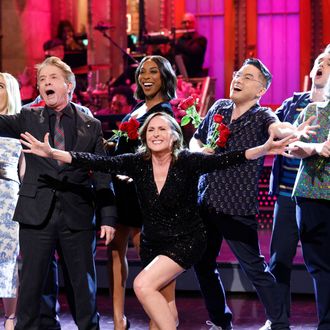 SNL was forced to prematurely shut down production on its 48th season after the WGA strike took effect in early May, so naturally, Lorne Michaels has been using this extra time to get a jump on some party planning. Specifically, the SNL creator has been thinking ahead to the start of the show's 50th season in fall 2024 and how he plans to celebrate this milestone.
The festivities, he announced during a public appearance at the Cannes Lions Festival, will include a big blowout extravaganza at Radio City Music Hall in New York featuring music and stand-up linked to the show's legacy and much more. ​​"Right now, there's a Friday event at Radio City — a kind of homecoming night," Michaels said. "It will have musical acts and stand-ups. Throughout the show, musical things that the cast have done over 50 years will be live. It will probably be streamed because the language won't be in control, and it will take as long as it takes." Michaels added that celebrations will be tied to the start of the 2024 Olympics in Paris, that "there are some documentaries being made" about the show's anniversary, and that planning has already been underway for six months, despite the event being a year and a half away. "It will be emotional, but everyone will show up because it's important," he noted.
Of course, before there can be a 50th season of the show, there must be a 49th season of the show — an uncertainty at the moment because of the ongoing writers strike. Michaels said he hopes it will conclude in time for the start of the next season, but that he understands the underlying issues at play. "I've been in the [Writers] Guild since 1968, so I've seen a fair amount of this," he said. "I'm obviously a supporter, and I hope it gets resolved. But that decision will get made, probably, on the West Coast."
Still, assuming the writers strike does not go on indefinitely, this big party will likely go forth as planned. And if the stories for the show's 40th anniversary in 2015 are any indication, it will be a much-talked-about affair. Perhaps it's why Michaels has indicated in the past there will be no plus-ones allowed.