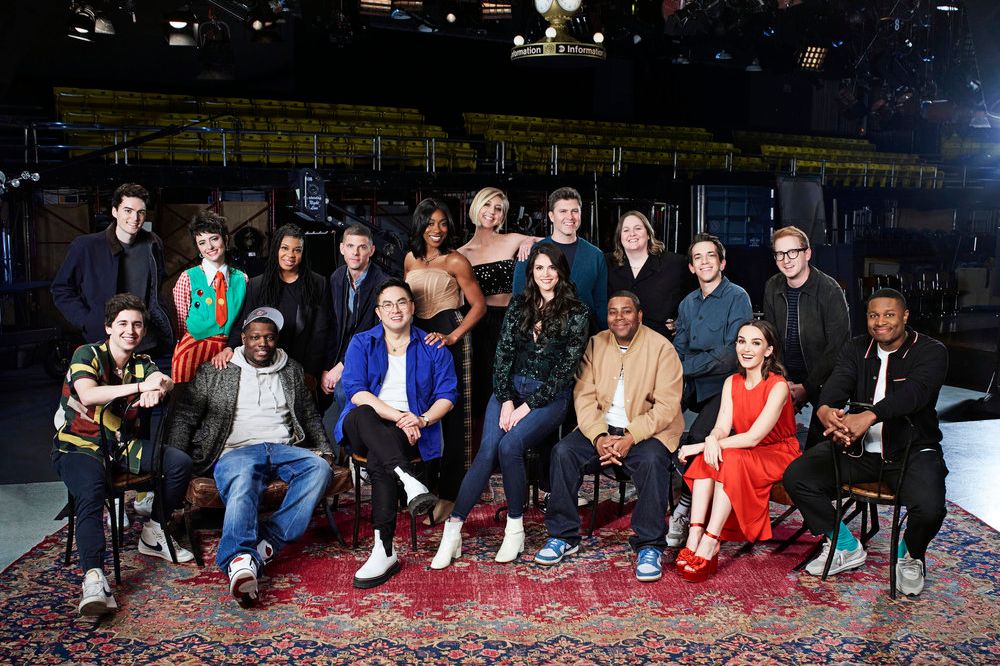 Photo: Mary Ellen Matthews/NBC/Mary Ellen Matthews/NBC
Saturday Night Live's transitional seasons are said (usually by us) to be cursed. Season 48, which by Lorne Michaels's own admission was a "transition year," saw the exit of eight cast members from the show. It was the largest exodus since 1995, when most of the cast left or was fired, including Chris Farley and Adam Sandler, to make way for then-relative unknowns such as Will Ferrell and Cheri Oteri. And while it was indeed sad to see stalwarts like Kate McKinnon and Aidy Bryant exit Studio 8H last year, the show has been (at least according to this author) long overdue for a reinvention. It's the circle of life: Seasons change, SNL gets an overhaul, the world spins madly on.
The cast, which has been bloated for years, shrunk from 21 to a very manageable 17 this season, allowing much more space for featured players to shine and new Supremes to emerge from the more experienced repertory players. But season 48 wasn't also without its difficulties. The show was not immune to strike season; it faced not one but two strikes in a matter of months. The first came from its post-production team (which thankfully ratified a contract in March), and the second from the WGA. The latter halted production on the season's final three episodes, including one that Pete Davidson was slated to host (perhaps mercifully; you shouldn't host SNL less than a year after leaving its cast!). But how did all of these changes affect who actually showed up onscreen this season?
That's where we come in! Here at Vulture, we've employed a points system for years now to calculate how screen time gets divided among SNL cast members. The system, which was founded at Splitsider and honed to perfection by our own Bethy Squires, awards tiered points to cast members in each sketch. Here's how it works: If you're the star of the sketch, that's three points; if you get to deliver a joke, that's two points; and if you appear onscreen at all (as a waiter, let's say), that's one point. Anyone who plays a "Weekend Update" character gets three points, with Michael Che and Colin Jost also scoring three points each for anchoring the segment every week. Since they aren't credited as official cast members, the members of Please Don't Destroy are awarded three points as a unit for any of their sketches that make the broadcast. Anyone in an ensemble sketch gets two points, and extra points are awarded for applause breaks and virality. Speaking of bonus points, whoever says "Live from New York, it's Saturday Night!" at the end of the cold open is awarded one point. Here's our breakdown of who got to say that line the most this season:
Lest you think we've forgotten about "Cut for Time" sketches, we unleashed the points system on those as well. While they didn't factor into the overall screen-time score, it's still interesting to see what could have been:
And without further ado, the star of the show herself, the screen-time pie chart:
Musical Guest: 0.98%
Without a doubt, the most viral sketch of season 48 was "Big Boys," a pretape starring musical guest SZA during Keke Palmer's December 4 episode. The song, extolling the virtues of dating a big boy during those cold, cold winter months, exploded on TikTok, leading many to believe that "Big Boys" was an actual SZA song. But other than SZA's viral appearance, musical guests appeared in sketches only three times this season. This is a shame, because it's always fun when they show up (aside from "Big Boys," we had Lizzo absolutely nailing her line delivery in Please Don't Destroy's "Plirts"). It's also important to note that though Megan Thee Stallion and Jack Harlow pulled double duty as musical guests and hosts this year, their appearances in sketches in their capacity as hosts didn't count toward this category.
Please Don't Destroy: 1.90%
Please Don't Destroy carved out a solid presence on SNL during season 48, doubling their screen-time percentage from last year and making it to broadcast consistently in the back half of the season. Their pretaped sketches often made inventive use of episode hosts, like the sketch, above, starring Travis Kelce as a self-defense instructor; this one with a note-perfect Woody Harrelson; and "Molly Shannon 2K23," which is more or less the exact premise of this sketch from 2021, but we'll give it a pass (it's Molly Shannon!). Though PDD members Martin Herlihy and John Higgins didn't escape last year's Great Nepo Baby Debate unscathed, the group has more than justified their spot on the show as unofficial cast members and torchbearers of the SNL Digital Short.
Colin Jost: 3.11%
Colin Jost stuck to the "Weekend Update" desk alongside Michael Che entirely this season, making no errant appearances in sketches or cold opens like he did last season. But his work opposite his nemesis, Sarah Sherman, did continue in an official segment called "Sarah News," which was great to see, because Jost is at his best when he's in a state of uncomfortable embarrassment. This leads us to both Jost and Che's finest moment this season: an April Fools' prank, which we'll get more into below. Suffice to say that it's nice to see whenever the two anchors let loose a little and break out of the strict setup/punch-line "Update" format.
Michael Che: 3.16%
Che is ranked just slightly above Jost thanks to his brief appearance in the Please Don't Destroy sketch "Chelsea," but his true star turn was in the aforementioned April Fool's prank. During the "Weekend Update" following Trump's indictment, Che revealed that he apparently told the audience not to laugh at Jost's jokes beforehand. You can see the genuine confusion and distress on Jost's face when his first full minute of "Update" jokes bombs. The jig was finally up when an audience member straight up yelled "You stink!" to Jost, prompting Che's confession. Jost's obvious distress and Che's giggling were the undisputed highlights of "Update" this season. We love live TV!
Molly Kearney: 3.39%
It's always a good sign when a new featured player ranks above the "Update" anchors, indicating that they were onscreen for a respectable amount of time (i.e., more than the "Update" anchors). This is luckily the case for Molly Kearney, one of the funniest new presences on SNL this season. Kearney, a stand-up before landing SNL, brought an off-kilter (dare we say … McKinnon-esque?) weirdness to their appearances that instantly endeared us to them. This PDD sketch, as well as this sketch in which they play a world-weary nun, showcased that manic energy. Even in sketches in which Kearney was not the star, like "Choir Practice," their presence added a jolt of fresh and exciting energy.
Cecily Strong: 3.68%
Cecily Strong's final season on SNL ended up being a confusing and abridged one. Strong was absent for the first three shows of the season (she was busy starring in Jane Wagner's one-woman show The Search for Signs of Intelligent Life in the Universe), only to return for six episodes, before leaving SNL for good following the 2022 Christmas episode. This explains her relatively low screen-time score, but wouldn't it just have been easier to exit the show alongside her other departing castmates last season? Regardless, Strong remains one of the best to ever do it. Her final appearance on "Update" as Cathy Anne saw the recurring character finally light her damn cigarette, as she deserves. Watch Cathy Anne hug Jost, above, and try not to shed a tear.
Marcello Hernandez: 4.03%
As a new featured player, Marcello Hernandez made an impressive number of "Update" desk appearances during his freshman season, mostly as himself (though there was one very funny character in there). In his best "Update" appearance, he unpacks the backhanded nature of the internet's favorite compliment ("short king") and gets in a dig at Jost (we love to see it), which you can watch, above. Outside of "Update," Hernandez shined in "Towel Guys" opposite Kenan Thompson. It's no small feat to hold your own in a two-hander with the show's longest-serving cast member ever, and we can only hope that these Guys become recurring characters next season.
Cameos: 4.14%
Though cameos were a little more spread out this season than they were in season 47, the majority of cameo points were still concentrated in two episodes: Jack Harlow and Aubrey Plaza. For the former, it was mostly a matter of good timing: Harlow hosted the Halloween show, which saw the return of Tom Hanks's extremely viral breakout character, David S. Pumpkins (along with SNL alum Bobby Moynihan, who co-created the Pumpkins character and plays his lil' sidekick). For Plaza's episode, there were cameos from seemingly anyone and everyone, from Amy Poehler (which at least makes sense) to the Property Brothers (why?) to President Joe Biden (again, why?). Plaza's episode alone hugely boosted the overall cameo score for the season.
Punkie Johnson: 4.14%
Last year, we wished for more Punkie Johnson, and this year Lorne granted our wish. Johnson's score nearly doubled this season (she hit her 100th sketch during Quinta Brunson's episode), and you could find her everywhere, particularly in ensemble sketches. There she was in "Hot Girl Hospital" alongside Megan Thee Stallion, in "Drug Dealer" with Kenan Thompson, and of course playing Ego Nwodim's defensive sister in "Lisa From Temecula." Not for nothing, she also wrote SNL's biggest original song since "Dick in a Box," SZA's "Big Boys." But perhaps one of the best uses of Johnson was this "Update" desk bit with Mikey Day. Not only is it very funny, it's a sweet showcase of Day and Johnson's friendship.
Andrew Dismukes: 4.49%
This season, Andrew Dismukes continued doing what he does best: playing loud, overbearing weirdos. We saw him as a car salesman with a vendetta against Raising Cane's, an insecure male-confidence seminar instructor, and the bane of Michael B. Jordan's existence — and that was just in one episode! Dismukes continues to shine best when his characters are allowed to be as annoying and unlikable as possible. With each passing season, his online fandom grows, as evidenced by the multiple fan compilations dedicated to him. We're equal parts scared and excited to see what he does next.
Devon Walker: 4.49%
One of Vulture's own 2022 Comedians You Should Know, Devon Walker had a stellar freshman season, appearing in multiple cold opens and sketches as well as a healthy number of "Update" desk bits. Walker's best work was in the sketch, above, in which he plays a self-conscious straight man starring in an HIV commercial. His comedic timing makes that sketch and helps what might seem like a repetitive premise feel new and unexpected each time another punch line rolls around. Walker also revealed himself to be pretty good at impressions — he does an excellent ​​Michael Strahan and got applause-break points for his British rapper "Update" character alongside James Austin Johnson.
Michael Longfellow: 4.60%
Michael Longfellow earned the distinction of highest number of screen-time points out of the four new cast members, largely thanks to his appearances on "Update." As you might have gathered by now, "Update" was a welcome showcase for freshly hired cast members this season, allowing the audience the time to get to know these new faces. Longfellow's appearances on "Update," mostly as himself, gave him the space to stretch outside of sketches, where he was often not the main character. Behind the "Update" desk, Longfellow's low-key, understated delivery recalled the late, great Norm Macdonald. If either Che or Jost decides to retire, we have our pick for their replacement.
Sarah Sherman: 5.92%
Sarah Sherman (née Squirm) continued her SNL ascendancy this year, starring in a number of excellent, weird sketches and, of course, torturing Jost on "Update." Her best sketch of the season, "Eyes," is an exhibit of everything Sherman does best on SNL. There's the body-horror conceit (woman surgically replaces both of her eyes and really wants her co-workers to notice), the goofy execution (said eyes are, in fact, googly eyes), and the complete unearned confidence of the main character: "I'm leaving — not with disgrace but with dignity, elegance, and class," Sherman's character says as she storms out of her work meeting. Elsewhere on "Update," she bullied Jost and declared her love for Senator John Fetterman (he "gives the turkey wattle between my legs something to be thankful for!"). As Sherman told us back in January, "When that fucking turkey wattle that looked like a raggedy pussy lip finally got on TV and was flapping in the breeze, I was like, Period. End of story."
James Austin Johnson: 6.10%
You'd be hard-pressed to find a viral cold open that James Austin Johnson didn't star in on this season of SNL. With the highest number of "Live From New York" points out of all the cast, Johnson's Trump and Biden impersonations anchored the majority of cold opens this season, and we're happy to report that the law of diminishing returns doesn't really apply here. Johnson's Trump is just as funny now as it was when we first heard from him last season. Standouts from this season include Trump's re-creation of the Last Supper ("He did Good Friday; I said why not make it great?"), which you can watch, above, and Trump visiting East Palestine, Ohio, following the train derailment ("I've never seen water so beautiful. Beautiful rainbows and discolorations"). Johnson also branched out from Trump this season, most notably on "Update." Along with Devon Walker, he played a British grime rapper whose catchphrase is "It's pants, mate." And Johnson stopped by the "Update" desk to do a speedrun of random celebrity impressions (he does a killer Bob Dylan).
Mikey Day: 6.44%
Mikey Day stays peeved. Last year, we reported that no one plays an exasperated straight man like Day, and though that remains true, his everyday exasperation often made him the weirdo of the sketch this season. In "Traffic Altercation," for example, his garden-variety road rage at Quinta Brunson's character is so powerful that it transmutes into romance before it circles back to rage when Brunson rebuffs him. In "Jake From State Farm," Day's poor cuckolded husband is both the straight man and the butt of the joke, and in "Spanish Class," his hopelessly white Spanish teacher unravels in the presence of actual Spanish speakers. In all of these instances, Day's relatability is his superpower.
Chloe Fineman: 6.90%
While Chloe Fineman did many an impression this season, from Jennifer Coolidge to Nicole Kidman to Marilyn Monroe, we'd argue that her best work was actually opposite Heidi Gardner. Why this comedic duo has taken so long to reach our screens is beyond explanation, but we now expect to see much more of them together next season. In the greatest example of the Fineman-Gardner dynamic, the duo play Debbie Hole and Stacey Bussy, respectively, Texas moms visiting the "Update" desk who are very concerned about Disney's Hocus Pocus reboot. Fineman more than earned extra applause-break points when Debbie Hole gets possessed by a demon midway through her appearance. Elsewhere in that same episode, Fineman and Gardner play women with no asses in "Workout Class," nearly making host Meg Thee Stallion break. If that's not a badge of honor, we don't know what is.
Ego Nwodim: 7.07%
What is there to be said about Lisa From Temecula that hasn't already been said? Ego Nwodim's breakout character is the star of the best recurring sketch on the show right now. As our own Jesse David Fox put it, "Lisa showcases one of Nwodim's greatest strengths: wholly committing to a character who has the dumbest, smallest game (the comedic idea that the sketch explores and heightens) possible." This is true not only of Lisa but a number of other silly characters Nwodim played this season, like a substitute teacher who doesn't have any idea how to teach, a voice actor who doesn't really understand the assignment, a wife who is very excited about her newly open marriage, and one of the United Tingz of Aubrey. Nwodim is among SNL's greatest assets in a post–McKinnon/Bryant/Strong world, and her extremely high screen-time score reflects this.
Heidi Gardner: 7.88%
Heidi Gardner has the impossible ability to make any of her characters seem entirely improvised, as if they just appear fully formed when she walks out on the Studio 8H stage. In this "Update" desk bit, she plays a Co-Worker Who's Extremely Busy Doing Seemingly Nothing on Returning to the Office, and from the minute she rolls up to Jost with a massive water bottle and a stack of papers, you get her entire deal. Gardner's capacity to fully inhabit her characters (and broadcast their entire deals in seemingly seconds) was firing on all cylinders throughout this season, from the aforementioned Co-Worker, to Abby the Ex-Girlfriend who can't stop crying when she runs into her ex, to the proud pregnant wife of Michael B. Jordan's stripper. As with Nwodim, SNL is lucky to have a comedian so insanely committed to the bit.
Bowen Yang: 8.51%
Remember what we said earlier about new Supremes emerging from the repertory players? Along with Nwodim and Gardner, we were also largely talking about Bowen Yang, who earned an astounding screen-time score of 8.51% this season. Yang was absolutely everywhere during season 48, from cold opens to pretapes to so many ten-to-one sketches. He racked up 17 points for the season premiere alone, the highest number of points for a single episode earned by anyone in the screen-time breakdown — an indicator of both his versatility and ubiquity on the show. He also had one of the more dramatic screen-time increases from last season to this season, pushing his score up more than 3 percentage points. Outside of these numbers, what does all of this tell us about Yang's place on SNL? Mostly that he's well on his way to becoming the biggest star the show has seen in a long time. And if his work in film this year is any indication, SNL may have trouble holding onto him as his career blossoms further.
Kenan Thompson: 9.09%
In an unsurprising but entirely well-deserved turn of events, Kenan Thompson earned the highest screen-time percentage of this season for the second year in a row. Thompson, who has been on the show for 20 years, is an invaluable presence on SNL, never overshadowing others but always doing whatever it takes for the laugh. He is a highly skilled physical comedian, as seen in "Valets," where he runs full speed at Devon Walker (who immediately breaks), and in the sketch, above, where he plays a man who blacks out on a slingshot ride. How he's able to flop around like he's truly unconscious is beyond us, but we're blessed to be able to see it. Thompson is also the king of the underplayed reaction, as in "Couple Goals," where he slowly reveals his deepest fears to his wife, or as the clueless Herschel Walker on "Update" and in several cold opens. The man is nothing less than a living legend, and his screen-time score for season 48 is just one more jewel in his very heavy crown.