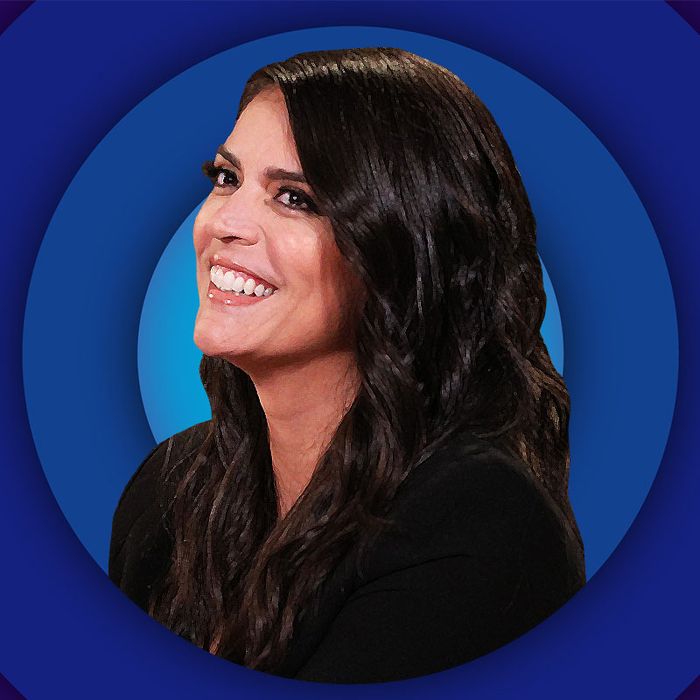 Cecily Strong
Photo-Illustration: Vulture and Instagram
After Kenan Thompson finally got nominated for Outstanding Supporting Actor in a Comedy Series in 2018, I set my sights on trying to get Cecily Strong her first nomination for Supporting Actress. Over the past few years, Kate McKinnon, Aidy Bryant, Leslie Jones, and Vanessa Bayer have all been nominated in the category (McKinnon even won!), and that's great, but for a certain specific collection of Saturday Night Live nerds, the Cecily slight was unfathomable. Strong is one of the great SNL cast members, period. Besides being a real sketch performer's sketch performer, creating characters that are somehow at the same time both big and grounded, she does the little things in the style of Phil Hartman and Bill Hader. She does voice-over in a majority of the commercial parodies, and she'll find ways to make being the straight man in a scene feel specific and funny. My campaign was mostly just tweeting "#Emmy4Cecily" a lot and praying, but it happened: Strong got nominated for her first Emmy this summer! Though I think having her own beloved Trump-adjacent impression in Jeanine Pirro probably did more of the work.
On Vulture's Good One podcast, Strong talks about her take on Pirro, how her love of drag informs her comedy, and finally earning an Emmy nomination. You can read some excerpts from the transcript or listen to the full episode below. Tune in to Good One every Tuesday on Apple Podcasts, Spotify, Stitcher, Overcast, or wherever you get your podcasts.
On Her SNL Impersonations
I never considered myself an impressionist. There's been certain ones that are easy, like Sarah Koenig. I just listened to so much Serial that it was just in my body. I think it helps if you look and already sound a little like someone, or at least have a similar voice. But with [Jeanine Pirro], I think it became clear that this is gonna be more about the attitude, and the clowning part of it, than really doing a great impression of Jeanine Pirro. So it's more when we approach her now, I start with, What's the big thing I can do? I have to at least move laterally. We can't move down. So it's like, "Tucker, I think now I'm gonna throw up red wine all over Colin." That's how we approach it now. Very academically like that. 
On Audience-Free SNL Shows
A Zoom show, it's just difficult. I did Fallon last night, and I kept saying, "I feel like there's blank spaces." And I'm such an anxious person; I'm like, Fill the blank space! Fill the blank space! So I don't really know. It felt like [with SNL at Home] it's important what we're doing, and we're still having fun. But there was also something that was bittersweet in it all. I know this isn't the way we normally do it. I'd love to be doing it the way we normally do it. So I'm doing this as an homage until I can do that again.
On Playing Messy Women
One time, I had an acting teacher tell me I was a tree and not a flower. So maybe it's just easier for me. It's like: I can do a Liza [Minnelli] impression because we both are trying to do Judy [Garland] impressions. And I'm not smooth like Judy. I'm kind of jazzy like Liza. I think that's just because growing up in the Midwest, and my Pilgrim Puritan ancestors, I'm so embarrassed every day walking down the street, just in general. So I'm shocked and appalled and delighted by people who aren't. Like I said, I love reality TV. Anybody who's going to put on a good messy show, a good public freak-out, is like [chef-kissy-fingers sound] a full-course meal.
On Finding Comedy Inspiration in Drag
When you think of comedy queens, you're being an over-the-top female character. I'm always wearing big fake tits, fake nails. That's always been in my closet. So I am dressing in full drag a lot of the time to play, like, But I'm just the housewife in this. Oh, but she's got big ol' titties and wears white flared pants. And so it's still kind of a drag performance in that way. And that's what makes it funny and worthwhile and sort of old school. I'm not saying old fashioned, but in drag there's a vaudevillian, slapsticky kind of thing.
I mean, I don't think I was on purpose trying to emulate drag queens, but I'd always loved drag performances. Even when I was doing a show at the Bailiwick Theatre, where I did a lot of shows as a kid, there was one show called Bitches that I loved that was an all-male cast, but they were all playing high-school cheerleaders. It's that kind of big, broad comedy that's so funny. When I want to play a big character like that, I think that's where the crossover is. But also with drag, it was my way of burying my head in a nice rainbow sand after the election. It was like, I just want to be around things that feel good and celebrate people I care about and lift people and make the world more beautiful. So I kind of really threw myself into watching a lot more drag at that point, just because it was like, This is all that I want to watch. There's too much sad, and this makes me feel really good. And I think it's just a feel-good art form.
On Finally Getting an Emmy Nomination
I lost my cousin Owen to glioblastoma at the start of the year. That's been such a big part of this whole year for me, and I wasn't able to talk about it for a long time. Then with the coronavirus kind of stopping everything, I was finally able to really grieve him and think about him. I've sort of been using him as a navigator for this time and trying to find magic. He told my uncle at one point, "This is the best year of my life." And that was living with brain cancer and doing chemo and polio therapies. And it was like, If he can do that, what a great role model. To be open to nice things happening, even if you're feeling so unsure and everything's kind of scary. So in my head, it felt like a little gift from him. I think even just doing the article in Vulture, so many people read it. Sometimes [with] the Emmys, it's really people going, "We liked this other thing that you did." So I wouldn't be surprised if that article, and therefore Owen, is a little bit a part of it. So I'm taking it that way, a little bit, anyway. And I'm choosing to, because it's a nice way to think about it.