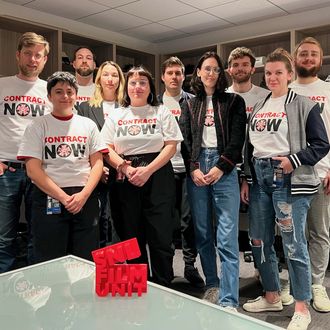 The postproduction editors.
Photo: Motion Picture Editors Guild
Update, Thursday, March 23 at 10:10 p.m.: The U.S.'s comedy-music videos are no longer at stake. Per Variety, Saturday Night Live's postproduction editors unanimously ratified their first union contract on Wednesday night. The deal, which includes immediate pay raises and healthcare benefits, means that there won't be a strike on April 1 after all. "The solidarity and bravery of this crew are just so impressive," Cathy Repola, National Executive Director of the Editors Guild, said. "They fought not just to improve their own working lives; they have also set a standard that will benefit all those who follow in their footsteps at this TV comedy institution." The news comes after a tentative deal with NBC Universal was reportedly reached last week. The inaugural contract is already in effect, and will run until summer 2026. We're sure the crew will celebrate this win with some joyful editing on next weekend's Comedy Halloween episode.
Original story published March 9, 2023 follows.
If you like those pretaped Saturday Night Live sketches — like the "HBO Mario Kart Trailer," "The Actress," or "(Do It on My) Twin Bed" — it's time to root for a union. The postproduction editors at SNL, who edit all those pretapes, will go on strike April 1 if their contract negotiations with NBCUniversal are not worked out, according to the Motion Picture Editors Guild. Issues on the table for the group (which, according to Variety, has between 12 and 20 members) include health benefits and pay equity.
News of a possible strike by the postproduction editors comes after several developments since October 2022, when the group unionized. Following unsuccessful contract negotiations, the union first authorized a strike on January 23 of this year if negotiations stalled, according to The Hollywood Reporter. On February 3, SNL crew members conducted a leafleting campaign, passing out flyers to fans camped out for tickets. Additionally, some SNL cast members, including head writer Colin Jost, wore shirts reading "Contract Now" during the good-byes at the end of the February 4 episode in support of the union.
Per the union, issues include pay that is "far below industry standards" paired with wage increases that do not match an increased cost of living. NBCUniversal is reportedly attempting to get through a "management's rights" clause, which would it the power to change workplace rules without union approval and to subcontract work — which is not the case with NBCUniversal's other collective-bargaining agreements on the show.
"Strikes are not funny, and it's also not funny that NBCU is driving us to take this step to guarantee fair pay and benefits for our members," Alan Heim, president of the Motion Picture Editors Guild, told Variety. According to sources close to the negotiation, Variety reports that NBC has "committed to closing the negotiations by the end of the month and continues to work quickly to reach an agreement." Here's hoping that this works out, so we have a reason to celebrate an SNL episode falling on April Fools' Day Comedy Halloween.