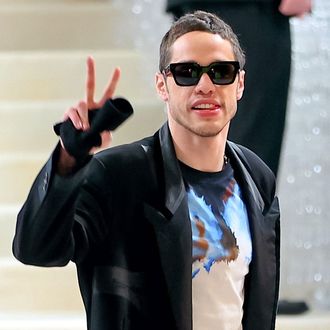 Photo: Jose Perez/Bauer-Griffin/GC Images
It's strike season, baby! Hollywood's wealthiest studios and streamers have rejected proposals for fair pay and refused to negotiate with the Writers Guild of America, so at 12:01 a.m. on Tuesday, May 2, the WGA called a strike. This immediately halted writing on pretty much any American show with a script (the exceptions are toons staffed by the Animation Guild and the scabby Fox flopfest Gutfeld!). The first shows that will immediately feel the burn are late-night talk and variety series, which are written and filmed the day or week they air. That means no new episodes from your Jimmys and so on and bupkis from Saturday Night Live.
Flip-phone owner Pete Davidson was slated to host this weekend's episode on Saturday, May 6, with Lil Uzi Vert appearing as musical guest. But NBC has confirmed that, in light of the strike, the network will air repeats "until further notice." There were only three episodes left for SNL season 48. Maybe as a consolation prize to Davidson, they can just air some Bupkis instead.