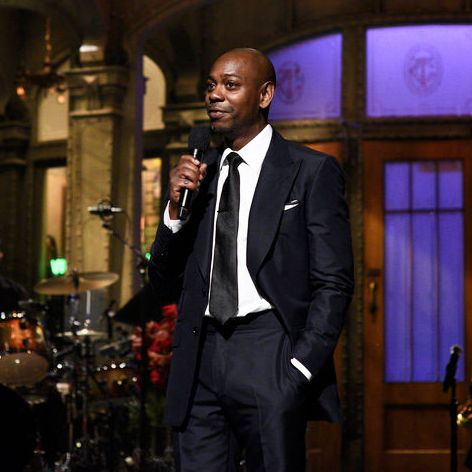 Photo: NBC/Will Heath/NBC
Sometime around 11 a.m. ET Saturday morning, as sounds of cheers and car horns rose through the city, SNL writers must have thought, Hell yes, and, simultaneously, Oh, fuck. While momentum has been shifting in the latter half of the week, and there was a growing sense that Joe Biden would be announced as the president-elect, there had been no announcement as of the morning of the show. Surely SNL had some contingency plans, but how to make sense of a headline that big so late in the production cycle? How to process this kind of information in an afternoon?
That's where Dave Chappelle comes in. While he wouldn't rewrite the cold open, Lorne Michaels surely asked Dave Chappelle to host this week because he'd meet the post-election moment regardless. If one comic would be able to process uncertainty, divided loyalties, and conflicting information — and make it all seem funny — it would be Chappelle. Chappelle famously hosted the show just after the 2016 election, vowing in his monologue to give Trump a chance (and to stick around to try out the expected tax break) while helping white liberals manage the shocking defeat. This time around, he's happy to celebrate Biden's win but prepared to balance things out once again.
As per tradition, this week's sketches are ranked here from best to worst.
Weekend Update
Update had a bit of an easier time adapting to Saturday's big news, finding jokes in the celebrations taking place all over the world to mark Biden's win. Colin Jost gets in one really clever joke about how Trump's defeat parallels the downfall of the Nazis, and Michael Che's honesty about the moment lands just right. ("Trump has reportedly said to allies that he will have to be dragged out of the White House kicking and screaming," says Che. "Good.") There are also some good gags about Kanye West, alleged electoral fraud, and why two old white guys can't be that different. Kate McKinnon brings back her Rudy Giuliani, leaning back with fingers splayed like a Nosferatu recently pried from its crypt. Of course, this relates to election-related lawsuits and Giuliani's weird-ass press conference at the Four Seasons … Total Landscaping in Philly. From Giuliani's visit to the "30 Rocks," to the names of Martian voters, the specifics are really well chosen. McKinnon is on fire, and like the rest of the cast, she's not just having fun but ready to giggle. Maybe the entire Update segment was cut a little short due to the length of Chappelle's monologue, but this shorter edition has time enough to hit all the right marks.
Dave Chappelle Monologue
In 2016, Chappelle helped progressives cope with loss; in 2020, he encourages them to be gracious winners. And to help make this happen, Chappelle is given ample time to monologue before the sketches start in earnest. As always, Chappelle likes to toy with the truth — reeling listeners in with seemingly plausible stories before whacking them with a punchline. A story up top about Chapelle's great-grandfather, who was born a slave, hinges not on the patriarch's pride but his disappointment. He addresses the coronavirus and comedy shows in Ohio, Ronald Reagan's racist policies, and examines the character of the man about to leave the White House.
Chappelle walks right up to the line with some jokes, including a bit about pay disparity from which the 8H crowd shrinks. Unlike Bill Burr last month, however, Chappelle's monologue doesn't plunge into controversy. Even when he brings up Freddie Mercury and AIDS, his jokes manage to cut the tension in the room. In part, this restraint surely has something to do with reading the room — which, in this case, includes all the progressives and conservatives still processing the day's events on their couches. He ends things with an impassioned speech on the part of aggrieved white people, and delivers a message to a divided America: "Find a way to forgive each other."
Uncle Ben
This biting sketch finds once-beloved Black icons of consumer goods losing their jobs because white people don't like to be reminded about what "what they did." Top to bottom, the players are all having a blast. Maya Rudolph sets the tone for the sketch, providing an excellent caricature of the proud, defensive pancake maven Aunt Jemima. Everyone else follows suit, and things go off the rails a bit. Chappelle breaks while using his voice changer, and then makes Pete Davidson spit out his false teeth while going off script a little. Both playful and biting, this one feels like a Chappelle sketch, or at the least, an idea so suited to Chappelle that he may as well have written it. Not sure why it needed the intro from Chappelle, or why permanent cast members aren't there instead of, say, Alec Baldwin, but it's great.
Biden Victory Cold Open
More a celebration than an outright satire, this sketch revisits speeches made by Joe Biden (Jim Carrey) and Kamala Harris (Maya Rudolph) just hours earlier in Wilmington. While there are some bits with Wolf Blitzer (Beck Bennett) and John King (Alex Moffat) in the CNN studio, these feel like remnants of a nerve-wracking week that's already long gone. After riding the high of the day, the sketch turns to Donald Trump (Alec Baldwin), who spouts bits of scrambled misinformation, and then surprises with a version of the Village People's other hit "Macho Man." It's a slow, melancholy dirge, delivered like a karaoke in an empty bar at closing time. It's also the comedic high point of the sketch. By comparison, Carrey's "lo-hoo-hoo-ser" taunt (resurrected from the Ace Ventura movies) just feels like pandering.
Take Me Back
It's a recognizable movie scene: The changed, newly humbled man throws himself at the mercy of his ex, hoping that she'll take him back. Here, however, giving up alcohol is just the first step for hot mess Keith (Beck Bennett). This is the sort of uncluttered two-person piece for which SNL doesn't usually make much time. It's a shame, because its simplicity and focus really give a sense of what's possible for both writers and performers. The script is grounded, smart, and the clear premise is steadily elevated throughout. Bennet and Ego Nwodim play things pretty honestly, and just let the absurdity of the circumstances speak for itself. Big, over-the-top scenes are SNL's standard, but throwing one of these in the show every once in a while can't hurt.
Hailstorm
While this newscast is ostensibly about a dangerous hailstorm in Albany, it slowly transforms into a report about the unfolding relationship between co-workers Rudolph (Kenan Thompson) and Jean (Kate McKinnon). This is both a play on little, local news stories and the kinds of little, real-world interruptions that might seem just as important. With McKinnon and Thompson as the focal point, it's hard to go wrong. The two of them flirt, play coy, and eventually surrender to their very genteel passion — without actually kissing. There's also a really nice detail about the town's missing persons that changes the entire dynamic of what's come before.
Super Mario 35th Anniversary
Of late, SNL has been giving no small amount of airtime to sketches with one gag. While that works for some bits, other bits don't take long to (sure, okay, why not) go limp. In this talking-head retrospective, pop-culture historians are prevented from lauding Nintendo's classic games because Josh (Mikey Day) is talking about his friend Jake's (Kyle Mooney) ball injury. While additional details provide the nitty-gritty of his accident and operations, the trajectory of his one isn't a surprise. Two players deserve shoutouts: Kyle Mooney, who slowly registers the sad inevitability of his story being told; and Kenan Thompson, who predictably glues it together with his stymied author.
D.C. Morning
What might Trump do now that he's lost his reelection bid, and facing tax fraud and defamation charges back in his civilian life? This sketch attempts to answer the question, by imagining Trump fleeing Washington in a white Ford Bronco. Yes, it's that white Ford Bronco, and the sketch uses the famous footage of O.J. Simpson and Al Cowlings fleeing down the Southern California freeway. While this visual makes a nice juxtaposition between the two desperate public figures, the sketch itself feels like a shard of something. Audio from Don Jr. (Mikey Day), the purported driver of the Bronco, doesn't add all that much. For anyone ready for a taste of Chappelle's Show Chappelle, he does give it his best announcer voice here, and there's a great joke about Trump as a sort of Aquaman for white supremacists.
It's telling that, after Chappelle's monologue at the top of the show, he says, "Thank you and good night." He understands his role in the episode is to help Americans process the election; beyond that, he's in a couple of sketches. It's possible he had a hand in the inception of the "Uncle Ben" and "D.C. Morning" sketches, but it seems almost all of his energy went into shaping his stand-up. It's fun to see him make good use of that platform at the top of the show, but it does feel a bit lopsided here.
Politics rule the night, of course. Beyond the obvious electoral issues, the pointed "Uncle Ben" has something to say about how white people would like to believe they can solve racism, and it hits. Given the overwhelming nature of the week, it's nice to see the show consider so many essentially apolitical things. In particular, the unassuming "Hailstorm" and the solid "Take Me Back" offer nice counterpoints to stress and anxiety of the last several days. This is the end of a six-show run for SNL. Surely, the staff is exhausted, so we'll have to see when the show returns live — and hopefully, at that point, Cecily Strong will have returned in full force.