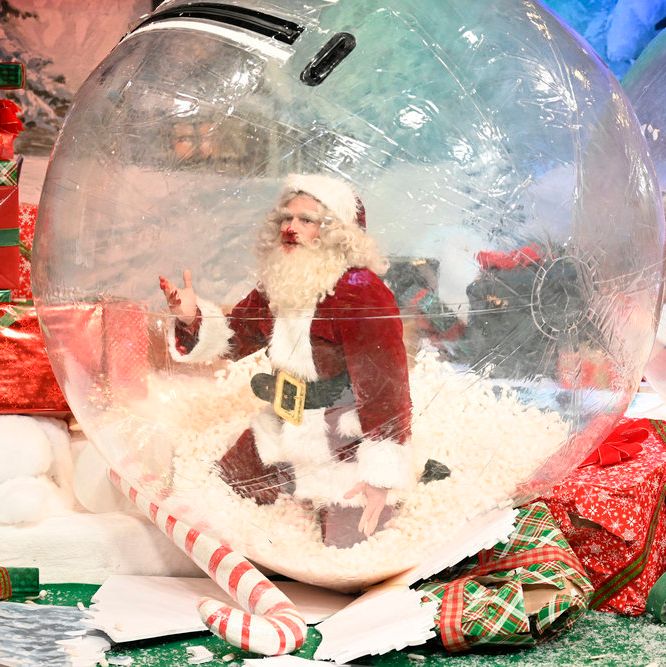 Photo: NBC/Will Heath/NBC
Given the murder and moodiness of Jason Bateman's latest projects (HBO's The Outsider and Netflix's Ozark), he's got to appreciate the change of pace offered by SNL. He's hosted only once before — in 2005, amid the critical successes of Arrested Development — but feels like a nice, safe choice for the moment. While Bateman is happy to play against the oft-sunny, overwhelmed everyman image, he's also ready to anchor any oddball across from him with a fatherly frown and gentle nod. And as he proves this evening, Bateman is a solid utility host. While he doesn't find any show-stopping moments, he's ready to play anyone and everyone, including musical guest Morgan Wallen. (It's worth noting that Lorne Michaels followed through on a promise to find a slot for musical guest Morgan Wallen; that wasn't a given, seeing as Wallen got cut from an October episode after being caught flouting SNL's COVID restrictions at an Alabama bar.) Plus, he gets extra mileage out of his Santa impression, playing the jolly old elf in not one but two sketches in this particularly holiday-centric early-December episode.
As is custom, this week's sketches are presented here from best to worst.
The Christmas Conversation
Three young women, on three separate FaceTime calls with their mothers, try to talk sense regarding (a prudent lack of) holiday travel in 2020. The real-world antecedent was well-chosen here, and there are lots of nicely observed particulars that will ring a bell with much of the SNL audience. The sketch is a chance for the actors to dig into their characters, and each brings a nice flair to their respective moms. Heidi Gardner slathers on the cheer whether her red-sweater-clad suburban mom is vindictive or victimized; Punkie Johnson issues stern recriminations while maintaining unquestioned control over her kitchen and her husband (Kenan Thompson); and Kate McKinnon shows the fragility of an overdramatic mom as her husband (Jason Bateman) throws fuel on the fire.
Weekend Update
Following Joe Biden's easygoing lead, Update takes on Trump's ongoing assault on the 2020 election without alarm. Colin Jost says he'll believe any harebrained idea Trump wants him to, so long as Trump goes — an unfortunate shrug, given where the other half of the country seems to be with it. Michael Che fares better, with one slyly funny bit about why he's got a chance at getting a trustworthy vaccine, and one darkly funny one about the cost of Jared Kushner's potential pardon. Pete Davidson comes on as himself to talk about the kerfuffle over the restriction-flouting Staten Island bar Mac's Public House. Always happy to slam his home borough, Davidson takes some giddy jabs at his fellow Staten Islanders before talking through the rest of his online woes.
The stray jokes that open the second half of Update are either a bit easy, a bit rough, or just a bit off. Weirdly, the gag that seems to pull the audience back in is one about Michael Che killing an ancient COVID survivor with his car. Heidi Gardner returns as her teen movie critic, Bailey Gismert, who, with theaters closed, is being forced to watch old, old movies like Forrest Gump. Her usual millennial triggers apply, but there are some fun, unexpected turns — as when she's grossed out not by Kevin Spacey in American Beauty, but by the movie's flying plastic bag. Her crush on Buffalo Bill from Silence of the Lambs follows her usual pattern, but again, Gardner's portrayal of the prickly, preening teen is excellent.
Michigan Hearings Cold Open
In taking on the hearing that the internet has already compared to an SNL sketch, the show gives Alec Baldwin, Jim Carrey, and Maya Rudolph the week off. Anyone following the headlines featuring Rudy Giuliani in recent weeks can guess where this scene is going: Not only will Melissa Carrone (Cecily Strong) make an appearance, but other conspiracy theorists who swear they've seen aliens voting absentee or they've been forced to eat ballots. There's a certain logic to the dogpile, in that the president's legal strategy has been nothing other than a mess of unfounded allegations. In this sketch, which runs nearly 10 minutes, the more-is-more strategy just feels overwhelming. Strong plays Carrone with every ounce of the expected unearned confidence, and the writers slide in some malaprops just for her. And, of course, Giuliani brings out McKinnon's bug-eyed, bloviating best.
Stu
This parody of Eminem's "Stan" finds Stu (Pete Davidson) obsessing about Santa and the possibility of getting a PS5. It's incredibly detailed, with several dense raps from Stu (in era-appropriate Slim Shady drag), drop-ins from a Dido-like mom (Kate McKinnon) and Elton John (Bowen Yang), and a bunch of elves freaking out at the North Pole. Yeah, the darkness might be a bit much for a Christmas sketch, but the hard work that went into the parody shows. Davidson's copycat flow is on point, and he leans into the psycho element joyfully. McKinnon and Yang sell their cameos, Eminem's drop-in is a nice surprise, and not for nothing, Chloe Fineman has a fantastic elf voice.
Bits
Sweet, sad Kyle Mooney — er, the character Kyle Mooney plays — is his own worst enemy. When hanging out with the guys, watching football and doing bits, he's always a half step off. Unlike some of Mooney's more elaborate pieces, this longing lament is easily applied to anyone who has found a conversation collapsing around them. The candy-colored fantasy world to which Mooney retreats and licks his wounds is well-designed, and Mooney himself hits all the right notes, literally and figuratively, as the awkward guy trying to play along and the heartbroken soul looking for redemption. Thanks to its directness, this one may be one of Mooney's best efforts on the show.
Sleepover 2
A dad (Jason Bateman) confronts his daughter's slumber party after he discovers a wild cover-up involving an embarrassing period stain on a couch cushion; the obviously guilty party, Megan (Kate McKinnon), won't fess up. Beat for beat, this is essentially the same sketch as the first "Sleepover," but rather than a toilet being destroyed, it's a couch. Some of the machinations in the cover-up, and Megan's elaborate denials, employ nice details, and it's always fun when the SNL ladies indulge in the kind of gross-out gags typically reserved for dudes. That said, without the surprises inherent in the first appearance of a sketch, this one doesn't quite earn its keep.
Morgan Wallen Party
It's fun to see SNL not only address, but recreate, the rowdy bar scene that sealed Morgan Wallen's fate back in October. Of course, there's a twist: Future versions of Wallen (Jason Bateman, Bowen Yang) show up to convince him to leave in order to secure the hosting gig. Wallen comes off pretty wooden, which is to be expected, but his willingness to go along with it shows he's got some sense of humor. Other than Bateman and Yang sporting mullets and Southern accents, the best bit is the notion that, knowing what they know, the future Morgans are tempted to party anyway. There are lulls, but it's worth waiting for Wallen's charming little tune at the end.
Jason Bateman Monologue
As a lifelong actor, Bateman never seems too fazed by the ups and downs of a career in Hollywood. This humility — one of the most appealing elements of his character, at least from afar — is nicely on display in his comment about time elapsed since his last hosting gig. After polling the audience to find out who else in the studio already got the COVID-19 vaccine, Bateman relives the trauma of being attacked by a chimp during his last visit to SNL. (During the cast good-byes, the monkey used in the sketch "Monkeys Throwing Poop at Celebrities" tried to bite Bateman's nose.) After Bateman's story of interspecies reconciliation, his delivery of, "The monkey was destroyed later that night," shows his mastery of the tossed-off line.
Outdoor Cabaret
At the famed Duplex in the West Village, patrons socially distance while they enjoy an al fresco cabaret act from Charlie Vig (Bowen Yang) and Billie Moon (Cecily Strong, in Liza mode). The sketch apes the feel of genuine cabaret acts, down to the banter with a wisecracking piano player (Jason Bateman). While Charlie and Billie are playful characters, the scene doesn't really build to anything; it's more a slice-of-life with a bit of commentary on beloved rituals that aren't what they used to be. The song has energy, and there's an underlying encouragement about making it through the pandemic, but the humor doesn't have a lot of room to grow.
Santa's Village
From hand sanitizer to protective "snow globes" to separate visitors from staff, safety is the order of the day in this mall Santa's domain. While the scene is meant to be about Santa (Jason Bateman) and Mrs. Claus (Cecily Strong) breaking character and disillusioning every kid in earshot, it's really all about the pratfalls. While there's satisfaction in seeing Santa roll across the wintry North Pole set, once this happens, the sketch doesn't have anywhere to go. With all the physical bits, some jokes get lost. And though there are plenty more flops, the novelty has worn off. That said, Bateman and Strong should be commended for their commitment to the falls; either they rehearsed this and sold it well, or they're going to wake up with bruises in a couple of days.
As a host, Bateman is as steady as they come. He commits to the parts he's given and he doesn't disappoint, but he also doesn't make a significant mark over the course of the show. It's really nice to see Cecily Strong back on the show in a big way, and showing up just as the nation imagined that she might — as a noxious Melissa Carrone. It's still several weeks from Christmas, and two live SNL shows remain, so who knows how many more Christmas sketches there will be between now and then? If it's all got to be holiday-themed, here's hoping someone at least tries for a Hanukkah happening. Next week: Timothée Chalamet hosts, and meets his alter ego in Chloe Fineman.