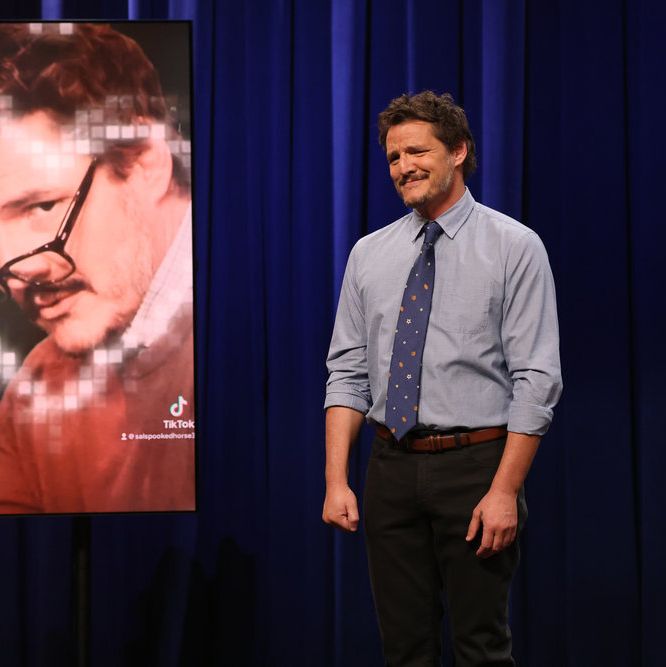 The first great Saturday Night Live episode of 2023 has arrived. All it took was some clever premises, both topical and timeless; writing sharp enough to cut diamonds; and a ridiculously versatile host whose vibe is like an erudite golden retriever.
Pedro Pascal is one of those actors who had been kicking around Hollywood for ages and had even gotten top billing in a hit Netflix series before everyone realized, seemingly overnight, that he was a total star. Maybe it was playing the Mandalorian in The Mandalorian, or perhaps it was when he emerged improbably as the most compelling part of Wonder Woman 1984, but somewhere in the early pandemic days, Pascal fever took hold, and it hasn't let up since.
Outside of a role in Judd Apatow's regrettable The Bubble last year, Pascal hadn't done much in the way of comedy — which is surprising if you have ever seen his face. For a strikingly handsome man, Pedro Pascal has a funny face. In interviews, he comes across as expressive and emphatic, quick to clown, and endlessly amused that anyone would ever want to interview him. Sure, his Game of Thrones and Narcos characters are people whose bad sides you'd do well to avoid, but his public persona is perennially two seconds away from either cracking up or making you crack up.
In other words, he has exactly the right range to make a meal out of whatever the SNL team served him. Thankfully, the show's writers and performers seem to have savored the opportunity and concocted something special. And to borrow a phrase from one memorable sketch, Pascal ate this whole episode up and left no crumbs.
Here are the highlights:
Spy Balloon
The sky-high outrage generated by this week's big news story hit a fever pitch of sheer ludicrousness on Friday, with grown men and women deadlocked in a pointless competition to find the most macho way of describing how they would personally pop a balloon. SNL's two-pronged approach to puncturing all that tough-guy artifice starts with Kenan Thompson as an army general, discussing the balloon with utmost gravitas, and ends with Bowen Yang playing the balloon itself. ("I can't believe I'm Biden's Osama," he laments.) Both prongs are equally inventive and successful. This sketch marks the first time this season that the cold open ranks among the best moments of the night, and for a good reason.
Big Hollywood Quiz
It takes nearly two minutes to even hint at the central joke in this slow burn of a sketch. But the writers have really put their finger on something here that is difficult to express. It's not necessarily the death of the monoculture — "everybody" is currently watching The Last of Us, for instance — but the death of lasting cultural impact. The death of depth. The fact that once this season of The Last of Us concludes, we will immediately move on to some other series and completely forget about it until season two. Samuel L. Jackson and Nicole Kidman having each starred in Apple TV+ series last year that you probably never heard of and definitely didn't watch is only a symptom of a greater disposability. The punch line of this smart sketch, however, wasn't even in the actual sketch; it was the ad for Apple TV+ that aired immediately afterward, in which Timothée Chalamet is supposed to be bummed about not having starred in his own Apple TV series yet.
Waking Up
Who knows what voice the writer who dreamed up this sketch had in mind when they made Kenan's character describe it as an "L.A. mush-mouth thing." All that matters is where Pedro Pascal goes with it, which is the funniest vocal range possible. The voice of his newly awake coma patient's is indeed queer-coded, but what makes it so funny is the attitude behind his every inflection. It's not that he rejects his wife of eight years (Heidi Gardner), but that he does so with a tossed-off "let's put a pin in that." No wonder Pascal breaks so hard toward the end. It's a wonder he managed to keep it together for so long. Also inspired: the silly tests Yang's doctor administers to prove that the patient's "brain is okay" and his confidence in the results.
Fan-cam Assembly
The thirst is real. Pedro Pascal fan cams have been running rampant on TikTok for a while, to the point where diehards had been speculating about whether they'd be referenced on Pascal's SNL. Turns out those digital Nostradamuses were correct. This sketch pulls off the nifty trick of both validating Pascal's worshippers while also acknowledging the utter inscrutability of fan-cam culture to roughly everyone old enough to remember when their family first got the internet. It wrings laughs from how Gen-Z internet slang can sound ridiculous when spoken out loud, but it also strikes a quietly poignant note about how "three years of COVID make us online forever."
Wing Pit
This fake ad starts off similar to the show's recent Arby's parody, with way too much fast-food bang for your buck, but then it keeps going to delirious new heights. Within about ten seconds, it evokes the deranged idea of serving "10,000 beaks" with the more grounded joke of offering "two of the sickest, saddest celery sticks you've ever seen." Watching an SNL Super Bowl ad parody now, though, also made me nostalgic for those Vanessa Bayer Totino's sketches.
Stray Observations
• The only thing that could top Pascal's monologue fit — featuring a bright-purple shirt that is somehow also a scarf — is the shout-out to his parents for fleeing Pinochet-era Chile to raise him in a safer environment. (There's a whole fascinating story there.)
• I wonder if the fact that Goombas are sentient fungi like The Last Of Us zombies is what inspired a Mario Kart parody of The Last of Us, or if it was just a brilliant little realization one of the writers had while already barreling down that (Rainbow) road. Also, I'm not sure how Hollywood works, but is it too late to stop the Chris Pratt Mario movie from coming out and have this sketch canonically take its place?
• After so many news cycles about classified documents, we've reached a point where a Weekend Update joke about an Oval Office summit ending with Joe Biden letting Kevin McCarthy "pick a couple classified documents out of the bowl" simply transcends partisanship.
• Michael Longfellow's smooth Weekend Update performance as a jaded, hard-living Punxsutawney Phil is how I found out that Earth's core may have stopped spinning.
• Milly Pounds and Shirty are just perfect British rapper names, and James Austin Johnson and Devon Walker bring them hilariously to life. The second Jan Wouters reference, after Michael Che was puzzled by the first, got a big laugh out of me.
• I will give $1,000 to anyone who can sufficiently explain 2023-era Coldplay to me in a way that makes sense.
• The protective-mom sketch got a decent bit of mileage out of the wardrobe and makeup choice to not in any way attempt to cover up Pedro Pascal's beard. Also, Pascal's mom character throwing away the vegan sliders Britney (Chloe Fineman) brought, but preserving the paper bag they came in, is such a funny, lived-in detail.
• Sarah Sherman's character in the Italian waiters sketch doesn't look like a person anyone would immediately guess had played the Babadook, but I could probably be convinced that Sherman herself had originated the role.
• Lisa from Temecula is a supreme oddball who seems like the result of the writers asking, "What if we just let Ego Nwodim go for it?", and frankly, they should ask more often.