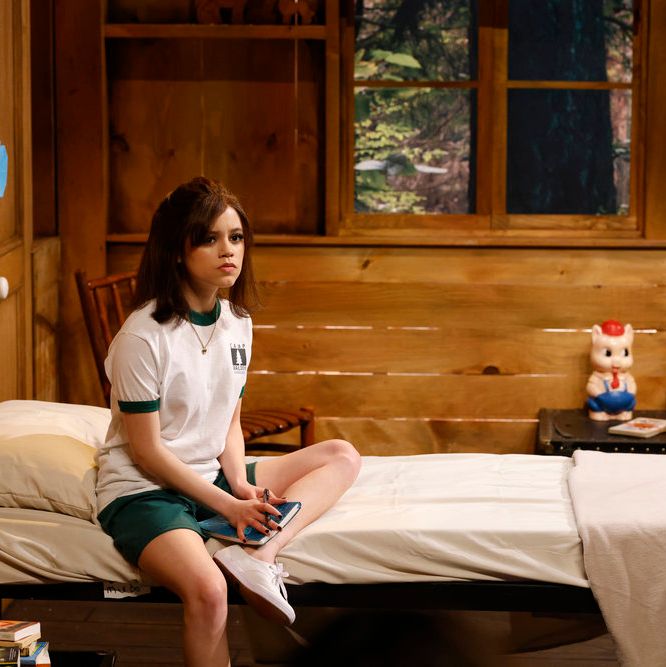 Photo: NBC/Will Heath/NBC
Last week, The Hollywood Reporter announced that Jenna Ortega is in talks for a starring role in a forthcoming sequel to Beetlejuice. Between this potential part, her extremely popular portrayal of Wednesday Addams on Netflix, and becoming a central figure in the Scream franchise, Ortega appears to be running for President of Goths Who Grew Up in the '90s. Or perhaps not.
"A lot of people assume that I'm dark and twisted in real life because of the roles I play, but I'm not like that at all," Ortega demurs during a charming Saturday Night Live monologue. "I think there's just something about my face where people see it, and they're like, 'Hey, let's throw blood on that.'"
Whether it was the young star's idea or that of the SNL writers, though, "dark and twisted" is exactly the energy pumping all through this week's episode. It may have been light on blood-splattered faces, but it was heavy on horror-tinged sketches. Ortega alternately plays a possessed woman getting a bargain-bin exorcism, a youthful mutant having a violent breakdown mid-game show, and a guest on MTV's Ridiculousness whose macabre anecdotes make Debbie Downer look like Jojo Siwa. Not every sketch is a barrel of monkeys, but together they form a more cohesive unit than usual, and there isn't a dud in the bunch.
Ortega is a natural host, and her visible nerves during the monologue only make her more relatable. It probably helps that, as she mentions, she's fantasized about hosting SNL since taking an NBC tour as a child — which is kind of cute until you realize that Ortega was born only after Will Ferrell finished his SNL run. At that point, people of a certain age (the age of being a goth who grew up in the '90s) can only feel like walking into the ocean. But that's probably just the darkness talking.
Here are the highlights from the episode:
Oscars Red Carpet Cold Open
By the time Jerrod Carmichael hosted SNL last April, six days after the Oscars, the Slap had been so exhaustively debated and deconstructed, it seemed impossible to address any further. The show still managed to wring a macro-view monologue and a sharp sketch out of it, though, because there was pretty much no other choice. Now that the Oscars are upon us again, the strangest thing that ever happened during an awards show, eclipsing even the Moonlight mishap, has been mercifully reduced to an excuse for Kenan Thompson's Mike Tyson impression. Thompson and Tyson have a bit of history together, having gotten into a heated exchange on Tyson's podcast last year, so perhaps that helped inspire this seemingly random debut. In any case, Thompson's delightful take on Tyson is just one of the many gems in a must-see cold open. Others include Sarah Sherman as Michelle Williams's "Jewish acting coach" for The Fabelmans, a joke about "awkward pan-downs to feet" in red-carpet coverage, and Bowen Yang as George Santos as Tom Cruise. It's unclear when Chloe Fineman as Jamie Lee Curtis calls Tár "hands down the funniest movie of the year," whether it's a dig at Curtis's awards-circuit ebullience or a playful but much-needed skewering of people who can't wait to tell you how funny they found Tár. Either way, it lands.
School vs. School
There are high-concept SNL sketches, and there are those that scorch the stratosphere. "School vs. School" firmly belongs in the latter category, pitting what is clearly supposed to be the School for Gifted Youngsters from the X-Men comics against just a regular old high school in a Jeopardy!-like student game show. Mikey Day turns up the intensity as Professor X/Zander — the follicle-challenged, wheelchair-bound telepath — while Ortega brings real gravitas to her mutant grappling with the fundamental X-Men pitfall of being considered a freak by society, only in this case, the source of it is being terrible at game-show trivia.
The Parent Trap
Ortega's Wednesday co-star, Fred Armisen, who also pops up in the monologue, appears alongside her in this sketch about the latest remake of The Parent Trap. (If it isn't actually in the works yet, you can bet it will be soon.) With the young star's body double absent, Armisen's crew member steps in to play her displaced twin and does some very adult improvisation with the role. Armisen steals the show here, reminding us why he could do sketch comedy on TV for 16 continuous years between his runs on SNL and Portlandia. Armisen's lust for Lisa Rinna wouldn't land nearly as well, however, if it didn't have as a foil Ortega's note-perfect Disney child-star acting, which she came by honestly and can now wield as a comedy weapon.
James Austin Johnson's Random Celebrity Impressions
Each of James Austin Johnson's two-second impressions on "Update" this week is flawless, but his take on Batman reading Where's Waldo? ("WHERE IS HE!") is even funnier if you're a nerd who knows that it's modeled after this particular Christian Bale line read. Also, Johnson's anecdote about not being served at the afterparty unless he does Trump might just be an excuse to do Trump ordering a negroni in this segment, but it feels rooted in truth.
Jingle Pitch
A weird sketch can go anywhere in the batting order at SNL — Lord knows, this episode's chock full of 'em — but some weird sketches can only go at the very end of the night, where shit gets real loosey-goosey. Much like Lisa from Temecula a few episodes back, the jingle-pitch sketch is a true ten-to-one. It features Andrew Dismukes and Johnson in matching mauve suits — rocking a ponytail and blonde Katt Williams hair, respectively — as a pop-funk duo named Soul Booth, trying to come up with a catchy jingle for a law firm. Each jingle effort is funnier (and catchier!) than the last, but this sketch mines even bigger laughs out of its other duo: Ortega and Yang. The pair play the lawyers who commissioned this jingle in the first place after hearing Soul Booth jam out at an Italian restaurant. Their expert delivery turns the name of that restaurant — Lucciano's — into an entire vibe, so that by the end of the sketch, the audience knows exactly how "a looched-up track" would hit and is probably laughing about it.
Stray Observations
• Obviously, Ortega's long-ago toothpaste ad glimpsed in the monologue is real, and here it is in its entirety.
• "That must suck to go on TV and put on a smile and make friends with some psychotic bigot just because it's 'good for the show,'" Michael Che says, ostensibly about Tucker Carlson and Donald Trump, proving once again that the faux-tension between Che and Colin Jost is an evergreen source for jokes on "Weekend Update."
• Molly Kearney stops by "Update" as the Tennessee lieutenant governor who recently left his official digital footprint all over a young man's thirst traps, despite Tennessee's new bills aggressively targeting the LGBTQ community. Arriving with printed-out MapQuest directions is the character's way of presenting as technologically illiterate — the sort of easily befuddled grandpa who might double-tap by mistake — but all of Kearney's coquettish facial expressions and gestures undercut this defense beautifully.
• The exorcism sketch only underlines my long-held contention that it sure seems like pretty much anybody could perform an exorcism.
• It's a real chicken-and-the-egg situation, trying to determine whether Mikey Day is consciously modeled after rapper Riff Raff in the Waffle House sketch, or whether Riff Raff just has the essence of the prototypical white dude who gets into a fight at the Waffle House. A mystery for our times.
• Although this week's road trip-themed Please Don't Destroy video is also fun, it's a little distracting to watch pre-taped sketches just hours after Bernie Sanders tweeted in support of the show's post-production editors, who have threatened to strike during the April 1 episode if they don't get a contract for better wages and benefits.
• Having said that, this week's Please Don't Destroy did indeed capture the underrated difficulty of doing both music and nav during a road trip.
• I searched around to see if the cat ball from the Ridiculousness sketch is scientifically possible, and at least one source says it is "unlikely" that a cat could give birth to six kittens fused together. However, this search was less than thorough due to the fact that if I accidentally caught a glimpse of a real-life cat-ball, I would simply never sleep again.