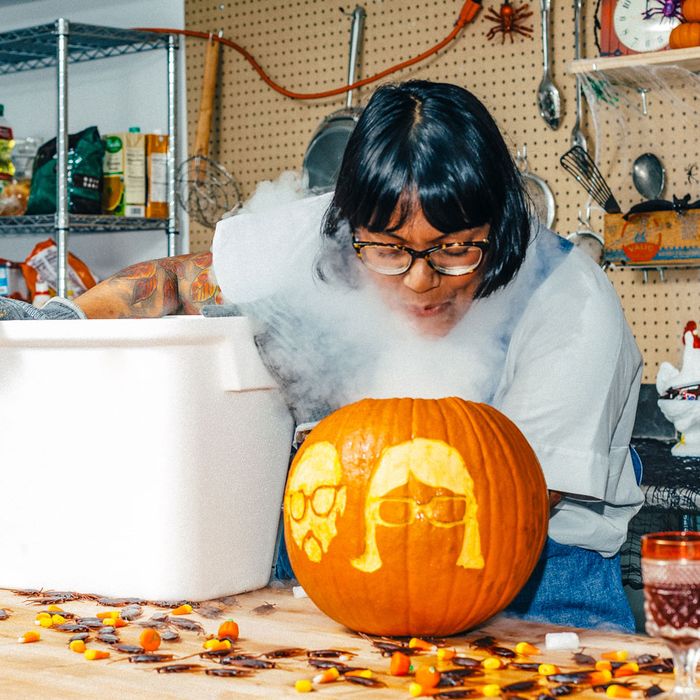 Photo: DeSean McClinton-Holland
Sohla?" the video begins. "Do you have a minute?" The stars of Bon Appétit's Test Kitchen have so many questions, and Sohla El-Waylly is like their own human Alexa: Sohla, how do you temper chocolate? Sohla, how do you pronounce turmeric? Sohla, what's a dosa? El-Waylly appears on command — busy, patient, with a neatly cut bob — to answer. The fan-made Sohla supercuts (there are many) did what Bon Appétit failed to do: reframe the narrative so the background actor might actually be the star. "The Test Kitchen is really fun as long as you play your role, and I didn't like the role I was put in," El-Waylly says. "It became increasingly frustrating to become a sidekick to people with significantly less experience than me."
The meteoric popularity of the embattled Test Kitchen was built in part on the vision that it was like The Office — but tastier. Unlike much of the show's talent, El-Waylly came in with a wealth of professional experience, including two years of culinary school, gigs at fine-dining establishments in New York, and a stint running her own restaurant. She joined Bon Appétit in the summer of 2019 as an assistant culinary editor, a junior position that meant she was supposed to cross-test other people's recipes. Quickly, though, she began developing her own and, as the Test Kitchen universe expanded, appearing in videos. On-camera, El-Waylly was nerdy but kind of punk, with a self-effacing and bone-dry wit. To viewers, she looked like an integral part of the ensemble — at least until earlier this summer, when, amid allegations of racism and unequal pay at Bon Appétit, she posted on social media that she hadn't been paid at all for her video appearances. "Working in a place like that, you can't say no," she says. "You never know if another opportunity will come your way." (A representative for Condé Nast said full-time employees who did video work were paid "through their salary." El-Waylly has said she made $50,000 when first hired.) 
After leaving the Test Kitchen, along with many of her co-workers, she has been saying yes to everything. She's writing a cookbook as well as a column with Food 52 called "Off-Script With Sohla," guest-judging on cooking shows, and, on this October morning, filming an episode of the web series she now stars in, Stump Sohla. "This show is just doing things that entertain me," she says, as she dips M&M's into royal icing in the basement of Andrew Rea's five-story Brooklyn townhouse, where he has expanded his YouTube channel into the Babish Culinary Universe, including bringing El-Waylly on. The concept is simple. Give her something to cook, with an obstacle — for example, 18th-century macaroni and cheese or a seven-course tasting menu made from ingredients sourced at a bodega. "I like challenges. It doesn't put me in a head-spin or anything," El-Waylly says. "I like it when you walk in a restaurant and all the walk-ins are down and everything is rotten. That gives me jolts of excitement." "She is unflappable," says Rea.
There is an acute pleasure in seeing El-Waylly solve harebrained gastronomic puzzles, like that in watching an Olympic pole-vaulter clear the bar in slow motion. In a way, this is how she has cooked for much of her career in haute cuisine kitchens, including at Atera, the severe, hyperconceptual Tribeca restaurant where food often looked like objects. The chef would want a Japanese-style cheesecake made from Harbison cheese on the menu, and she would make it. (It's harder than it sounds: The explanation involves stabilizers or something.) "Normally, the path is you get mentored by a chef and they take you under their wing and then they help you open a restaurant. But that path doesn't exist for most people of color," she says. "The time I learned the most in restaurants was when I was alone in a basement, figuring it out on my own." 
From an early age, El-Waylly was in the kitchen alongside her mother, Salma Banu. She grew up in the San Fernando Valley in Los Angeles, where her parents owned and operated Baskin-Robbins ice-cream stores. She gets her sense of adventure from Banu, who liked to go to a specialty market, pick an unfamiliar ingredient, and figure out how to cook with it. She ate with the multicultural sensibility of the city: Fish balls went into a Bangladeshi-style korma; raita topped a za'atar-spackled manakish. Her mother hosted elaborate multicourse feasts on the weekend. "My mom's like a chef," she says. "She taught me everything. She didn't know the names of knife cuts, but I remember having an in-depth conversation about how you cut potatoes for different stews so the potato cooks at the same time as the protein. That's a complex thought that, once you understand, you can translate to any dish."
Still, her becoming a chef was not the immigrant parent's dream. El-Waylly went to UC Irvine, where she studied economics and worked at the Cheesecake Factory on the side. After graduation, she backpacked around Europe. She had a lot of social anxiety, but food was the way she connected with people. "I'd do a big English breakfast for everyone at the hostel and then they would be my friend and be like, 'Come sleep over at my apartment,'" she says. When she got back to L.A., she knew she wanted to be a chef, but she didn't know how to start. So she did the thing they say to do, which is go door-knocking. She went to all the white-tablecloth restaurants at the time — Providence, Mélisse, Hatfield's. She would wash dishes, she told them. For free! "It was straight-up no, she says. "One chef even said, 'Why don't you just get married? You shouldn't be here.'"
Casual chauvinism was the rule of kitchens everywhere. In 2008, she began a program at the Culinary Institute of America — something she doesn't recommend. She says that when she was at CIA, a dean sexually harassed her, and when she spoke up, a female dean told her, "That's what happens in the real world. You better get used to it." After graduation, her classmate and now husband Ham El-Waylly continued to work as a line cook, but she was pushed toward the front of house and, eventually, pastry, where many talented female chefs end up. "It's lonely when you're the only woman in the kitchen and you don't act the way they want you to act," she says. "I'm not going to sit by and watch you kick someone down the stairs or burn them or sexually harass somebody. And it makes you very unpopular."
In 2016, after a few years at Pok Pok, Momofuku, and Atera, Sohla and Ham decided to open their own restaurant. They met with investors who wanted them to make "brown food," like chai-and-chaat or shawarma. The idea made them queasy, so they decided to take a chance on themselves and open a neo-diner in Greenpoint. They called it Hail Mary. They'd make the food they wanted to eat — fried chicken, koshari, burgers — the way they wanted to make it, with care. They offered triple-fried potatoes that took a full-time worker an entire 12-hour shift to prepare. They paid the dishwasher a living wage. It was wild and utterly impractical. The restaurant lasted about a year, which was pretty good considering they started off with enough money to keep them afloat for two months. Throughout, they maintained a monkish humility. "A lot of people complained, "Why is this burger $15?" she remembers. "But it's grass-fed meat that's ground every single day with homemade American cheese, homemade bread, homemade pickles. And that is really stupid, because no one can tell those things. We didn't put it on the menu because we were like, 'The food is going to speak for itself.' And it really, really doesn't."
After the restaurant folded, El-Waylly made her way into food media — first at Serious Eats, where she quit after about a year ("They kind of treated me like a maid"), and then at Bon Appétit in 2019. The eventual Test Kitchen implosion was unavoidable. "Sohla's never changed," says Ham. "She's not one to stay quiet and eat her words if she sees something wrong." 
El-Waylly has wrapped the shoot for the day, but her hands are busy wiping down a butcher block strewn with candy corn and fake cockroaches. Today's episode is Halloween-themed, and the prompt was to make "scary candy," which meant she would try to tuck various surprises into chocolate. (No razor blades, she swears.) They're still figuring out what works, but there's an audience — over 2 million for the first episode. She decided to work with Babish because she would have more creative control as well as a direct cut of the revenue under the YouTube profit model. "I just really don't want to be a prop," she says. "If it does well, I make more and everybody makes more. It's a deal that works well for everybody."
All that's in her stomach today is a smoothie, a slice of pizza, and bites of candy, so she suggests tacos at Chelsea Market. Two courses, she decides on the subway ride over: a round of ceviche and fish tacos from Mariscos followed by adobada at Los Tacos No. 1 next door. As we wait at an outdoor table, an Asian American hypebeast walks by and doubles back. "Excuse me, are you Sohla?" he asks. She nods. "I love Bon Appétit! That's my sister," he says, holding up his phone on FaceTime. "I just called her, because we love Bon Appétit!" They take a selfie together.
"Wait, there's going to be a white supremacist who yells at us in a minute, too," she says, once he leaves. "It will be good for you to experience both sides."
As we talk about Bon Appétit, El-Waylly's mood darkens. She's still processing what happened, because it raised existential questions of value — who deserves what and how much. Sometimes she wishes she had never taken the job. "This stuff really gets in your soul," she says. "My husband, he's half Bolivian and half Egyptian, and we've been talking about how we've internalized these things. That we really think we are worthless, so you don't want to ask for more."
Cooking as a brown person in America is complicated because audiences and diners do expect a particular kind of performance, whereas white men have the latitude to do whatever they want. "The fact is Brad's show did do very well," she says, referring to Brad Leone, one of the first stars of the Test Kitchen, who hosts It's Alive With Brad. "For some reason, people like watching a big dumb white guy. But why? What does that say about the audience? Why do you want to watch this incompetent white man when we have one in the fucking Oval Office?"
El-Waylly's job at Bon Appétit wasn't meant for someone with so much experience, but she took it anyway. In May, her $50,000-a-year salary was bumped to $60,000 when it became clear she was doing work above her pay grade. About five months into the job, she says, management wanted to create a more junior position underneath her to do the cross-testing she had originally been hired for. "They really wanted to hire someone Black, which I know you're not allowed to say legally, out loud," she says. "And Chris Morocco [the director of the Test Kitchen] directly told me he didn't like how quickly I moved up, so he wanted to make sure this person would never be allowed to develop recipes." As she puts it, management didn't want another "Sohla problem." (Through a Condé Nast spokesperson, Morocco stated that this conversation did not happen.)
"They couldn't find a single Black person who they thought was good enough to work in the Test Kitchen," she continues, "but they were bringing in really experienced people, who have been in the industry longer than me, to work below us. Think about it: Every other person who's had this job, this was their first job, because this is an entry-level position. But when they want to hire a person of color for that position, we need to have a million years of experience." Disturbed by the hiring process, El-Waylly says she spoke to Morocco about it as well as Condé Nast HR and the company's head of diversity, but saw no changes in procedure. (Condé Nast would not respond to questions regarding the junior position but released the following statement through a spokesperson: "Chris Morocco is not responsible for hiring practices and personnel matters, for Sohla to suggest that he is, is disingenuous and false." Multiple sources in a position to know told Vulture he was intimately involved with hiring. When pressed about this, a Condé spokesperson clarified that Morocco was involved, but wasn't solely responsible. Morocco did not respond to requests for comment.)
By the time a photo of former editor-in-chief Adam Rapoport minstreling as Puerto Rican surfaced this summer, there was never a question that El-Waylly would speak up about the culture of racism at Bon Appétit. During an all-staff Zoom meeting, she asked Rapoport point-blank if he was going to resign. "He thought it was going to be like a five-second thing like, 'Sorry, this happens, I guess we'll talk later.' I was like, 'What are you talking about? We're not done. You should totally resign. Absolutely.' He was like, 'Maybe. Maybe I should help fix this and then go.' And I'm like, 'No, man. You got to go.'"
After the meeting, she fired off posts on Instagram that continued to peel back the façade of a harmonious workplace. The controversy ballooned beyond fans of the franchise — the two lone Black employees spoke out and left, as did the majority of the on-camera talent both white and nonwhite — and became a larger referendum on racial equity in media. Reddit users pored over everyone's statements. El-Waylly became a symbol for the overqualified and underpaid. "I really didn't think it was going to be a big deal," she says. "It's just what I've always done. This was the only time anyone listened."
She and Ham planned for worst-case scenarios: She would get fired, they would have to move in with his father in New Jersey, they'd experience total social opprobrium from the food world. "We'd be like, 'Okay, it'll be fine,'" says Ham, who was working as a chef when he was laid off during the pandemic. "'We'll just tighten up. Wait until I can get back to work and then we'll be fine.'" But during the summer, Rapoport stepped down. El-Waylly was offered a fair contract for video work, with back pay. But the entire experience, including learning that others weren't getting fair contracts, ultimately led to her decision to walk away from Test Kitchen. (She stayed on as a freelancer on the print and web side of Bon Appétit.) "It should be like Friends," she says. "We should all be getting paid fairly."
The sun has sunk beneath the Hudson, and the wind is picking up. El-Waylly needs to find an outfit for tomorrow, when she'll appear as a judge on the Quibi show Dishmantled, hosted by Tituss Burgess, in which blindfolded contestants re-create a dish shot out of a cannon. We walk toward Nordstrom Rack in silence. "I just feel really sad and like I'm having a panic attack," she says, wiping away tears. "I feel like I'm supposed to be grateful that I got that job. But it's not enough for me to just be here anymore. I want more, and I don't care that that upsets people."
Toni Morrison once said, "The very serious function of racism is distraction. It keeps you from doing your work." The bodega episode of Stump Sohla began to hit on something because it allowed El-Waylly's imagination to roam. At their best, her concoctions are joyful and strangely familiar: a vegetable "Fun Dip" made from powdered spices, spaghetti carbonara reimagined as a dessert. When she's alone in the kitchen, all the distractions slip away. It's just her and a liquid sablé made of dehydrated Twinkie.
*A version of this article appears in the October 12, 2020, issue of New York Magazine. Subscribe Now!