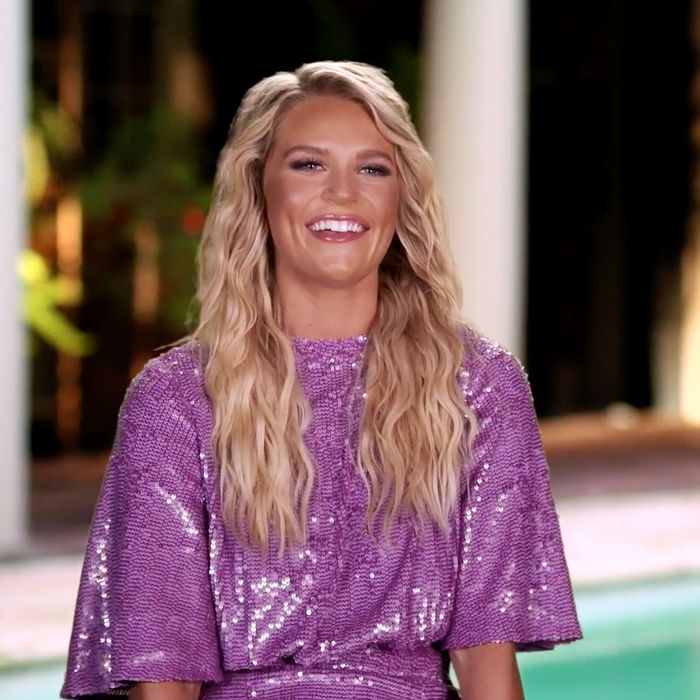 The best moment of this episode had nothing to do with drama. It had nothing to do with shopping for suits for Patricia's "men's dinner," it had nothing to do with Kathryn's house that looks like a set for Storage Wars, and it had nothing to do with Austen and John Pringle fighting over Madison. In fact, it had nothing to do with the South but everything to do with charm. It came in the very first seconds of the episode, when Shep is standing in the middle of the slats of a bed, assembling it before putting the mattress on. His dog, Craig, also known as Dog Craig, comes running into the room and vaults himself, a black Koosh ball with his tongue hanging out, onto the bed platform only to have his legs drop through the slats and his body totally stuck right where he landed.
That is something Dog Craig has in common with Half-Man Craig (the other half is a beer koozie that says, "Beauty is in the eye of the beer holder"). In this post-COVID world, everyone has a friend like Craig. When Patricia cancels her "men's dinner" just a few days before the official South Carolina lockdown, Craig decides he's going to throw himself a housewarming party instead. See, Craig was living with Austen but knew they were bad influences on each other. He can't go home, because it's going to cost him $30K to remove all the asbestos from the Superfund site he calls a house. Yes, asbestos. In the doomed year of our Lord 2020. Instead, he decides to rent himself a two-bedroom bachelor pad with a pool table just down the street from him and Whitney, thinking the five-minute walk is enough of a deterrent to keep him un-hungover for at least one day a week. (This place rents for $3,900 a month, and between that and the asbestos money pit, Craig must be making a lot of money off his damn pillows.)
Thinking that coronavirus is a government conspiracy and that it's really caused by 5G, Craig is still going to have this party when he finds out the whole state is shut down. Ugh, what an inconvenience this is posing to his new sober and restrained lifestyle! Instead, he walks by Patricia's place and jumps up to yell Whitney's name over the wall. Despite Whitney's living with his 70-year-old mother and her almost equally old manservant, Craig still wants to hang out. Whitney comes out and says he has a present for Craig and throws him a six-roll pack of toilet paper, which, in those early lockdown days, was the coin of the realm. "I stocked up on booze, but I didn't get any food," says Craig, who apparently won't be having a good shit until this here pandemic is over. He then asks Whitney to come over and play video games as if they're 14-year-olds whose biggest worry isn't dying of a deadly disease but of getting their geometry homework done on time.
The scramble everyone is facing to get into a good lockdown position is familiar but also seems so far away as we're getting ready to shut ourselves in for a second time, and we know just what we need to get us through this one: Animal Crossing, a sourdough starter, and black-market dumbbells, apparently. I was a little intrigued by how everyone else was handling it. Madison and Austen, worried about their livelihoods drying up, fret about their savings. John Pringle considers popping back to San Diego because he can't stop being away from his kids. Leva worries about the impact the tourism shutdown will have not only on her businesses but on the city as a whole. She meets with her staff, including someone named Toppe and someone named Maddi, because apparently no one in the South knows what constitutes a proper human name.
The weirdest encounter, though, is Kathryn going to Gwynn's to take some pictures in a yellow dress for their social-media channels. She asks the Other Madison if they still get to go on a buying trip to New York, which clearly would have been filmed and a big part of Kathryn's story for this season, but OM's like, "The city is closed down." This is weird for two reasons. First, they show us OM like we should know her. Yes, she was at Leva's party last week, and I think we've seen her with Kathryn at Gwynn's before, but her face is like a black hole in my memory. Where she should exist, there's just a patch of darkness, which may have been caused by a bad ketamine trip in the '90s, I'm not sure. This scene is also odd because, well, in just a few weeks Gwynn's will fire Kathryn for racist statements, but I guess we're going to see that play out over the rest of the season.
All the drama of this episode is almost moot because, as soon as lockdown hits, it's wiped away by the noise of the coronavirus. There are so many things that may never be settled, like why Shep and John Pringle have the same "Dad Jokes" T-shirt with a gas-meter insignia showing that they're full of dad jokes. We will literally never know. Lit-rally.
Speaking of John Pringle, most of the drama surrounds him and his totally fine, totally hairy non-dad bod belonging to an actual dad. (I finally figured out what is weird about JP, and it's his face. Yes, it's handsome, but it's kind of full and round, so based on his face, you don't think he's going to take off his shirt and look like an Axe Body Spray commercial.) Apparently, after the boys' night last episode, John and Austen met up with Madison and Kathryn at Austen's house; John not only continued telling Austen how he wanted to get with Madison, he started macking on Madison right under Austen's nose. Austen then got up and threw John out of his house like he was two girls Austen just got caught having a three-way with.
Sadly, this did not happen on camera, so we see Austen recount the story to Craig, the true love of his life, and we see Madison and Kathryn tell the story to Leva and Danni at Kathryn's house. I mean, no one thought to get out a cell phone and record it? Where is their dedication to the reality-television arts and sciences? I feel like Austen was totally within his rights. It's one thing to hit on another guy's girl; it's another thing to do it to his face with your ass warming his bedbug-infested sofa. I just want to tell Pringle, like so many others have, that Charleston is a fish with lots of sea. Or maybe the other way around. What I mean is, Madison is not the only girl just because she's the only girl in their friend group.
His amorous attention, of course, is being spurred on by Patricia, who is single-handedly trying to make this happen because she thinks Austen doesn't have enough money for her protégée, Madison. But when Pringle goes shopping so he and Craig can be dressed more "eloquently" for Patricia's party, Pringle blanches at the idea of buying a $1,400 jacket. I mean, it's not cheap, but Patricia is making him out to be some kind of Scrooge McDuck with a better accent and tons more body hair, and he can't drop 14 Benjamins on a blazer? If he's so mature and rich to begin with, why doesn't he even own one suit to wear to Patricia's? Is this guy really a catch? I mean, he's a day trader. It's like the Corvette of careers.
I don't know, and neither does Madison, but it seems like it might be disappearing now. The world slowed to a crawl this March. It very nearly stopped while we were all discovering Zoom and having half-assed happy hours with our friends spread around the country. It's like none of this even matters, like we'll all emerge into a brave new world where the old rules and the old conflicts don't matter anymore. That would be nice, but, of course, as likely as Craig having caught a clue in the past few months.