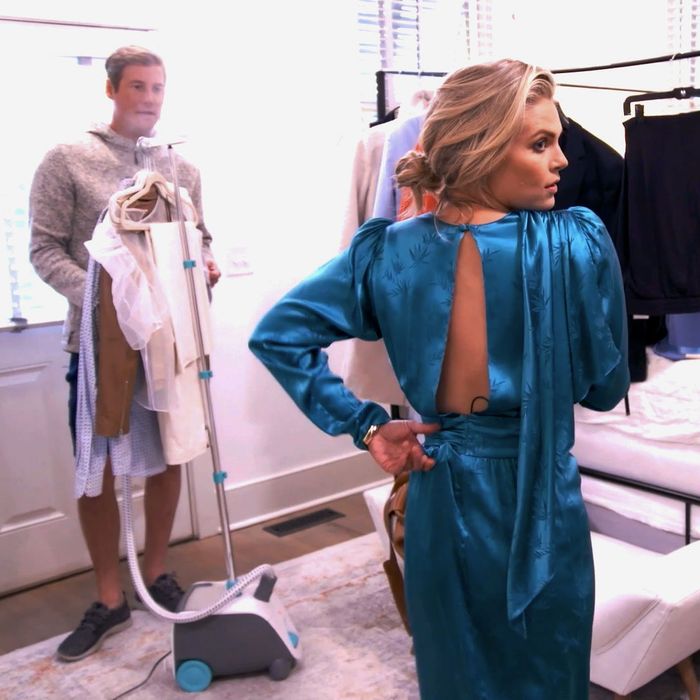 It's so funny, I always thought the "bop-ba-doos" of the title were the sound of a party, like a woman dressed as a flapper who was about to get turnt at some white-people roaring twenties–themed party. That is not the case. Apparently it is the slow, twisting echo that a party makes as it's going down the drain. It is the sound of our destruction. It is the anthem of the apocalypse and we have to listen to it every day until the virus hits.
Yes, just like with The Real Housewives of Orange County, we're headed into a season about coronavirus, which is what Shep thinks you get when you drink too many Mexican beers. But for some reason I'm more excited to watch it here than on RHOC. Did you see the previews? It's Madison telling Austen not to come home if he hasn't been tested. It's Shep and Danni talking on Shep's porch while he's inside the house with the door closed and they're talking to each other on their cell phones. It's like they're in prison! There is something so much more real about this than the Housewives, something like commiseration (or maybe co-misery) about how what they went through is exactly like what we went through.
The Southern Charmers are just like us (except Patricia, who lives in what is probably a former slave trader's home and has an excess of outfits for her new Pomeranian, Peaches). Just look at their houses. The episode proper starts with this mustard-yellow flophouse that looks like it needs a paint job. For some reason it looks like a house from a portrait of the Great Depression and we should see a ragamuffin sitting on the porch bitching about the Dust Bowl and Herbert Hoover.
We venture inside and Craig Conover, pillow magnate in the making, is wandering around in his puppy-print pajama bottoms and brushing his teeth. This looks exactly like the fantasy I would have in college when I imagined the frat boy who drunk dialed me for BJs after keg parties would actually become my boyfriend and then one day we would get civilly partnered in a blush-and-bashful-themed commitment ceremony. Then we see that there is a human lump in the messy bed and Craig opens the drapes to let in the 11 a.m. sun and it's like the girl he brought home from the night before is about to wake up.
Then the duvet comes down and it's Austen. "Wake up, sleepy boy," Craig says not without affection, just like my frat lover would say to me in my stupid daydreams. I love this. I love it more than anything and have not wanted a dude-dude couple to become reality as much since Toms Schwartz and Sandoval rode together in a motorcycle and sidecar (not a euphemism for sex stuff, but not not a euphemism for sex stuff).
Apparently Craig is now living in Austen's bachelor hovel because he found out that his house that he bought with his own pillow money is full of asbestos. There is nothing more Craig than buying a house, doing it up all nice, and then having to tear it apart because it was built with toxic chemicals.
The next house we see is a nice, simple southern colonial and it is Kathryn's "temporary house" while she is renovating the townhouse that her grandfather left her. We see her children running around, smearing peanut butter and jelly on each other and the blandly tasteful furniture and then we see him: Thomas. He comes downstairs looking bloated and wearing a pair of white jeans with appliqués all over them and they are not bland or tasteful.
Suddenly my body starts to convulse, foam starts to form around the corners of my mouth, my neighbor has to barge in and give me a popsicle stick so that I don't swallow my tongue. Seeing Thomas on my screen is that bad. I mean, come on Bravo. You got rid of Stassi and Kristen and you're going to keep the accused rapist and definite racist around on your channel? This season we see that Kathryn is going to have to answer for her racism, so there's a question about whether or not she should be kept around. But Thomas? That question has been asked and answered and he should be banned for life, even if Kathryn is living with him.
Next we go to visit Madison, who is now a full-time cast member since she and Austen have reconciled after their breakup at last season's reunion. We see her raising her son, 7-year-old Hudson, and she says that she is a proud "boy mom." We then see Hudson fussing with his clothes, blow-drying his hair, and trying to get it as big as possible. Now, I don't like to talk about kids like this, but let me just say that … I see a lot of myself in this Hudson, and we all know how I turned out.
Finally we check in with Shep, who is now basically living with his girlfriend Taylor, the blondest slice of half-mediocre red-velvet cake you bought at a coffee shop. They met at a bar and, so far, we have seen nothing that recommends Taylor over the scores of other red velvets that Shep brought home from bars in the past, but she was the one he met after he entered therapy for his anger issues, so that explains that one.
The drama of the episode happens when Craig goes out to lunch with Kathryn and he talks about asking Cameran to attend Shep's Dumb and Dumber party, which is happening in a few days. "I heard that Jason is having an affair," Kathryn tells him. Craig immediately doubts it and says as much and tells Kathryn she shouldn't be saying that. He goes to the bathroom and she just shrugs as she casually sips her bourbon and Coke, stamping out all the goodwill people had for her after Thomas gaslit her for years like she's putting out a Parliament Blue on someone's living room carpet.
Craig takes this to Leva, a new cast member who is Cameran's old friend, which the editors prove by showing all the times she's been on the show in the past. She also denies it. Craig then texts Cameran about what Kathryn is saying. Cam then texts Kathryn and is like, "Be a human being," and tells her not to talk shit about her marriage on camera.
Kathryn says she is unremorseful because of how mean Cameran was to her for so many years. But does she forget that she then became a Kathryn apologist when she got her shit together? I should also remind you that this is all about someone who isn't even on the show this season? Why are we questioning the fidelity of her husband when she's not even central to the story?
But wait, is this why she isn't on the show? Was she going to do it and then dropped out when Kathryn came for her? I don't know. But the fact that she, Chelsea, and Naomi (who was always too good and too French for this half-melted pile of week-old brie) aren't on the show points to something else going on.
The episode ends at Shep's Dumb and Dumber party, for which he had a friend serve as a "party planner," and it's in the most bland event space I could possibly imagine. It's just white walls and canister lighting. I was expecting Nene Leakes to come out of the kitchen at any moment saying, "A white refrigerator?" The only thing that happened at this party, which seemed more like a sad office function at an out-of-the-way Ramada, was that we were introduced to John Pringle. Perhaps you've heard of his family? It's headed by a guy with a round face and an impossibly large mustache. Yes, he created canned potato chips. You know him? Oh good.
He is a single man who is new to the show and looks like a bar of Irish Spring covered in back hair. No, I shouldn't be mean. He's handsome and tall and a little burly. He just moved to Charleston from San Diego where he left his ex-wife and two sons. He's an old college chum of Shep's, and though Kathryn has her sights on him, Patricia wants her mentee Madison to get with him instead of Craig's future love slave Austen.
And that's it. We end with a whimper and not with Shep banging anyone. I guess Taylor. I don't know. She's just staring out the window, hearing the crashing surf way off in the distance, and wondering what is going to come her way, what delights, what marital bliss, what joyous sunsets and delicious cocktails. What will this year bring her? Nothing if not serenity.