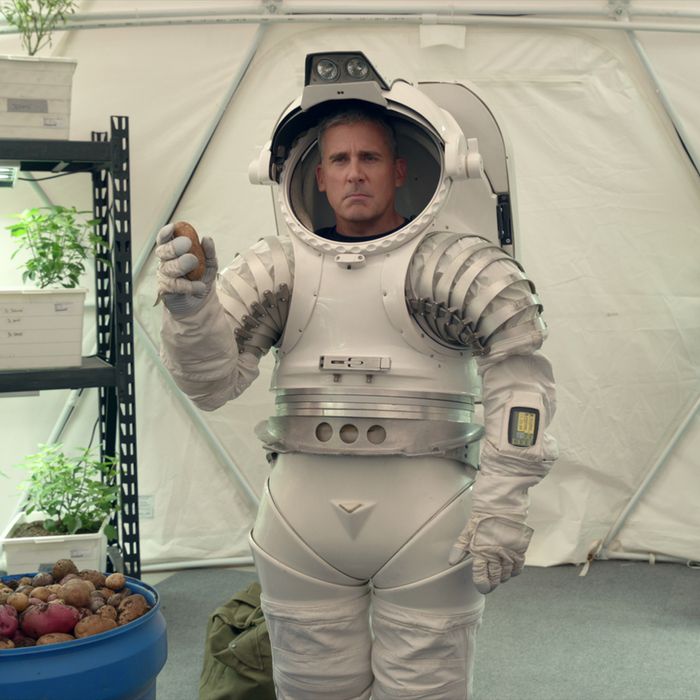 Photo: Aaron Epstein/Netflix
Is Space Force finding its rhythm after only four episodes? Greg Daniels has struggled to launch comedies in the past; the entire first season of Parks and Recreation barely resembles what that show became. It feels like this show is starting to find its groove earlier, though, establishing a clearer tone and finding the pacing and rhythm that this was lacking for at least for the first two episodes. It's not a great show yet, but it's getting closer with each episode, anchoring itself in more believable, entertaining scenarios than monkeys getting kidnapped by the Chinese. Perhaps the inherent ridiculousness of the real Space Force and writing for such a large, talented cast was too overwhelming at first, but it's getting easier to see how this show could work long-term if the writers can keep balancing humor and character work.
At its core, "Lunar Habitat" has an old-fashioned sitcom setup: Drop the bumbling protagonist into a situation that will amplify his faults in a comedic way. Taking the faux confidence of General Mark Naird and dropping it into a psychological experiment like forced quarantine with three strangers is a classic recipe for comedic disaster. One could see Michael Scott volunteering for the same kind of project and things going awry. Dwight would probably have to come to his rescue.
"Lunar Habitat" is smarter than its setup because it imbues the concept with character development that takes it in unexpected directions. By separating Mark and his daughter Erin, the episode ends up revealing more about their dynamic than when they're together. The opening scene, in which Mark yells at his daughter for not cleaning and not getting up early is a setup for how he behaves in the habitat, revealing that he at least partially sees his daughter in the same way he does those under him in service.
It turns out the experiment to see how people will behave on the moon lost one of its key players, and Mallory needs someone to jump in or lose all the research. Despite Dr. Chen's assertion that Naird will "go to pieces," the newest four-star general jumps into a space suit and enters the fray. Almost immediately, his worst habits come out. He pulls rank before he should and orders them to clean up a mess that doesn't really matter. He runs around the room instead of on a treadmill, breaking poor Jerome's didgeridoo in the process. He complains about so many potatoes and gives the guy who makes phalluses out of sand a funny look. Worst of all, he constantly diminishes their experiences, telling them that none of them have been upset before, trying to gain superiority through his tougher life experience. He also eats ants.
Most of what goes down in the habitat avoids the potential pitfalls of the setup. While the A plot this week could have been funnier, it also could have been nothing but disastrous physical comedy. It's almost clever how much the other three members of the habitat just kind of look at Mark and shrug him off. They've been living in isolation and dealt with jackasses in the service before. This is just another one. And they can make it another week. A lesser show makes the three people in the habitat crazy, bouncing four idiots off each other, but they really serve as the straight men for Naird to reveal his insecurities and inadequacies. It's not the other people in the habitat or even the situation that destroys Naird. He was halfway to "pieces" when he walked in the door.
Meanwhile, Brad and Tony get the B plot this episode, the story of FLOTUS trying to design Space Force uniforms. Would Melania Trump try to turn her husband's Space Force into something that looks like bad community theatre? Sure! And Ben Schwartz and Don Lake are very funny together in that they have completely different comic rhythms. Schwartz is all exuberant energy while Lake is the more intellectual, scared type. It's not unlike when Tom used to harass Ron or Jerry on Parks and Recreation. The oil-and-water aspect of their characters adds to the humor. And it's nice that Brad is actually kind of becoming a character, someone who demands to be called General and stands up for himself (certainly more than Jerry) enough that he actually does get the job done.
Ultimately, "Lunar Habitat" is about how Mark Naird can't be alone with his thoughts. Or too many ants. He squeals and shrieks in his sleep, goes jogging in a spacesuit, and only finds stability when he begins to see the people around him as equals, possibly even telling them about a few space secrets he shouldn't reveal. However, even this moment feels a bit selfish in that Mark Naird only finds happiness when he can have a personal breakthrough and turn his situation into therapy. If he actually does go into space, it may be the best for everyone if he goes alone.
Launch Codes
• Lisa Kudrow is back! It's a brief scene but she does nail, "You take away my sourdough bread and you're gonna get poisoned" in a way that only she can.
• Listen, realism is not yet this show's strong suit, but the guy who yells at his daughter about waking up on time leaves her for a week with a Post-it note? Yes, that bit of bad parenting is part of the plot, but also feels like something directly at odds with what Mark Naird would do.
• This show has a weird thing with rats, right? Mallory's research into their gastrointestinal system last episode and Naird's talk about eating them in this one. Is our space program more rat-centric than I have been led to believe?
• Malkovich doesn't have as many great lines or scenes as in the last episode, but he does get perhaps the best delivery possible on the phrase "a lifetime of military jackassery."