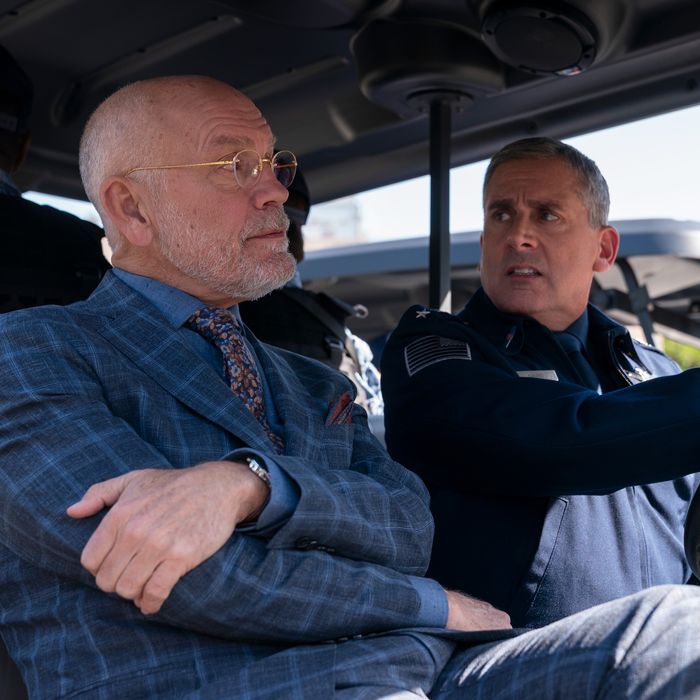 Photo: Aaron Epstein/Netflix
The Space Force writers are doing an admirable job of developing character within the construct of standalone sitcom premises. Whether it's via a chimpstronaut with a drill or a war game against the Air Force, they're letting viewers get to know people, especially General Mark Naird and Dr. Adrian Mallory, within premises designed to highlight the farce of the military-industrial complex. The self-contained system of the sixth episode is about a suspected spy within Space Force, a plotline that feels a little muddled and just not as funny as the better entries of this show. However, the series has already reached a point where an episode that dips slightly on the "laughs per minute" meter from the previous one still feels pretty likable. While the first three hours of Space Force has had its flaws, Daniels and Carell are figuring it out more quickly than expected after the premiere. There's still work to do, but it feels like a comparison to the first three hours of, say, Parks and Recreation, which became one of the best shows of all time, would suggest that this one is on the right track.
The main thrust of "The Spy" comes after Naird and Mallory learn that India has launched a rocket with a Pegasus Fin System, which they thought was their technological property. Does this mean there's a spy in Space Force, a program so underground that Naird put a convenience store worker who mentioned the launch in the premiere in his trunk? How else could India use their tech for a launch? And will this derail Naird's attempt at a conjugal visit with his imprisoned wife?
Officer Angela Ali flies Naird to the prison for that visit, and right around now is when thinkpieces would start being written about how this show is struggling with its female characters if it was on a weekly schedule. Just look at the imbalance in the ensemble. Steve Carell, John Malkovich, Don Lake, Ben Schwartz, and Jimmy O. Yang are just getting more to work with than the women, who are almost always positioned as the "straight man" and just poorly developed overall. Erin and Ali have been given the most screen time, but neither yet feels like much of a character at all. Six episodes in, Ali gets to hear about Naird's planned conjugal visit and that is literally it. Let's give the women on this show more to do outside of being sounding boards for the men.
Anyway, the conjugal gets canceled by an angry POTUS, who wants Naird to find the spy in his organization. Naird suggests it could be Dr. Chan, and so Mallory suggests it could be Brad as a form of mental retaliation. If one No. 2  is going to be investigated, the other one should be, too. After all, everyone is a suspect.
Chan is interviewed first, and when he mentions how the only thing they'll find on his computer relates to BWAM (Black Women Asian Men), it feels like an easy, dumb joke. The Brad scene is a little funnier as Don Lake tries to figure out what Naird and Mallory want from him and suggests an Outback Steakhouse reservation, washing his car, and babysitting Erin, in that order. There's a funny balance between Chan and Brad that could have been utilized a bit better, and maybe it will be in future episodes. Mallory admires Chan's intellect; Naird admires Brad's loyalty. Of course, neither is the spy.
Meanwhile, the one female character that's getting significant time is apparently being thrown into an "Andy and April" dynamic with a cadet named Duncan, who is as sweet and goofy as Mr. Dwyer from Parks and Recreation, while Erin is leaning into her cynical sense of humor, one that borders on mean. She mocks Duncan for how he pronounces "açai" and the "dumb state" from which he's from (Alabama), but the capper to the scene is that she's just plain blunt with the guys behind Duncan — she mocks Duncan because she cares. Like April, she makes fun of those she really likes most of all.
Across the base, the investigation moves from Chan/Brad to Yuri, of course, who clues them in on the fact that Kelly King, the head of security, designed the system that should have stopped this kind of thing. As Naird goes to talk to Kelly and ends up flirting with her in his own odd way, F-Tony asks Chan for ideas on what to get POTUS for his birthday. What do you get for the man who can have whatever he wants? Can they get the blood of a baby? Or maybe just a little blood from multiple babies?
Brad comes to find Naird with the revelation that Mallory offloaded a large encrypted file when the investigation began. Uh oh. It turns out that the file is just a video of Mallory singing his own version of "What a Wonderful World," dedicated to Jerome, the phallus-sculpting, didgeridoo-playing habitat resident from episode four! Malkovich can sell anything, but this scene goes on a bit too long for it to stay funny.
In the end, it turns out there was no spy, and Tony and Chan's suggestion to get POTUS his own star is stolen by the Secretary of Defense. There's a half-baked thematic throughline here about failed efforts. There's no spy, Tony doesn't get credit for his present, and Naird is still horny after his failed conjugal visit. It's not all tied together as well as the last couple of episodes, but even the best comedy seasons have mediocre episodes. This chapter of Space Force won't be anyone's favorite but is unlikely to derail those binging it over the weekend. Like the spy investigation at its center, it doesn't really add up to much in the end.
Launch Codes
• Carell's fake laughs when he's talking to Brad are the episode highlight. The first one is such a flat piece of nothing because he doesn't really want to be playing along with Brad at that moment, and then the second one is the opposite — obviously fake. Both are perfect.
• Another highlight is Mallory thinking that when Naird is quoting The Untouchables, he's really doing a Richard Nixon impression. They're not that far off, if you think about it. Especially that line, which totally sounds like something Nixon would say.
• Another Dee Rees episode! It's not as good as her first one, but still fun to see her involved. She's clearly in the Netflix system now after Mudbound, The Last Thing He Wanted, and two episodes here. One wonders where she'll pop up next on the streaming service. Let's see what she can do with Locke & Key!