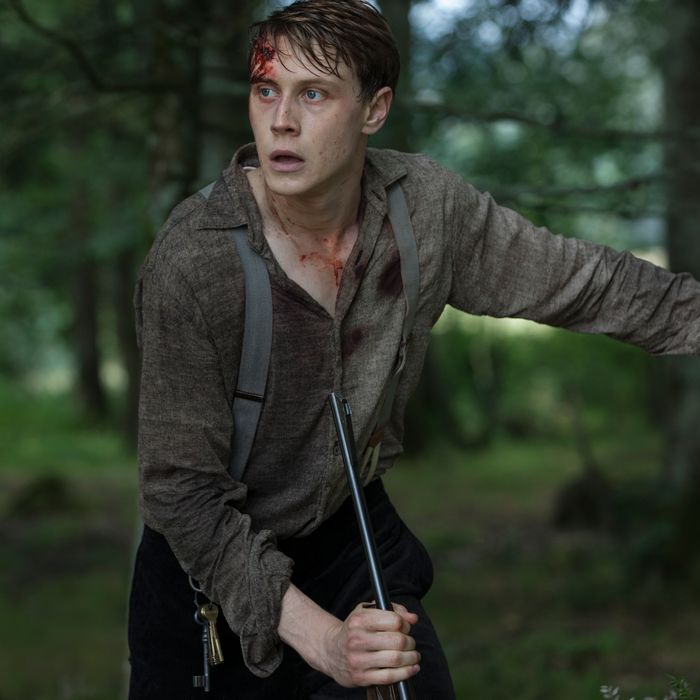 Spanish filmmakers — particularly those with a horror background — seem to be having a Stateside mini-moment in these early stages of 2018. This weekend, screenwriter Sergio G. Sánchez's directorial debut, the eerie Marrowbone, hits theaters. It's the story of a family down on its luck and battling both ghosts and serial murderers. Earlier this year, Paco Plaza's possession piece Veronica made a splash when it premiered on Netflix, and the J.A. Bayona–directed Jurassic World: Fallen Kingdom will debut in June.
If you want to hop on this (terrifying) train, but you're unfamiliar with the rich tradition of horror films out of Spain, here's a guide to getting started — or maybe going deeper. You likely already know Alejandro Amenábar and Pedro Almodovar, but what about Jesús Franco, Amando de Ossorio, or Jorge Grau? Below, you'll find a 15-movie Spanish horror primer, ranging from the early exploitation works of the 1970s to the refined ghost stories of the 21st century.
The Awful Dr. Orlof (Gritos en la noche, 1962)
This classic Spanish horror film, which was actually a French and Spanish co-production, is a foundational work for the country's horror tradition. Jesús Franco directed this tale of a mad surgeon bent on repairing his daughter's disfigured face with skin grafts from other women. (Yes, a lot like Eyes Without a Face.) But a police officer is closing in on him and his hideous assistant, Morpho.
The Blood-Spattered Bride (La novia ensangrentada, 1972)
Bride is a kind of 1970s dream, a stylish erotic vampire horror film with anti-fascist messaging and an undead lesbian luring a woman away from her husband. Written and directed by Vicente Aranda, one of Spain's most renowned auteurs, the story is about a pair of newlyweds who spend their honeymoon at the husband's childhood home, a very unwelcoming mansion. As their stay goes on, the wife starts drawing away from her husband, and she is overwhelmed by violent dreams. The paves the way for seduction by the vampire Mircalla (Alexandra Bastedo).
Tombs of the Blind Dead (La noche del terror ciego, 1972)
This is the first in a franchise of films known as the "Blind Dead Series" from writer-director Amando de Ossorio, and it was a catalyzing film at the start of Spain's horror wave in the 1970s. Tombs is set in modern-day Portugal (modern as in the '70s), and it concerns a legion of dark knights known as the Templars, who, when they were alive in the 13th century, pursued eternal life by drinking human blood and offering ritual sacrifices. Centuries after their execution, they rise again to terrorize the land. Spring for the whole series and watch Return of the Blind Dead, The Ghost of Galleon, and Night of the Seagulls.
Horror Rises From the Tomb (El espanto surge de la tumba, 1972)
If you want something colorful and bombastic that's also a fine example of Eurotrash exploitation cinema, take a dive into Horror Rises From the Tomb. This one follows a warlock who was executed centuries ago, but rises again after his head is exhumed by a group of people — and it starts possessing people to help him find the rest of his body.
Let Sleeping Corpses Lie (No Profanar el Sueno de los Muertos, 1974)
From prolific director Jorge Grau, this movie is also known in English as The Living Dead at Manchester Morgue, Do Not Profane the Sleep of the Dead, and Don't Open the Window. So if you search for the movie and find any of those, don't worry; you're doing it right. What starts as a crime story with a cop in pursuit of two men he suspects of a series of grisly murders turns into an undead nightmare. Turns out, the killers are actually zombies that have been animated by a unique farming tool that utilizes radiation to kill insects. An underseen zombie classic.
Who Can Kill a Child (¿Quién puede matar a un niño?, 1976)
Spanish filmmakers have a special talent for making especially horrific movies featuring children. Who Can Kill a Child? is one of the country's best cinematic exports, and it focuses on a married couple visiting an island they believe to be deserted. In actuality, it's home to a tribe of children who have systematically murdered all of the adults.
In a Glass Cage (Tras el cristal, 1986)
Remember what we said about horror films involving children? Writer-director Agustí Villaronga delivers this gruesome story of a former Nazi soldier who spent the war molesting, torturing, and performing experiments on children — particularly young boys — a practice he continues in his postwar exile. After a failed suicide attempt, the sadistic Klaus (Günter Meisner) is paralyzed and confined to an iron lung, and one of his former victims seeks him out and becomes his caretaker. Yeah. You might need a few breaks.
The Others (2001)
Alejandro Amenábar is one of the Spanish filmmakers most known to American audiences. He's responsible for Abre los ojos (Open Your Eyes), the original version of Vanilla Sky, but his most accessible work is probably the excellent ghost story The Others. It stars Nicole Kidman as Grace Stewart, a woman who lives in a large, grand home with her two highly photosensitive children. Drifting around among darkness and shadows and candlelight, it's understandable that Grace would start to think her house is haunted. But the truth is much more shocking than she is prepared to learn.  
[REC], (2007)
Director Paco Plaza got a lot of buzz for his latest movie, Veronica, but REC was where he made his name. Written and directed with Jaume Balagueró, REC is set inside a quarantined-off apartment complex where an outbreak is turning the residents into raging undead creatures. It's one of the best, most terrifying haunted house or zombie movies ever made, and it's presented in the style of found footage, filmed by a TV news crew using night vision for the majority of the movie — so everything is tinged an inhuman green.
Timecrimes (Los cronocrímenes, 2007)
Fans of last year's Colossal should check out the first feature film from writer-director Nacho Vigalondo. It stars Karra Elejalde as Hector, a man who's pleasant afternoon at home turns into a deadly game of cat and mouse when a man in a pink mask appears and starts stalking him through the woods. The whole story is tinged with sci-fi, but we won't spoil how. Just dive in and try to parse the mystery.
The Orphanage, (El Orfanato, 2007)
There's another horror movie from Spanish director Jaume Collet-Serra called Orphan that came out in 2009, and if you search for The Orphanage, the results tend to mix in these two films. You want the one from 2007 that was directed by J.A. Bayona, and written by Marrowbone's Sánchez. The Orphanage is the story of a woman who brings her family back to the shuttered orphanage she was adopted from, which she plans to reopen as a home for disabled children. It's not long before her son starts communicating with an invisible companion.
Julia's Eyes (Los ojos de Julia, 2010)
Sensory deprivation horror is having a moment thanks to A Quiet Place, and Julia's Eyes drives up the tension by featuring a lead character who is trying to solve her sister's murder while she battles a degenerative eye disease. One of the most interesting aspects of Spanish horror is the intimacy between predator and prey, and the way Julia's Eyes weaves the killer into Julia's life while keeping him in a blind spot for both her and the audience is thrilling.
Sleep Tight (2011)
Sleep Tight is terrifying because it feels only slightly beyond the realm of possibility. A middle-aged man named César (Luis Tosar) is the front-desk clerk at a posh apartment building. He's the maintenance man, and everyone's go-to hand in the building. But he is also a hopelessly miserable person who believes he is incapable of happiness, and the only thing that brings him any form of joy is making other people feel terrible. His obsession and his enemy is the relentlessly happy tenant Clara (Marta Etura), and he is willing to violate her in every conceivable way to ruin her life. You'll be checking under your bed before you go to sleep after this one.
The Skin I Live In (2011)
Pedro Almodovar is one Spain's more globally famous directors, and The Skin I Live In is not only a great film, it showcases one of the best performances ever given by Antonio Banderas. Too much description would spoil Skin, but suffice to say, Banderas plays a brilliant surgeon keeping a woman prisoner in his luxe villa. She's made to live in a constant state of recovery as he sculpts her into a perfect living doll. It's a gorgeous, disturbing example of how Spanish directors excel at blending passion, pain, violence, and obsession into terrifying works of art.
Witching and Bitching (Las brujas de Zugarramurdi, 2013)
Spanish horror has a wonderfully fantastic spirit, and veteran director Álex de la Iglesia (The Last Circus) is a pro with madcap cult fare. Witching and Bitching begins with a man in a full Jesus outfit painted silver and robbing a bank, who, in fleeing with his co-conspirators, ends up in the clutches of a coven of cannibal witches.