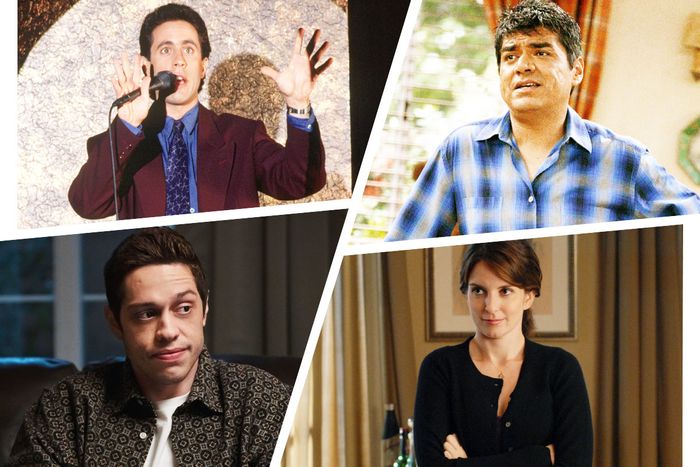 Photo-Illustration: Vulture. Photos: NBC; ABC
Comedians have been building shows around their personae since before television. The Burns and Allen Show was a radio program in the '30s and '40s about real-life married couple George Burns and Gracie Allen. The Jack Benny Program was about Jack Benny trying to put on The Jack Benny Program. These radio shows became TV shows and one of the main selling points of TV. The stars you know are coming into your home — how exciting! Bupkis, Pete Davidson's new Peacock show about the trials and tribulations of being Pete Davidson, is merely the latest iteration of a formula that has made dozens of performers household names.
In the late '80s and early '90s, a three-camera, self-insert sitcom was the reward for reaching the top of the comedy ladder. Or even just the third rung. If you were a semi-famous standup, your sitcom is what could launch you into "stadium tour till death" levels of recognition. (From a Who to a Them, in Who? Weekly terms.) Jerry Seinfeld, Tim Allen, and Ellen DeGeneres all reached new levels of fame thanks to their semi-autobiographical sitcoms. Then, in the mid-'90s, the comedy bubble burst, and it took a while for the new format to arise. Single camera, auteurish "comedies" emerged, some too depressing and jokeless to earn the title. But still the comedian stood at the center. Today, with shows like Dave, Bupkis, and the eternally refillable cup that is Curb Your Enthusiasm, we are entering a new, peppier and showbizzier era of the self-insert comedy.
Building the audience for a comedy is hard. The main appeal of a sitcom is that you are hanging out with your very funny TV friends, but the problem with a new show is that these randos aren't your friends yet. But self-insert comedies have an edge on the competition: It's based on existing IP. The easiest way to secure a built-in audience for your show is to put a recognizable face front-and-center. And if the show thinly fictionalizes their well-known material, even better. For that reason, the format will never die. What follows is an overlapping, messy taxonomy of the autobiographical comedy. As one of the backbones of television, it's a huge category of show. But it's important to document. We've broken down the self-insert comedy. How "real" are they, really? What's in a name? Who Jackie? All questions will be answered.
The Radio With Faces Era
Before the '70s and '80s, standup was very different. There wasn't a presumption that the person standing up and telling the jokes was also writing every single one. Standup came out of vaudeville, as did radio comedy — and TV comedy came out of radio. So it's no wonder that many of the first sitcoms starred former radio and vaudeville stars. For example, bandleader Ozzie Nelson was able to make his whole family famous when they got a TV show. It certainly also helped that studios didn't want to let movie stars be on TV, which they saw as competition and not the venue for cross-promotion and synergy we know and love today.
Examples: The Adventures of Ozzie and Harriet, I Love Lucy, The George Burns and Gracie Allen Show, The Jack Benny Program, The Bob Newhart Show, The Abbott and Costello Show, The Danny Thomas Show
The '80s Stand-up Boom Runoff
There was a time when you couldn't walk ten paces in Hollywood without running into a stand-up who was about to star in their own eponymous show. Getting a sitcom became the reason to try stand-up, rather than any love for the art form itself. Even after the bubble burst, there were still many sitcoms that had all the hallmarks of the style. Three cameras, broad jokes, and an oddly generic sense of humor.
In many of these shows, the details of the comics' lives got sanded off like the serial numbers on a stolen gun. Despite these shows allegedly being tailored for each comic, it felt like you could easily replace one blazer-clad quipster for another in the stock sitcom plots. They become traditional sitcoms that happen to star someone whose real life kind of resembles the main character. Could be Roseanne, Fran Drescher, or Margaret Cho — someone is going to be the lone holdout on a jury. Sometimes, like with The George Lopez Show, the standard-issue sitcom format was the point. George Lopez was struggling in Hollywood finding material that wasn't insulting to Latine people. His show did use elements of Lopez's background, but the sitcominess actually helped the "other"-ness with which the Mexican American experience is usually depicted in media.
Examples: The Cosby Show, The Nanny, Seinfeld, Everybody Loves Raymond, Roseanne, Ellen, All-American Girl, The Jeff Foxworthy Show, Home Improvement, The Wayans Bros., Martin, The Jamie Foxx Show, The Drew Carey Show, Oh Madeline, It's Garry Shandling's Show (parody of the form)
Shows that Fit the Pattern Even After the Stand-up Bubble Burst: Titus, Wanda at Large, Whitney, Miranda, The Ms. Pat Show, Happily Divorced, The Bill Engvall Show, Mulaney
Subtrope: Name! 
Regardless of what style of self-insert comedy a comic does, there's a good chance their show will be named after them. And not even their full name. First or last name only. The show and the comic's brand are one and the same.
Examples: Whitney, Ellen, Maron, Titus, Seinfeld, Roseanne, Newhart, Miranda, Ramy, Dave, Mo, Mulaney, Lopez
Borderline Examples: Louie (misspelled), Fleabag (nickname)
We Need to Talk About Titus
Louie gets a lot of credit for changing the half-hour comedy. Making it artsier, fartsier, and more melancholy. Well, fuck that, because Titus was inching toward that zone in 2000. It may be thee liminal self-insert comedy. Starring Christopher Titus as himself and Stacy Keach as his drunk and emotionally abusive father, Titus was much darker than the shows that preceded it. The show touched on mental illness, substance abuse, sexual abuse, and cycles of poverty. The show's narration took place in a black and white "neutral space," shot with a single camera at different angles. While hardly Ingmar Bergman, it was still quite a stylistic deviation from Everybody Loves Raymond & Co. Which leads us to …
The Indie Darlings
What the three-camera eponymous show was to the '80s stand-up boom, this format was for the alt-comedy boom. Could you call yourself a podcast host if you never parlayed that semi-notoriety into a show on IFC, Seeso, or FX? These shows are mostly single camera, filmic, even auteurish. Magical realism, dream sequences, a Tarantino-esque use of popular music? All are in play.
In contrast to many of the stand-up-boom shows, the indie-darling shows were often deeply personal. For example, Michaela Coel was sexually assaulted while working on her first show, Chewing Gum. Her second show, I May Destroy You, sees her author avatar processing an assault that occurred while working on her first novel. Amy Schumer's Life & Beth focused on her very recent marriage. And One Mississippi takes on Tig Notaro's falling out with Louis C.K. (who had been an EP on the show) after the allegations against him came out.
Examples: Louie, Crashing, The Duchess, Maron, Ramy, Dave, Mo, Feel Good, Better Things, Somebody Somewhere, Take My Wife
Subtrope: Barely Autobiographical
Girl, this show is barely about you! Your job, your family, your inner struggles, your arrests: Where are they? Is this show about you, or about someone with the same first name and vague demographic information as you? Sometimes this departure from biography is done for artistic reasons, to get the comic's viewpoint in different circumstances. The Bernie Mac Show conflated elements of Mac's life for story purposes, for example. Sometimes it's because the network thinks your life is gross and unloveable, and they'd rather you were someone else. Margaret Cho had her life story butchered and was pressured to lose weight once ABC bought All-American Girl. And sometimes you're just improving a home so you don't have to bring up that coke bust.
Examples: The Cosby Show, The Nanny, Home Improvement, The Sarah Silverman Program, The Duchess, Ramy, Adam Ruins Everything, The Bob Newhart Show
A Note on Fake Jobs
Unlike rom-coms, most self-insert TV shows aren't full of architects and magazine writers. Many fake jobs are one step removed from their real job. Ray Barone isn't a stand-up, he's a sportswriter. Tig isn't a stand-up, she's a radio host. Sometimes their career is in the visual arts rather than performing, like in The Duchess (ceramicist) or Whitney (photographer). A lot of sitcom stars (Titus, Ellen, Miranda) run a fake store, presumably because then you have somewhere to regularly set scenes besides the house. Plus you can always close a store you own for TV high jinks. Older blue-collar comedies had factory jobs (Roseanne, The George Lopez Show), but now that manufacturing is dead in America, working-class stiffs have more niche occupations like cellphone repair (Mo) or test grader (Somebody Somewhere). And then there's Bill Cosby, who gave himself the chilling-in-hindsight fake job of obstetrician. What a choice.
Pre-Fame Days
When you don't want your show to be about show business, you have some options. You can give yourself a job you never had in real life, like nanny or reality-breaking genie. Or you can set your show before you got into comedy. (Or at least before you got good at it.) Nora From Queens details Awkwafina's life before she adopted that moniker, and was just gigging through New York. Or there's Flight of the Conchords, which depicted the band as not famous enough to merit the HBO show. These shows can be about the come up, or they could be about being a regular working stiff. What matters is that it's relatable to all the little nobodies out there in TV land.
Examples: Crashing, Difficult People, Wanda at Large, Nora From Queens, Lucas Bros. Moving Co., Flight of the Conchords, All-American Girl, Mo, Pulling
Subtrope: I'm Just a Little Baby
A shocking number of autobiographical shows depict the star as a literal child. Some of them are animated, which makes it easier. But some of the time they are fully grown? And although the "childhood" section of any celeb tell-all is the most boring part, these shows are mostly quite good.
Examples: Everybody Hates Chris, Pen15, Home Movies, Big Mouth, Life With Louie, John Hodgman's failed pilot Only Child
This Business We Call Show
The most self-sucking take on the genre, a showbiz show is the TV equivalent of Stephen King's relentless author protagonists. But on the other hand, who doesn't love a peek behind the curtain on America's most enduring export, celebrity? Write what you know! Seinfeld did a whole season about pitching and developing Seinfeld. And 30 Rock got stronger when Tina Fey was forced to add personal details to the show. Originally intended to be a behind-the-scenes look at a newsroom, the comedic world really opened up when 30 Rock got its eponymous setting.
There have always been TV shows about TV shows (The Dick Van Dyke Show was based on Carl Reiner's life commuting into the city to write on Your Show of Shows). And when these comics get a chance to really write what they know, there's always the chance the show will spill tea on their famous friends. You will probably see a lot of those famous friends, too. The Showbiz Show is the most cameo heavy with stars often getting a chance to skewer their public personae by playing shitty versions of themselves. What is Curb Your Enthusiasm, after all, if not an excuse for Larry David to employ his friends? It's like a prestige-TV version of Grown-Ups. 
Other Examples: Bupkis, The Bernie Mac Show, I May Destroy You, Feel Good, The Jack Benny Program, Staged, Maron, Dave, Mulaney, Take My Wife, Curb Your Enthusiasm