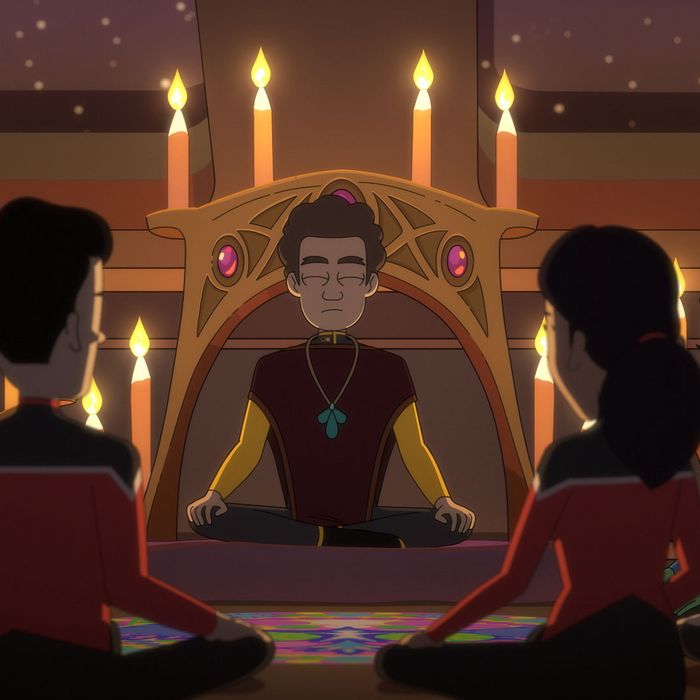 Moving back in with your parents as an adult has become relatively commonplace, especially during this pandemic. It looks like remote work may be here to stay, so people are increasingly leaving expensive cities (where they often aren't paid enough to justify the rents they are forced into) for a different kind of life. Some of it is temporary, but others are seeing this move as more permanent. And while there can be some amazing things about moving back in with your parents, it can also suck a whole lot.
This conundrum is what Mariner faces in the latest episode of Star Trek: Lower Decks. Since the first episode, we've known that Mariner is serving on a ship with her mother, Captain Carol Freeman. And we know Mariner's way of doing things certainly does not sit well with Freeman. But in "Moist Vessel" (WHY WHY MOIST WHY), we finally see the two interact face to face, and they do so for the bulk of the episode.
At the beginning of the episode, Captain Freeman resolves to force her daughter to request a transfer off of the USS Cerritos by giving her the worst jobs on the ship: waste removal on the holodeck, removing carbon scoring, lubing up the turbolift. But in true Mariner fashion, she manages to turn these endeavors into something enjoyable. As a result, Mariner receives the one thing she cannot handle: a promotion to Lieutenant.
Mariner has really found a home in the lower decks of her mom's ship, and it's interesting to see her ascend to the higher ranks. It's not that she can't succeed; it's that she doesn't really want to play the game that's required. Freeman knows this very well, which is exactly why she issues the promotion — it's all part of the game to convince her daughter to request a transfer.
While it's incredibly amusing to watch Mariner suffer through the socializing that comes with being a lieutenant, from poker games to talent nights, it's the dynamics with her mother that make "Moist Vessel" especially interesting. Freeman treats Mariner very differently than her other crew members, and that's not necessarily a good thing. Many people can sympathize with Mariner's plight: Freeman refuses to see Mariner as anything but a rebellious child, rather than the adult she is. It's something so many people grapple with, especially as they've moved back home over the last few months. How do we ask our parents to see us as the adults we are, rather than their conceptions of the children we were? ("Are you sure that's the best rock for this?" is both classic mom and classic Starfleet.)
The answer in this case is to work together in a crisis: Mariner both saves her mother's life and ends up helping to save the ship. Freeman is stunned by her daughter's capability and competence, which she shouldn't be — Mariner has always been doing a great job, just on her own terms (she even reads the mission briefs, albeit ironically). Mariner's issues with Starfleet and protocol aren't directly related to her mother as captain, but she does have issues with Freeman because she's a part of the chain of command. But Freeman has been taking Mariner's attitude personally this whole time, not realizing that Mariner's issues are with the institution as a whole.
Not all of these issues are resolved at the end of the episode, and I wouldn't expect them to be. Freeman considers Starfleet an integral part of herself and her identity, so her daughter's rejection of the organization has to sting (though, as Mariner points out, trying to force your daughter to quit isn't exactly the most mature move). But hopefully the captain does see that Mariner embodies the values of Starfleet; she just doesn't like the bureaucracy.
In the end, Mariner is back down in the lower decks with the ensigns, where she belongs, but with a little more mutual understanding from her mother. Elsewhere, Tendi goes on a journey in which she admits, in the end, that she can't handle it if people don't like her, and she'll go to absurd lengths to make sure people do. This is very reminiscent of the trip Rutherford went on in the last episode, "Temporal Edict," and is generally relatable to anyone who has social anxiety.
I appreciated the focus in this episode on the women. I'd love to see a Tendi/Mariner team up going forward, and I generally really like what we've seen of Tendi so far. She's capable at work, and has a curious mind, but she's also a little bit of a klutz. She comes across as self-assured, but that masks self-doubt and anxiety. We've seen it from Rutherford and Boimler, now we're witnessing it in Tendi as well, and it underlines how well she fits in aboard the Cerritos. In fact, we've generally seen a lot of honesty from junior officers on how much pressure they feel to perform, to do well, and to stand out. I really like seeing this side of the equation, because all that stress can't be healthy.
Captain's Log:
• Of course that's what the crew uses the holodeck for, do you know people at all?
• Have you ever watched an episode of Star Trek: The Next Generation and wondered, "Why would you go to one of these crew talent shows in your free time?" WELL now we know.
• The conversation between Boimler and Mariner about her promotion was incredibly good, and reminded me of the discussion of humanity between Spock and Data in "Unification, Part II."
• Any Stargate SG-1 fans out there find the discussion (and depiction) of ascension incredibly funny? Also, is someone who ascends to a higher plane of being listed as a mission casualty? What kind of paperwork does that involve?
• WHAT is Ransom going to do to Boimler, and is it going to involve killing him?
• All that water can't be good for the warp core, can it? Nah, it's probably waterproof.