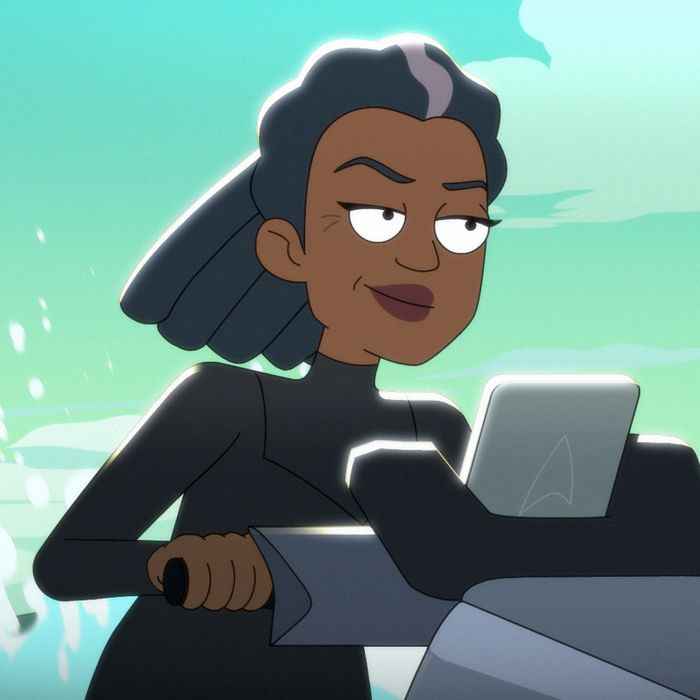 This week's episode of Star Trek: Lower Decks brings to the forefront an issue I have had with Ensign Beckett Mariner for a while but haven't been able to articulate. It's easy to love the character for her fearlessness and her refusal to let protocol stand in the way of doing what's right. She holds Starfleet's values dear and also goes to bat for her friends and her ship; she's the kind of breath of fresh air that the organization really needs.
And yet, time and time again, we've seen Mariner defy orders and expectations for no good reason, except that she wants to. She enjoys challenging authority, and sometimes she does it for fun. It makes for a great punch line in the day-to-day course of things, but when things are dire, it's less palatable. That's the aspect of Mariner that I've found frustrating — sometimes she's contrary just to be contrary. That conflict, one that's been operating within Mariner's head without the viewer knowing, comes to the fore in this week's episode, "Crisis Point."
The episode opens with Mariner on a planet encouraging a lizard species to overthrow its rat oppressors. (I love Star Trek aliens.) She's expecting praise from her captain, her mother, for once, but she doesn't get it: Freeman beams down and reveals that Mariner has violated General Order One (non-interference in the natural course of evolution of other species). Instead of sending Mariner to the brig as punishment, as she usually does, Captain Freeman elects to shuffle her daughter off to therapy.
There's so much to unpack here. Let's start with Mariner's aversion to therapy, her assumption that it's some sort of punishment (and to be fair, Freeman is treating it like it is). That in and of itself signals that Mariner could benefit from therapy. (Honestly, everyone on the Cerritos could! Therapy is good!) It's not surprising, then, that the session goes incredibly poorly, though the bird therapist also does not engender much confidence.
Mariner reveals she doesn't want to work through her issues, which doesn't come as a huge surprise. She wants to win, not to be a healthier, less angry, more well-adjusted person. Just how angry and poorly adjusted she is comes into full relief when she hijacks Boimler's holodeck program (poor, poor Boimler) and takes way too much pleasure in gutting the holographic crew and trying to destroy the Cerritos. Her ultimate goal: to fight her mother to the death.
Boimler's holodeck program used years' worth of personal logs to simulate the crew of the Cerritos, and it's a pretty good approximation for how these characters would act in real life. At the beginning, it seems like a good place for Mariner to work out her aggression and anger, but it quickly becomes disturbing rather than therapeutic.
Mariner sets up a General Chang–style trap for the Cerritos, complete with the over-the-top Shakespeare quotes. (Disclaimer: The Undiscovered Country is one of my favorite Trek movies, but this entire sequence is so well done and hilarious.) In the process, she makes the entire program, which was originally created by Boimler, about her and completely sidelines her friends.
Rutherford seems fine with it: This holodeck experience gives him the opportunity to act like the cinnamon roll he is (he's too pure and sweet for this world). His fantasy? Being able to tell his superior officer, the engineering chief, how much he respects him and his work. SO GOOD, SO PURE.
Tendi's story is a bit different. After being typecast as an Orion pirate and slaver, and then having her concerns about it waved off, Tendi isn't interested in playing along. "This isn't you," Tendi says to Mariner before leaving the holodeck. And she's right.
Luckily, Mariner swoops in to save the day. Or, at least, it's the holographic version of Mariner that Boimler programmed into the simulation. She fights her flesh-and-blood counterpart in a weird and excellent Mirror Universe–style duel. Mariner Prime reveals that she only breaks rules because it's what people expect of her — she knows that if she followed orders, she'd be an actual badass. "They're not casting you as the villain, you are," is an incredible amount of poignancy, but not unexpected, given the depth we've previously seen in Lower Decks. This is the ultimate definition of "Know thyself," and it's used to great effect here.
I've lamented previously about Mariner being the center of every episode (I'd like to see other characters develop), and it's not about not liking Beckett — she's amazing. But we were seeing her hum along without any significant growth. "Crisis Point" was exactly what I was looking for in regard to Mariner, a sort of reckoning between the dueling halves of her: The half that wants to be acknowledged as a good officer, someone smart and competent, and the half that wants to rebel (especially when she doesn't get the praise she desires). It's a great moment of character development for Mariner, and her recognition that therapy works (albeit a messed-up kind of therapy) is welcome.
And after all that, poor Boimler not only messed up his interview with Captain Freeman, he now knows the big secret: Mariner is Freeman's daughter. This is going to go so poorly and also so well for us as viewers. I can't wait to see how this unfolds next week in the season finale.
Captain's Log
• "Whose boy is this?" EXCUSE ME WHILE I CLEAN UP THE COFFEE I JUST SPIT OUT
• I'm not sure when I laughed harder —at the over-the-top flight to the Cerritos, with the swell of music and showing the ship from 85 different angles, or at the Star Trek VI–style end credits, complete with cast signatures.
• "Warp me!" is pretty epic.
• MARINER LOVES THE WARP CORE — I KNEW IT.