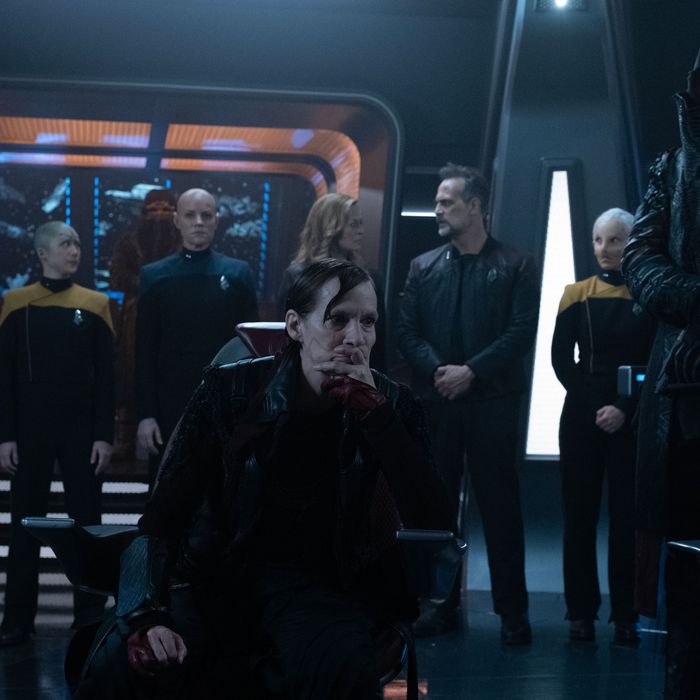 Photo: Trae Patton/Paramount+
Who is Jack Crusher? It's a question we've all been asking since this season of Star Trek: Picard began, but it's one of those weird enigmas where the more we find out, the more questions we have. We know Jack Crusher is Jean-Luc Picard's son and that he inherited his father's Irumodic Syndrome and his mother's medical skills.
But that's all just surface-level stuff. The question of who Jack Crusher really is ties into the season's narrative arc as we try to figure out the big answers: Why are the new and improved changelings after him? What do Jack's superpowers mean?
I don't think Jack Crusher is a changeling, though that's the obvious conclusion. At the end of "Dominion," Vadic says she wants to take Jack away to where he belongs, and the first thing that comes to mind is the Great Link. But then again, Odo (presumably Worf's contact within the Great Link) told Worf that Vadic and her crew were a rogue element. That would mean Gross Face Person isn't a Founder, and Vadic doesn't report to the Great Link, making everything even more complicated. Who's pulling all the strings?
Sure, this means even more questions, but it also makes me reasonably confident in saying that I don't think that Jack Crusher is a changeling. That being said, something weird is happening with him, and it's not Irumodic Syndrome. He and his father may have something else entirely that's been misdiagnosed, but why does any of this matter? While it's not frustrating in terms of storytelling, I am usually pretty good about putting the pieces together and coming up with a theory that makes sense, and this season has me stumped.
The Titan crew doesn't have any more of an idea of what's going on. Before they can figure out what Vadic, Captain of the USS Titan, wants, though, they have to regain control of the ship. The only way to do that? Unleash Commander Data on Vadic's lockouts.
The issue, of course, is that there's a partition between Data and Lore. If Geordi takes it down, there's no telling what might happen. Honestly, for a while there, I thought we would be forced to watch Data sacrifice himself yet again, and I was so upset. Data doesn't always have to be the one who gives of himself to save others. He deserves to live, too.
It's always nice when you get a reminder of just how good of an actor Brent Spiner is, especially when he plays opposite himself. And he was really the heart of "Surrender," as we watched him slowly give his memories to Lore — a Sherlock Holmes pipe, the Tasha Yar holo, Spot, a deck of cards. To the viewer and those on the outside looking in, Data seems to surrender. But thankfully, he has his own strategy and emerges triumphant. And with that, the tide is turned.
Before Data manages to right the ship (quite literally), things are looking pretty dark. Vadic executes a crew member, and Jack Crusher heads to the bridge, seemingly to surrender (the running theme of the episode is also its name, who knew!) but really to buy Data time to overpower Lore and take back the ship.
On the Shrike, Will and Deanna finally have a heart-to-heart, and we understand how much of a toll the last few years have taken on them. The rapport between Marina Sirtis and Jonathan Frakes is amazing, and they feel so right together onscreen. Even when they're arguing and talking about difficult topics like Thad's death and their grief, it still feels comfortable and full of love.
They don't have to wait too long to contemplate their fates because Raffi and Worf arrive on the scene in a cloaked shuttlecraft to save the day. The reunion between Worf and Deanna was an absolute joy, especially because I was sure the writers would gloss over the fact that these two were in a relationship when Star Trek: The Next Generation ended. But no, their reunion had me absolutely screaming (and was genuinely sweet, heartfelt, and funny).
On the Shrike, the team finds Jean-Luc's body (the one stolen from Daystrom Institute) and discovers that the parietal lobe — where Irumodic Syndrome is located within the brain — is missing. Things are looking weirder, and they continue on that trajectory as Data retakes the ship, Vadic and her brethren are killed (Vadic's last line, "Fucking solids!" was classic), and the crew finally gets the reunion we've all been waiting for.
I don't know if I can accurately describe here how much the interaction between Geordi and Data meant to me. Considering I learned what it was to be a friend to others through the example these two set, the privilege of seeing them interact once again was one of the best parts of the entire season (and it's been a damn good season, let's be clear). I could live an entire lifetime in this scene's warm blanket of emotions.
So where do we go from here? That's the question. Deanna notes that there's something dark surrounding Jack. Not that he has darkness or evil within himself, but there's something around him. And she's going to find out what it is. She takes Jack's hand and enters his visions with him. She's going to lead him through the red door in his mind, and hopefully there will be answers on the other side.
Captain's Log
• ALL SEVEN OF OUR CREW ARE AROUND A TABLE AGAIN. I HAVE BEEN WAITING DECADES FOR THIS.
• Okay, but really: Does everyone hate Chateau Picard wine? Shaw, Worf, now Geordi. It makes me think I should just keep the bottle I have as a souvenir, never to be opened.
• "My name is Seven of Nine." Jeri Ryan is our queen, and I will hear no arguments.
• Data's death scene in the first season of Star Trek: Picard is one of the best I've ever seen, and I'm so glad they brought Data back while still honoring that.
• Shaw's insistence that Seven should have blown the turbo lift was interesting, but I agree with Seven when she says, "We don't trade lives."
• Where is Kestra? I know she's probably old enough to be on her own at this point. I hope she's back at the house (which apparently they all hated, a jab at the season-one writers?)
• I'm glad Tasha Yar got to be part of this reunion in her own way. It feels right.