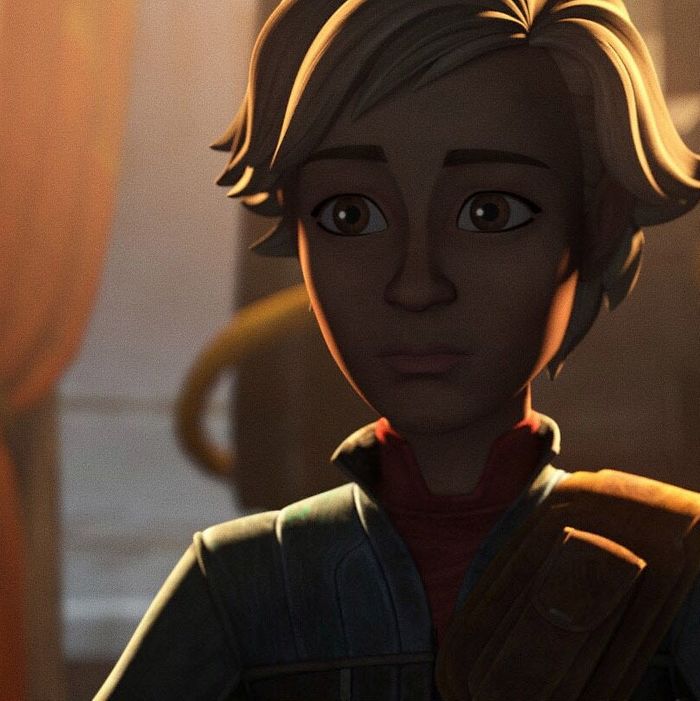 The protagonists on The Bad Batch are hardly characters who could be considered heroes. They really only do decent things when they're forced to. It's not goodwill, it's because they (sometimes) listen to Omega. Throughout both seasons of the show, Hunter and the others have been driven mostly by pure survival instinct. At first, they had to escape from the Empire and do whatever it took to not be captured. Then, once the immediate danger was out, they started going on missions in order to earn money to stay alive, working for Cid doing small jobs that were honestly kind of beneath an elite squad of clones, heroes of the war. And, yes, they did the occasional favor for Captain Rex.
Whenever they've done something that's unequivocally good for others — saving people from danger, rescuing Gungi and returning him to his people, rescuing Hera Syndulla's parents — they've only done so at the behest of Omega. The Batch only helps when it's convenient, but they are mostly just content with looking the other way. But as we've already seen on Andor and in this episode, looking the other way and helping when it's convenient is not enough in the time of the Empire, and a reckoning is coming sooner rather than later.
This week's episode takes place shortly after the events of the last one, with the Batch having to wait it out a few days and survive while Cid sends them help. If only they had their own ship, they wouldn't have to make the trek all the way to the other side of the planet to seek help. Unsurprisingly, it is once again Omega who has the idea that even if they can't track their ship, they can track Gonky — the GNK-series power droid that accompanies them in missions.
Meanwhile, we see that the ship was stolen not by master hijackers by just some kid named Benni, who works as a scavenger for a big, scary alien boss named Mokko. Mokko forces kids to work at an ipsium mine in exchange for water and meager rations, like he's some sor of a Dickensian villain. Even when he brings in a massive ship to Mokko, all Bennie gets is a scolding for bringing such a conspicuous ship. He doesn't get more food, nor praise, not even his prized goal of being named top earner of the month. All he gets is poor defective Gonky as a reward.
When the Batch arrives in town and easily tracks down Gonky, Benni asks why they care so much about a defective power droid, but Omega quickly talks back and says he is not just a droid to them. Wrecker manages to persuade (intimidate) Benni into helping them open up the ray shield so the Batch can leave town with their ship, but he needs Omega with him to easily blend in amongst the child workers.
We've seen a lot of bad places in the Star Wars animated shows — planets throughout the galaxy where people suffer on a daily basis, with power-hungry tyrants and abusers in charge — but this is the first time Star Wars has gone full Charles Dickens. According to Benni, Mokko took over the mine from the Techno Union after the war. (You know the Techno Union, the guys who created the droid army for the Separatists that forced the Republic into accepting a clone army and therein starting the whole war that created the Empire.) Ipsium, the material they're mining, is apparently degrading, so Mokko is lowering wages and asking everyone to play their part in keeping the mine running, for their own sake.
Mokko is an Oliver Twist villain by way of Star Wars: a purely evil businessman who exploits his literal child workers making them fight to mine more for the promise of a better position. He claims that they're all in this together, but that's not the trust, as we see Mokko eating a whole feast all by himself like he's Denethor, steward of Gondor. As for the "prize" all his child-laborers are working toward? It's the privilege of getting your own crappy bowl of soup instead of having to share one with literally every other worker in the mine. Just one bowl of soup. You can almost picture Mokko saying "Bah! Humbug!" under his breath offscreen.
Despite — or perhaps because of Mokko's deception — Benni predictably betrays Omega the second he can. In his mind, there is no way Mokko doesn't have his and the other children's best interest in mind, so he should do the right thing and help out his boss (and hopefully become the top earner). Mokko arrives, takes Omega, and surrounds the Batch, knowing they can't shoot their way out of this without risking an ipsium explosion.
Thankfully, before getting captured, Omega had time to figure out that Mokko was lying all along, the ipsium is not degrading and the mine is making huge profits. Benni realizes Makko was actually exploiting them all along, and shows the proof to the other kids, who immediately revolt and turn on their boss. Mokko, in a classic Disney move, slips off a bridge and falls to his death while Hunter rescues Omega using some sick acrobatics.
Benni then says good-bye to Omega, and explains to her the kids have decided to stay and work the mine, but this time sharing the profits equally among them. This is his home and he'll fight to make it better.
Before they leave, though, Tech realizes Omega is still rather down. She's realized "the Empire is not the only threat," they have seen so many people like Mokko throughout the galaxy. Tech agrees with her but says there are also many people like themselves out there, and that is something.
But, is it? The Batch didn't really do much in this episode. It was Omega and Omega alone who tried to convince Benni to leave the mine. She was the one to give them the information that led to the revolt. The Batch would have simply left on their ship and turned the other way. How much longer can they go on looking the other way? Echo already had enough and left, who is next?
The Mission Report
• The mining town is a really cool setting, mixing the multiple levels under and above ground like in Coruscant, but with the perpetual fiery reds of Mustafar thanks to all the ipsium that's being mined, with smoke and fire everywhere.
• Omega is really turning into the MVP this season. Every Star Wars story, no matter how adult they eventually get, is told through the eyes of a child, and Omega is quickly becoming a worthy successor to Luke, Ahsoka, Ezra, and Rey.