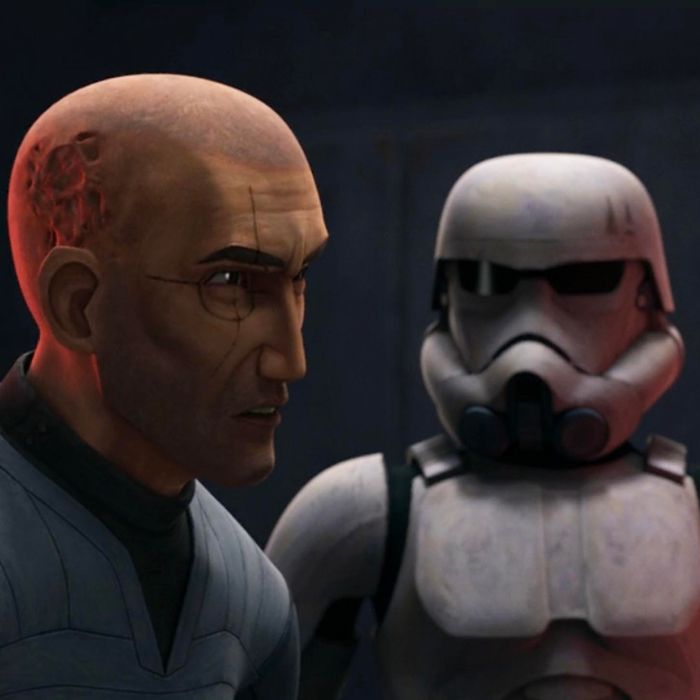 This is it. This is the show we've been waiting for, the episode The Bad Batch has been building toward. Season two has been a vast improvement over the frustrating first season, but even so, it hasn't been perfect. There were a few too many side quests, and the repetitiveness threatened to distract from the otherwise great world-building and the fascinating way the show deals with its central themes: the fate of the clones, the rise of the stormtroopers, and the Batch confronting their purpose. This episode, though, does away with the side quests and finally brings all the subplots and character arcs together in an exciting installment that teases a tragic finale.
We start with a group of clones, including a returning Howzer and his glorious hair, being transported onto a prisoner ship. I've said it before, but this is an absolutely gorgeous-looking show. The attention to visual language — particularly lighting — is stunning, and it helps highlight the tension and peril of the scene with cold light signaling a trip to, well, we'll see. As great as animation is, things like camera angles, blocking, and lighting can be sidelined by the focus on movement, so to see shows like Chainsaw Man or The Bad Batch have clear live-action influences and a desire to bring more cinematic tools to animation is rather special.
This episode sees the triumphant return of Echo, now in full Republic Commando mode, working alongside Rex and Gregor to hijack imperial ships and rescue clones. After so many years, this episode is a great reminder of just how good clones are at what they do. Stormtroopers suck and cannot aim, but look what just a small squad of clones can do when they're organized, kicking all amounts of ass, surgically rescuing their brothers, and eliminating imperial threats in a timely manner. Even Echo finally gets a chance to be cool again after going from an elite clone trooper to just the R2-D2 of the Bad Batch. And if there's still any doubt about the Empire being literal Nazis, the officer in charge kills himself with a suicide pill to avoid talking.
We cut to a familiar location, Mount Tantiss, as Crosshair wakes up incarcerated in the secret imperial cloning facility we saw earlier in the season, where evil scientist Royce Hemlock is already experimenting on the Zillo Beast. Turns out Hemlock has a peculiar interest in Crosshair to find the Batch because they have someone he wants: Omega.
We don't know Hemlock's plans exactly, but his interest in Omega and the Batch (as well as a later conversation he has with none other than Grand Moff Tarkin, in which Hemlock suggests he has plans to fix the little clone-insurrection problems) suggests something nefarious. There's a chance we're seeing the start of the dark-trooper program, which became canon in season two of The Mandalorian as formidable battle droids. In that show, we learn troopers used to be exoskeletons piloted by humans, so it is possible we'll learn they were originally driven by reprogrammed clones — a rather bleak, cruel fate for the clones to end up as mere vessels for the combat droids they were bred to fight.
Meanwhile, we star wipe to Coruscant, where Echo and Rex deliver the freed clones to Senator Chuchi, who's keeping her word about helping out clones, thankfully. Turns out, Howzer and the others were imprisoned for disobeying orders, something becoming more common among the former Grand Army of the Republic's soldiers. Unfortunately, they can't find out where the ship was headed since the imperials deleted most of the files; what little Echo managed to recover is heavily encrypted, so he needs help.
Thankfully, he has it. Echo heads to the tropical paradise the Bad Batch visited in the prior episode, which they're now helping to repair after the flood. Although Wrecker and Omega seem happy, Hunter is struggling with whether they can actually retire somewhere because that's not what soldiers do (though he stays quiet when asked if they are still soldiers at all). Tech deciphers the files, and even though they don't find out where the clones were being sent, they discover that Crosshair was also captured and that he sent them a message — "Plan 88" also known as "the Seeker," which means the Batch is being hunted.
And so the Batch starts to discuss whether they should rescue Crosshair, which they will inevitably do in the two-part finale. The Bad Batch is heading toward an action-packed final episode that brings every plot together on Mount Tantiss. This one felt like classic Star Wars with interconnected plots, cool locations and wipe transitions, and a healthy mix of intrigue, action, and heart.
The Mission Report
• In an episode full of returning characters, maybe the most special is Gregor, a clone who was introduced in The Clone Wars before making a brief appearance in season one of The Bad Batch. This episode shows him working with Rex on something they chose to believe in, a fight for freedom that he continues until his tragic death in Rebels.
• Omega joins a long tradition of precocious Star Wars kids who are great (albeit dangerous) pilots, quickly mastering how to pilot the Marauder and driving Tech crazy and motion sick while doing so.