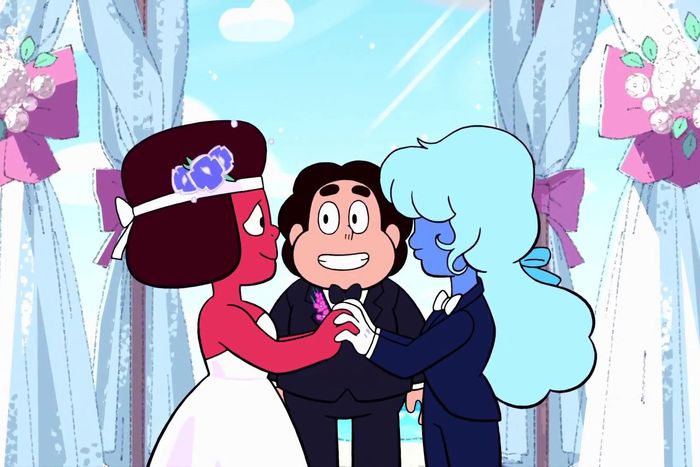 As Steven Universe entered its final stretch in season five, it had grown, matured, and changed as much as Steven himself. No longer the curious naïf and eager student of the Crystal Gems that he was when the show began, he was now growing into his protector role in the group, owning up for his mother's space crimes and becoming a li'l man. A lesser character on a lesser show would be battle-hardened by this point, but in the world of Steven Universe, strength has always been tied to sweetness and love. So of course, even though by season five's "Made of Honor/"Reunited," Steven has seen some heavy shit, he's still the sort of boy who keeps a dream-wedding scrapbook and delights in being able to dress up nice and throw a big flowery celebration of love. The world may be on the brink of total annihilation, but at least Ruby and Sapphire aren't fighting anymore, and it's cause for celebration, dammit. So before they fuse back together, Steven throws them a fusion wedding in a beautiful two-episode arc.
By this point in its run, Steven Universe had already received plenty of praise for its depiction of diverse, queer characters, and for its message promoting love in the face of adversity. In the world of Steven Universe, "fusing" is a societally taboo act between gems of different ranks, who range in their gender expression from femme to butch to totally GNC. Weddings are a dime a dozen in animated fairy tales, but not everyone gets to see themselves in those fairy tales. Like Steven Universe as a whole, "Made of Honor/"Reunited" burst open a world of what is possible in mainstream children's animation. And unlike most animated fairy-tale-princess weddings … this one ends in a boss battle melee.
In his book Steven Universe: End of an Era (out October 13), Chris McDonnell walks readers through the production of standout episodes from the series, including exclusive looks at storyboards, timelines, and concept art. The following excerpt takes a look at the making of Ruby and Sapphire's wedding, including insight from showrunner Rebecca Sugar.
—Rebecca Alter
The Wedding
The Leader
Relationships among the main characters were always a point of discussion behind the scenes. A recurring scenario required Rebecca to police Cartoon Network marketing copy to prevent anything from being pushed out that might indicate Steven was the "leader" of the Crystal Gems.
Rebecca Sugar: Throughout the show, CN has always pressured us to make it clear that Steven is the leader of the Crystal Gems, which he is not. Garnet is the leader of the Crystal Gems. But, in order to do the wedding in "reunited" and the episodes leading up to the wedding, the trade-off that was happening was "Well, as long as you're establishing that Steven is the leader of the Crystal Gems, then maybe we can get this to happen." They've always wanted Steven to be the leader. So the series of episodes that make up The Heart of the Crystal Gems was me coming back at that and saying, "Well, Steven is the heart of the Crystal Gems—he's not the leader," to address that note but also to clarify this in general. Steven does end up taking charge, but only because Garnet isn't present. There's a scene in "Made of Honor" that's designed to spell this out, where Bismuth tells Steven he's the leader of the Crystal Gems and Steven says, "I'm not, Garnet is," and Bismuth says, essentially, "Well, Garnet doesn't exist right now, so you're in charge." Which makes Steven realize that he's been taking over for her in her absence. And once Garnet exists again—just throwing this out there for everyone forever—she's the leader of the Crystal Gems. [Laughs.]
Steven Universe: End of an Era, by Chris McDonnell, published by Abrams Books. Steven Universe and all related characters and elements © and ™ Cartoon Network (s20)