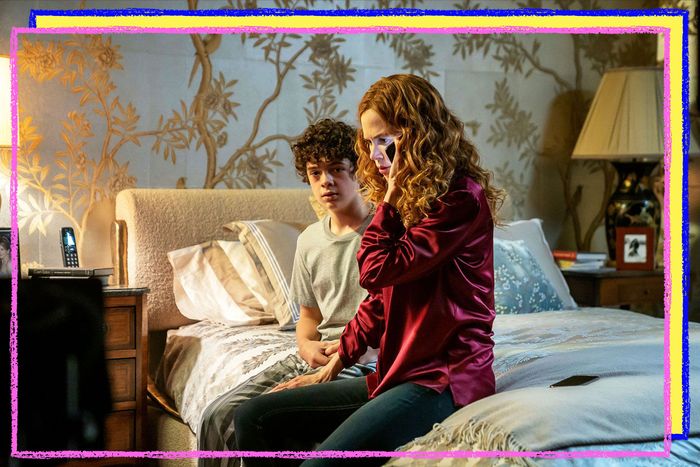 Best to get bad news when you have a very nice wallpaper.
Photo-Illustration: Vulture and HBO
HBO's The Undoing is a story about the haves, the have-even-mores, and the murdered. Like Big Little Lies before it, the show takes place in a wealthy, mostly-white enclave. This time, the action's moved from the West Coast to New York's Upper East Side, but the lifestyles are just as expensive, if not more so. Accordingly, in the grand tradition of HBO dramas like Succession, The Undoing spent a lot of time making sure that it captured the world of the rich in meticulous, accurate detail. They filmed on location in the city, which comes with many of its own challenges, and sought out apartments and homes that would precisely match the status of each character.
"My initial thought was capturing the experience of walking in Central Park and looking at those apartments and wondering what it's like," director Susanne Bier told Vulture over the phone. "Oftentimes wealth is described in a very broad, un-nuanced way, so I wanted to make sure it felt individual." With the murder mystery four episodes in, Bier talked us through the stories behind six of its key homes.
Nicole and Hugh's faux-Bohemian brownstone
Grace Fraser, the therapist played by Nicole Kidman, comes from extreme wealth but cloaks herself in the guise (and fabulous coats) of someone pretending to be a little more down to earth. "She dresses differently from the other school moms, and her house is a smaller house, and it's not staffed, so she cooks herself," Bier explained. To shoot in a place up to the specs they wanted, The Undoing's team found a Brownstone on Madison Avenue that they dressed themselves, completely overhauling some rooms in the process.
"The real kitchen in the brownstone was way in the back, not part of the actual home, so we put in this kitchen," Bier said. For the scenes where Grace is getting her son ready for school, Bier felt it was important to mimic the activity of an actual mom, so they made sure all the appliances really did work in the makeshift kitchen. "The way I work, I'll have them make a cup of tea or do something in it during a scene, so it's got to function."
The fully staffed home of Janel Moloney, rich mom
In the first episode, Grace meets with the other rich private-school moms to plan a fundraiser at Sally Morrison's (Janel Moloney) home, where the new mom (and soon-to-be murder victim) Elena (Matilda De Angelis) makes a scene by breastfeeding in public. As opposed to Grace, Sally goes for in-your-face luxury, with a full staff of help, who attend to the moms as they plan, and rooms full of ornate walls, windows, and mirrors. The point with this home is to establish how Grace can move within this extremely niche world, even as she defines herself as apart from it.
"They love her, and if she wants to, she can access it without any issues, but she doesn't want to be part of that world," Bier said. As for where the scene was shot, it was done on location. Bier didn't specify exactly where in the city, but said it was an especially tricky home to pin down: "We found it, and we lost it, and then we got it back. It's always tricky, because it's tricky filming in New York. You have to go, Okay, I know everybody's going to go crazy, but we want something amazing."
The Top of the world Reardon Fundraiser
The event Grace and her friends are planning is an auction to raise money for their fictional private school, Reardon, a blend of elite New York institutions like Dalton, Brearly, Fieldston, etc. The school's entrance was shot on the Upper East Side in the 70s near the park, which was designed to make it feel "very removed from the world." For the fundraiser, the scene was shot partly on the top of One World Trade, again a tricky place to book.
"We had an amazing location, and then four weeks before we were going to shoot, we lost that," Bier said. "Then we found another location two weeks before, and we lost that, and then ten days before, we found this location." For the scene, Bier really wanted a sense of space — even the space outside that you can see through the windows — to contrast some of their other locations. "For example, Grace's father Franklin's apartment is also high up in the building and has a view, but is just completely different," Bier said.
Franklin's art lover's apartment
Speaking of Franklin's apartment, in the second and third episodes we get more of a look inside the world that produced Grace by peering into the way her father (Donald Sutherland) lives. His place is a mix of a real apartment on the park near the Jewish Museum and a set on a soundstage.
"Part of what happens in New York is that you get permission to be at a location for five days, and then you can't be there for six days, and you have to come back," Bier said. "So you have to divide it." The room where Franklin plays his piano was based on an apartment they had visited "but for various reasons didn't work out." Biers noted that some homeowners are flattered about the idea of getting to see Nicole Kidman or Hugh Grant in their home on TV, but it can be hard to come to rich New Yorkers and say, "Hey, how do you feel about 150 people walking in and out of your apartment?"
To dress Franklin's home, Bier felt it was important to convey a combination of his immense wealth, his coldness, and his love of art. You often see expensive artwork behind him, and The Undoing also shot several scenes with Sutherland in the Upper East Side's local jewel box of a museum, The Frick. "I had a great uncle and aunt who were art dealers, and their apartment was a bit like that" Bier said. "It was way smaller, but there was a sense of a real love for beauty and art."
Grace's escape by the sea
When Grace falls under public scrutiny over Elena's death, she flees the city to her family beach home, which was shot at a home in North Fork. This isn't one of your Succession mansions, however — it's meant to evoke more of a cozy (yet like most of Grace's life, still expensive) escape. "I was looking for the sense of a house that has been in the family for ages, and you have the feeling they've been drinking coffee out of the same cups forever," Bier said.
In this case, too, the show felt it was important to film on location in order to capture the sense of a real home, with the real ocean in the background. But if filming in a city is a headache, coordinating a remote shoot isn't much easier. "It's always 50 percent the right location and 50 percent practical considerations," Bier said. "How do the big trucks get in? How do the people? I don't even want to talk about that, but it's part of everything."
The Alves's apartment
In contrast to the very, very rich parents at their school, the Alves family (Matilda De Angelis and Ismael Cruz Cordova) reside a neighborhood above, and several tax brackets below, in Harlem. They still live in relative comfort, but a kind that us starkly juxtaposed against the other homes we see on the show. "I wanted something cozy that had its own beauty, which was clearly different and artistic because she is a painter," Bier said. "The apartment is way more colorful than the way the Frasers live."
Their apartment was pieced together from two locations: the exterior in Harlem and the interior in midtown. The reason for mixing the two locations was — like many things in filming — just practical. They fit well together, and it was simply easier to get into the inside of the apartment in midtown. "That might have been a case of accessibility," Bier said with a laugh.