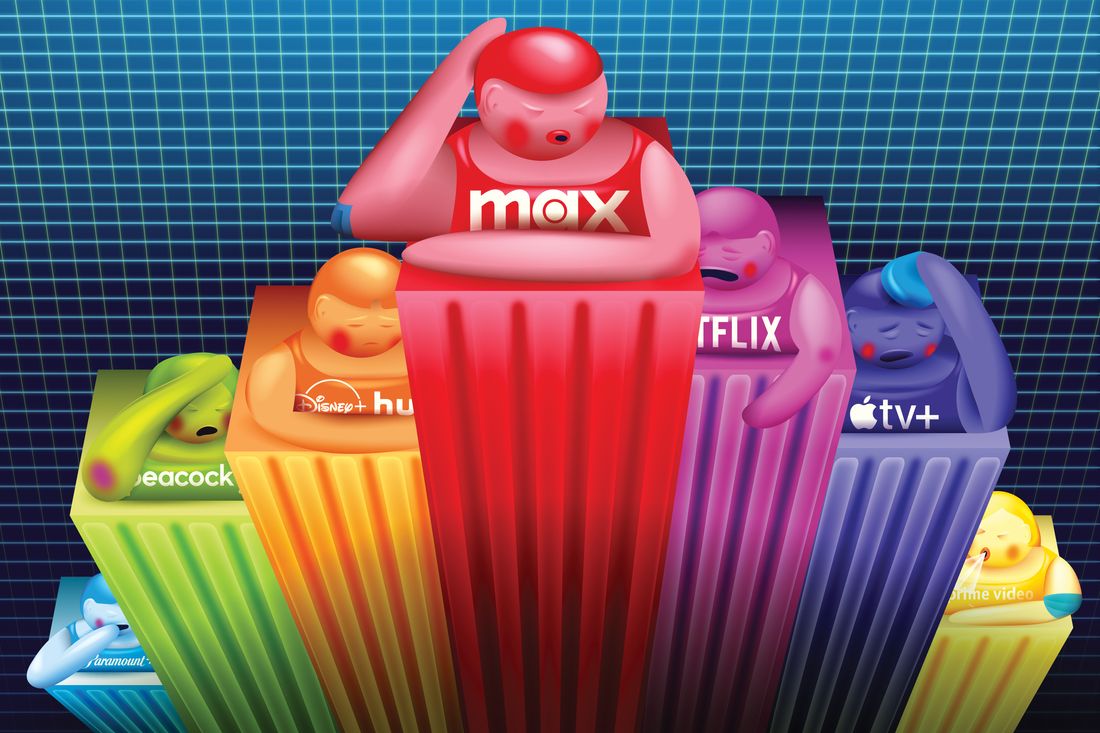 Illustration: by Jess Ebsworth
This year, the drama about streaming was nearly as gripping as anything on streaming. The same investor revolt that caused trouble for Netflix in early 2022 spread across the entertainment industry, resulting in significant layoffs and budget cuts as platforms struggled to pare down their debt loads. Rather than racing to see how many big new projects they could dangle in front of customers, services started erasing series from their catalogues to save money — prompting weeks of social-media outrage from angry subscribers (though no sign of mass cancellations). And yet they all still spent billions battling it out for the hearts and eyeballs of global viewers.
For the third year in a row, we set out to determine the hottest major platform right now, evaluating them according to metrics such as how much they're spending on content, how fast they're growing, and what Hollywood and Wall Street insiders are saying about them privately. We then averaged their scores in each category to determine a final ranking, this year combining Disney+ and Hulu into one offering because the streamers are now being run by the same executive team and consumers will soon be able to access both services from within the Disney+ app.
Last year, the service formerly known as HBO Max upset Netflix to claim our crown. Read on to learn if it held on to the top spot — and to see the sometimes brutal assessments of the services from a panel of critics and industry experts.
Methodology
The
four
factors
that
determined
our
ranking.
Audience Impact
How many people are really watching?
Netflix's roster of 232.5 million global subscribers — up nearly 10 million over the last six months — still puts it far ahead of any other U.S. streamer. Per Nielsen, Netflix averaged roughly 7.4 percent of U.S. TV viewing between November and April, more than Hulu and Prime Video combined. Yes, growth has slowed to a crawl, but that's also true for most of its chief rivals, too. "It's the undisputed heavyweight champion of the world and it's hard to see that changing anytime soon," says one veteran corporate PR executive, "even though I can't remember the last time we went there to watch anything on purpose besides John Mulaney." Max finishes second in this category, mostly because it makes up for its smaller overall scale with massive buzz around its best shows.
Momentum
Who's experimenting and shifting the paradigm?
After two years of being a punchline, Peacock is rallying. Shows such as Poker Face and The Best Man: The Final Chapters have generated good reviews and strong ratings: Both cracked Nielsen's streaming top 10 this winter, marking Peacock's first two appearances on the ratings charts. It's also more than doubled its subscriber count over the last year (to a still too-small 22 million) and found interesting ways to innovate, like offering a deal for Hallmark Channel content both live and on demand. "Bless Poker Face," one reality-TV executive says. " Between that and The Traitors, they really made an impact and clawed their way up from the depths. Right behind it on the momentum front is Paramount+, which is also growing at a rapid clip and has carved out a strong populist lane for itself with brand extensions like Yellowstone prequel 1923 and Star Trek: Strange New Worlds.
Industry Survey
Based on responses from 13 Hollywood and Wall Street insiders.
Our panel of 13 insiders once again overwhelmingly selected (the platform formerly known as HBO) Max as the hottest streamer—last summer's content purge be damned. Nine members rated it tops, and none ranked it lower than third. "Whatever they want to call it now, it puts out the best content, hands down," one producer says. "And the Discovery content opens up a whole new avenue to many millions of viewers who love comfort food programming like Property Brothers." After slipping to third among the insiders last year, Netflix rallied back to a solid second place, with four of our panelists saying it deserved the top spot. 
Vulture Critics
The most acclaimed content offerings (both new and library); awards love.
When we asked Vulture's three main TV critics, Jen Chaney, Roxana Hadadi, and Kathryn VanArendonk, to rate the streamers, their unanimous choice was Max — though let's face it, it's the HBO part they love most, not newly-added reality shows such as 90 Day Fiancé. The White Lotus came roaring back for its second season, Succession and Barry signed off with raves, and The Last of Us was a ratings blockbuster and immediate Emmy contender. Hadadi says that even though "removing 'HBO' from the streamer's name was incredibly silly," the shows on the platform "are still conversation starters like almost nothing else on television." The Disney+/Hulu combo came in second overall with our critics, thanks to the FX originals on that platform.
7.

Paramount+
60 million subscribers
Audience Impact: 6th
Momentum: 2nd
Vulture Critics: 7th
Industry Survey: 7th
In the words of industry insiders:
"Derivative, derivative, derivative. Feels like they're trying too hard to recruit viewers. Sometimes it feels desperate." —Producer
"I don't think Paramount+ gets enough love. 1883 and 1923 felt like big sweeping miniseries from the '80s with huge stars leading both." —Producer
"The juxtaposition of Showtime content with Ridiculousness shows how unimpressive Showtime content always was." —TV agent
"Of all the services, this feels the least necessary. I can't wait to stream Paramount titles on Netflix, where so many of them end up." —Wall Street executive
"I know this should be higher because of the Yellowstone of it all, but it still isn't a service that people ever really talk about." —TV executive
"Tulsa King is fun, but they need 20 Tulsa Kings. Least-well-defined programming strategy and least-needed service." —Veteran network executive
"How many more Sheridan shows can one service have? The lack of an exclusive library is costing them." —PR executive
"Star Trek spinoffs and Yellowstone sequels have built Paramount+ into a destination for a big group of viewers. Add to that CBS content like Ghosts and Survivor and you've got a pretty great slate!" —Studio executive
"Right now, everyone there is just trying to keep their jobs as everything blends. Maybe when the dust settles and the vision rises, Paramount+ will climb that mountain to a higher place." —Producer
"I can see Paramount+ and Peacock both realizing their value isn't in a direct relationship to their customer and instead selling their libraries and original content to the incumbents." —Studio executive
6.

Prime Video
Does not release subscriber data. Although Amazon has never released the exact number of Prime subscribers, in 2021 Jeff Bezos said it had surpassed 200 million.
Audience Impact: 4th
Momentum: 6th
Vulture Critics: 6th
Industry Survey: 5th
In the words of industry insiders:
"With no brand and constantly overspending on shows that don't reach an audience, Prime needs a pivot, a full rebuild, or just to be burnt to the ground. I don't see how the management team there can stand another lackluster year." —Studio executive
"They need a major overhaul." —Producer
"I wouldn't pay for Prime Video." —Wall Street analyst
"Big swings and big misses keep this streamer always in the middle. When your most-buzzed-about player is Jury Duty on Freevee, it may be time for a new Prime strategy. I have a better relationship with my Amazon delivery guy than I do with Prime Video." —Producer
"I still have no idea what makes a Prime Video show. It seems like they are still shelling out buckets upon buckets of cash to talent and creatives who turn around and deliver mediocre content. They spent 1B on The Lord of the Rings, which did not deliver its Game of Thrones moment." —Studio executive
"All the puff pieces in the world can't disguise how uncompelling most of what they do is. And they hate their studio deals and are trying to jettison them, so how do they attract the next thing?" —TV agent
"Their movies are better than Netflix movies. Consistently more movies that I actually want to watch. That said, I can't remember the last show on Amazon I cared about at all, perhaps other than The Boys." —PR executive
"Leaning into Freevee is an interesting and additive development. We've stopped dinner parties in our house to put on the television and share the wonder that is Jury Duty, and that kind of Wow doesn't come along that often." —PR executive
"Massive upside with potentially universal subscriber base if they can find some mass-appeal shows." —Veteran network executive
5.

Peacock
22 million subscribers
Audience Impact: 7th
Momentum: 1st
Vulture Critics: 5th
Industry Survey: 6th
In the words of industry insiders:
"Bless Poker Face. Between that and The Traitors, they really made an impact and clawed their way up from the depths. (Their Hallmark partnership surely didn't hurt matters, either.)" —Reality-TV executive
"Comfortably straddles network fare and premium content. Really growing on me." —Producer
"Supplying filet mignon at sausage prices. Single-handedly showing why the linear bundle is in trouble." —Wall Street analyst
"I end up logging on for the occasional movie." —PR executive
"It's slightly better than Paramount+, but it has Bravo and Universal films. That gives it one hell of an advantage." —Wall Street executive
"Peacock is just the last stop on the train for everyone from viewers to talent." —Agent
"The press is saying Peacock has momentum, but those stories have not driven me to watch any of its other content." —Studio executive
4.

Apple TV+
Does not release subscriber data
Audience Impact: 5th
Momentum: 5th
Vulture Critics: 3rd
Industry Survey: 4th
In the words of industry insiders:
"Apple TV+ is making some of the best television that no one is watching." —Wall Street analyst
"Besides Ted Lasso and Shrinking, I don't think I could name two other shows on Apple TV+ right now." —Producer
"Takes big swings but feels a bit too cool for school." —TV producer
"Very good product. Wants to be HBO with its higher-end fare, but not really enough product or subs. Did anyone actually watch Severance? —Veteran network executive
"They keep serving up some worthy scripted shows and awards, but the buzz still isn't hitting the mainstream meter." —Producer
"Second only to HBO Max in terms of destination viewing among the adults in our house. The money's up there on the screen, and the screen looks good." —PR executive
"It's the streaming service that Ted Lasso built, but that foundation is getting shaky. Apple TV+ is still struggling to build an identifiable brand." —Studio executive
"They've found some genuine hits, but their identity is still hard to pin down — HBO (Severance) or Netflix (Ted Lasso)? Living in the middle isn't a viable option for long." —Studio executive
"Their premium storytelling rivals HBO, and when I think about Ted Lasso, Shrinking, and Black Bird, I almost want to rank this higher. But then I realize that's about it. —TV executive
3.

Disney+/Hulu
Disney+: 157.8 million subscribers; Hulu: 48.2 million
Audience Impact: 3rd
Momentum: 7th
Vulture Critics: 2nd
Industry Survey: 3rd
In the words of industry insiders:
"Disney+ is a true must-have if you have kids. Hulu really helps broaden the appeal beyond princesses, superheroes, and galaxies far, far away, but it's time to define what it really stands for in terms of programming. It needs a vision and a personality." —Producer-executive
"They've shed subscribers, are seeing more churn than they have in the past, and they need something that will feel defining outside of the brands they have sucked the life out of: Marvel, Star Wars, Pixar. Integrating Hulu into one service and having ESPN make it well rounded but feels uninspired." —Studio executive
"If you're not into the 14th Marvel and Star Wars spinoff, what are you really getting from it?" —PR executive
"Getting a bit derivative for my taste. More often than not, they miss the mark." —Producer
"They both still have a problem. For Hulu, an identity. For Disney+, a broader reach. —Studio executive
"While I am not a Star Wars fanatic, there is no denying that their quality scripted series in that space (no pun intended) is second to none. And FX on Hulu makes this a constant destination." —TV executive
"Wrapping it all up was necessary. How it looks and how their algorithm works and how all of it appeals to the country remains to be seen. I don't like selling to them at all, and their process and interaction with talent could use some work." —TV agent
"If the services do merge, we will see even more Iger 2.0 cuts to both halves of the new service. It may be a corporate '+' to merge the pair, but a '-' for those who currently use both. —Independent producer
2.

Netflix
232.5 million subscribers
Audience Impact: 1st
Momentum: 4th
Vulture Critics: 4th
Industry Survey: 2nd
In the words of industry insiders:
"Streaming's big test is a global one, not domestic. Right now, the clear winner is Netflix. That's unlikely to change in the next few years." —Wall Street analyst
"The balance of good and bad is off, so you never quite know what to expect. The global focus sounds smart, but does letting it guide creative decisions pay off?" —Producer
"Still feels like the only true 'gotta have' service. It's a firehose of content. Truly has something for everyone in the family." —Veteran network executive
"Scale seems to be all, and they have it. Poststrike, do people still like them and want to sell there? We'll see." —TV agent
"It's 'part of the plumbing,' as Steven Johnson might say." —PR executive
"Netflix is like the warhorse now. They intermittently put out must-see, prestige content, but it feels a little fewer and farther between." —Studio executive
"The recent Love Is Blind reunion fiasco proved that Netflix has the ability to spark conversation in the unscripted Zeitgeist—it gets us the closest to the monoculture of the late '90s and early 2000s. But good golly, they sure put out too much. It becomes white noise. It's overwhelming — and it becomes white noise. From a scripted standpoint, I can't keep up." —Reality-TV executive
"Their series and movies come and go so quickly without building buzz. The one compliment I'll give them: a great algorithm that understands its subscriber base. It knows what you watched and keeps feeding you more of it." —PR executive
"They are an easy target to mock, but in a world where people are looking for more and more comfort, Network+ doesn't look so bad." —Studio executive
1.

Max
97.6 million subscribers (including Discovery+)
Audience Impact: 2nd
Momentum: 3rd
Vulture Critics: 1st
Industry Survey: 1st
Despite a year of bad headlines and a less-than-beloved name change, the streamer now known as Max is still playing the hottest hand. The extreme corporate cost-cutting and cruel cancellations couldn't overshadow content chief Casey Bloys, who in addition to managing a roster of critical faves did something even more impressive with the launch of Game of Thrones prequel House of the Dragon. Max's tagline is "The one to watch"; it's also the one to beat.
In the words of industry insiders:
"I personally hate the 'It's all here' approach and don't really want my Euphoria with their Property Brothers, although I have a feeling most people do. Still, not sure it appeals to talent—not quite as premium as 'You're on HBO.'" —Agent
"It's the last one we'd cancel, and it doesn't even have Deadliest Catch or Home Town yet. Once that happens, it might actually be game, set, match: Zaslav." —PR executive
"Will the Discovery+ content bring down that quality meter? For the audience, probably not. Maybe it will keep you from wandering over to Netflix for a mindless spin around the reality content." —Producer
"In a world where Bernard Arnault has built the largest fortune based on the concepts of luxury, premium, and scarcity, HBO has that in spades with their programming. They consistently deliver the most critical successes that have reached a wide audience. So far, the Zas effect hasn't been what everyone thought it would be." —Studio executive
"By some miracle, HBO Max managed to become a must-have service in the span of under two years. Then, in the span of a few months, due to a corporate merger, you managed to piss off your customer base, ruin most of that goodwill, and do a name change that is a nightmare for SEO." —PR executive
"Easy to navigate. Overall best content. Consistent high quality. Easy to track my viewing history." —Producer
"The best content hands down. It's old-fashioned appointment TV on Sunday nights with (gasp!) weekly releases." —Studio executive