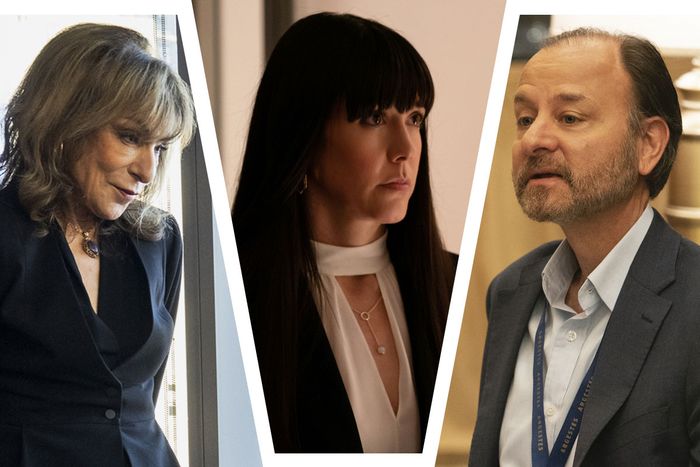 Photo-Illustration: Vulture. Photos: HBO
The meat of Succession's drama lies in the family dynamics of the Roys, the Murdoch-esque clique of very powerful, very cruel, very coddled rich people. But in order to make the metaphorical sandwich work, there needs to be layers of bread in the form of their many assistants, attachés, and various other helpmeets. Look beyond the stars of the shows in any given scene, and you'll see a bunch of other actors (usually luminaries of the theatre) in suits helping the Roys connect their calls, book their transportation, remember their other obligations, etc.
These characters are typically to the side of the main power struggle, but occasionally they find their way into the maelstrom via a personal connection to one of the Roys. That's what worked for Matthew Macfadyen's Tom Wambsgans with Shiv, and J. Smith Cameron's Gerri with Roman, both of whom have moved to the center (in Gerri's case, as the show was happening). Otherwise, there are many others still circling the action whose names and faces you might not be able to immediately pull, but are as likely to suddenly upend the power dynamics as to be summarily fired by one of the Roys. With the fourth and final season nearly upon us, it's time to review which of them are currently closest to power and where that might leave them by the end of the show.
.

Berry (Jihae) and Comfrey (Dasha Nekrasova), crisis PR consultants
Dasha Nekrasova is most famous in real life for her podcast, but in the world of Succession, her character is a lot more reserved. Does Comfrey have not-that-ironic socially conservative leanings? We don't know, because she's mostly been the target of Greg's bumbling affections and murmured on the sidelines of Kendall's PR team. She's the one who mentions that someone's doing a podcast about the curse of the Roys. She made it to Italy in time for last season's finale, but it remains to be seen after that twist ending whether Kendall keeps using her services.
As the more senior member of the team, Berry has a bit more power, but she still remains on the outskirts of the action. If, and probably when, Kendall gets into trouble again, he might need her, though given his irrational tendencies, he's just as likely to hire someone else.
Proximity to power: Berry has some authority of her own, but both are distant from the Roy action.
.

Karolina Novotney (Dagmara Dominczyk), Waystar head of PR
Karolina, with her strong side part and her stern glare, has been working with Waystar through its many, many crises for three seasons. Often, Karolina works hand in hand with Gerri, which is good news for her, because Gerri has been very good at navigating the choppy waters of corporate intrigue, and Karolina has learned to have a similarly reserved but competent approach in the boardroom. We don't know much about Karolina's own ambitions, however, which indicates that she's perhaps not very likely to try to seize more control than she already has. Inversely, that means she's also liable to stick around.
Proximity to power: Secure, but not top-level.
.

Jess Jordan (Juliana Canfield), Kendall's assistant
Jess has similarly been with Kendall since the first season, always ready to purse her lips and nod and place a call that she knows is probably a bad idea for him. Jess wholeheartedly wants to support Kendall, which is maybe a naïve position to take, but she's more than proven her loyalty, and Kendall always seems to want her around. Jeremy Strong also always seems to want Canfield around (he says "Where's Jess?" when she isn't in scenes), a tribute to the way Canfield has managed to give dimensionality to someone permanently in the background.
Proximity to power: Very close to Kendall, so at widely varying levels of power depending on where Kendall is.
.

Cyd Peach (Jeannie Berlin), head of ATN
Relative to the authority of the Roys, even Waystar executives are really helpers, which means that Peach, who leads flagship news service ATN, still serves at the whims of Logan. She's caught up in clashes with Tom, who as Shiv so poetically puts it, "needs to eat the Peach," but she still has her old-school news sense and the trust of Logan. ATN's basically the Fox News of this universe, so it survives by spinning vitriol, but will that be enough to survive the streaming TV boom?
Proximity to power: Cyd's control of ATN puts her in a real Peach Pit of stability.
.

Karl Muller (David Rasche), Waystar CFO and Frank Vernon (Peter Friedman), Waystar COO
We have to take these two as a pair, since they're sort of the Rosencrantz and Guildenstern of Waystar's boardroom drama. Played by real-life friends, the two characters spend their time bumbling from one crisis to another, trying to do whatever they can not to make Logan too angry at them. (Logan fires and then reinstates Frank in the very first episode.) They've been playing the game too long to ever fully leave, but also too long to ever win.
Proximity to power: Nearby, but out of reach.
.

Hugo Baker (Fisher Stevens), Waystar communications executive
Fisher Stevens is apparently such a natural in his role spinning Logan Roy's impulses into an acceptable narrative that he does it for Brian Cox in real life. That's just how good Hugo Baker is at being Logan's go-to jack of all trades. He's always there to provide a bit of crisis PR, a bit of strategic advice, and a heavy dollop of groveling, depending on what Logan needs.
Proximity to power: Very close.
.

Colin (Scott Nicholson), Logan's security guard and fixer
Logan would be nowhere without Colin, his omnipresent body man who carries out his duties with unblinking commitment. That gives Colin a remarkable degree of control and potential material he could use to blackmail or otherwise influence everyone else, but he doesn't seem to want to climb above his current stead. "I don't think he has any aspirations to move up because he's in a very powerful position himself. I think he's very content!" Nicholson told Vulture. Congrats to Colin on the inner peace.
Proximity to power: Really close, but just not in the mood to grasp it.
.

Kerry (Zoë Winters), Logan's assistant
Congrats to Kerry, who over the course of the third season cozied up to Logan to such an extent that Roman discovered his father was looking into fertility treatments to really consummate his relationship with his assistant. As played by Winters with a blank mien and permanently precise bangs, Kerry climbed high up into the Waystar intrigue but revealed little about her ultimate goals. Does she believe Logan is the right bet over his kids? Does she just like power? Either way, she helped screw over those kids in the season-three finale, and she gets a lot of lines in the season-four trailer. Kerry's in pole position right now. If things go her way, she could end up being even more crucial in the final season, though of course Logan could just as easily decide he's had enough and immediately drop her.
Proximity to power: So close. Which is risky!