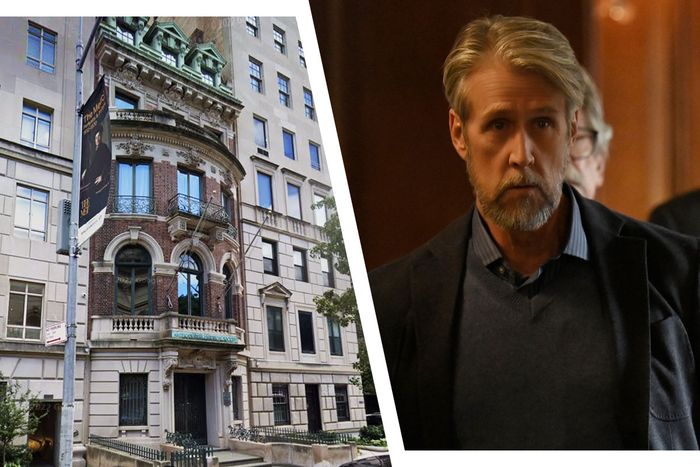 "Connor Roy was interested in real estate from a young age."
Photo-Illustration: Vulture. Photos: Google; HBO
"I will be looking for $60 to $70 million," Marcia crisply tells Connor when he asks about potentially buying his late father's house. It's one of the funnier moments in this dark episode; Logan's wake has barely begun, and Marcia, back from "shopping in Milan," has already settled on an asking price for the property. "All right! Okay. Wow. So, like, $63?" Connor replies, a little startled, and a spitty handshake deal is struck before Logan's body leaves Frank E. Campbell's. Within minutes, we spot Willa looking the rooms up and down and proposing renovations. She does stop (just) short of ordering fresh window treatments on her iPhone.
Most of the Roy townhouse's interiors exist only on a soundstage, but exterior shots of the house and its entry hall show the real building at 991 Fifth Avenue, near 80th Street. It's one of the last great townhouses on Fifth, as most of the others were demolished, starting about a century ago, for large apartment buildings. Since 1940, 991 has housed the American Irish Historical Society, an old nonprofit that has faced financial stress in recent years. Its income, these days, often comes from renting out the building for events like weddings and, yes, film and TV shoots. In 2021, the society tried a Hail Mary survival tactic, putting up the house for sale at $52 million. It eventually dropped that figure to $44 million before taking it off the market, amid talk of an audit by Attorney General Letitia James. That final asking price was a solid $19 million less than Connor's unchallenged and instantly accepted offer, suggesting that he has massively, enormously overpaid.
Now, admittedly, there's an apples-to-oranges aspect to this comparison. One suspects that Logan (or more likely Marcia) has got that fictional house into pristine physical shape. Although the AIHS did a full restoration of its building in 2008, any building that's been used by an institution for decades will need upgrades and additions before billionaire occupancy can commence: an over-the-top new kitchen, luxe bathrooms, a couple of those Carrie Bradshaw–style closets. Other Fifth Avenue houses, sold not under pressure, have gone for more: The Benjamin Duke mansion, just a few steps away at 1009 Fifth, is on the market for $80 million, although it's possibly more desirable because, unlike the midblock house at 991, it is on a corner and thus is much brighter inside.
That said, Connor's offer definitely does prove one thing: Like his siblings, he's not a great negotiator. If that's the range, your first preemptive offer might be, what, $50 million? Maybe $55 million? Test the waters; see whether she'd come down and meet you somewhere. Even without the broker's fee that Connor thinks he's avoiding — my real-estate-reporter colleague Kim Velsey tells me a broker would expect a 6.5 percent fee or about $4.1 million on this deal — he's still overpaying. How do you know? Marcia — clearly a much cannier operator in this realm — accepts in a millisecond.
This article originally appeared in Succession Club, our subscriber-exclusive newsletter obsessing over all the minutaie of the final season. Existing subscribers can visit this page to sign up. If you're not a subscriber yet, get started here.