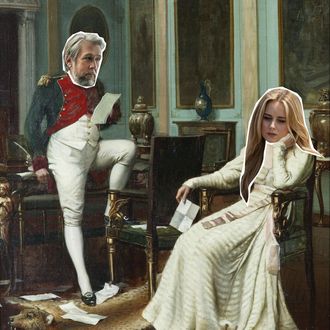 Photo-Illustration: Vulture. Source images: Harold Hume Piffard (painting); HBO
Just before Connor and Willa's wedding gets underway in Succession's latest episode, there's a brief mention of Logan's gift to the couple: "Napoleon and Josephine letters." This, of course, refers to Connor's Napoleon obsession; in an earlier episode, we learned that he's already bought something that may or may not have been the French emperor's penis, an artifact that actually exists in the world and is in private hands. It turns out that Napoleon-signed letters are not super-rare — a rapacious empire produced a lot of paperwork, even in the early nineteenth century — and if you're a collector who'll be satisfied with a very basic document, it's not too hard to find one. "The thing is," explains Naomi Hample, the autographs expert at the Argosy Book Store on East 59th Street, "the content of a letter matters. If it's a 'sorry I can't come to your party' kind of letter," that might be $750 to $1,500." (You could also buy a moderately interesting Josephine letter on eBay right now for a little more than that.) But a pair of intimate letters between the epic lovers would be another matter entirely. "If it's handwritten — it wouldn't be typed in that era — it would go into maybe $40-, $50-, $60,000 apiece. It could be more! You could almost say anything," she says, with a chuckle.
John Reznikoff, who runs a Connecticut rare-documents company called University Archives, thought it would go a lot higher. "Love letters back and forth — you almost never see that," he says. "You see one side, because they don't stay together. Also, you know, the French are lunatics about letting any of their treasures out of the country." He agreed with Hample that a straightforward signature is not so tough to find. "There are thousands of letters out there," he continued, "but most are written by other people. He signed his name as 'Bonaparte,' he signed as 'Np,' he signed as 'Ap,' he signed as 'Napol.'" What's quite a bit rarer is a letter fully in the monarch's own hand — and "his own handwriting is almost illegible." Reznikoff directed me to two semi-recent comparable sales. One letter from Napoleon to Josephine was written right around the time of their marriage, containing a sentence that that translates to "I haven't spent a day without loving you, I haven't spent a night without hugging you, I haven't had a cup of tea without cursing the glory and the ambition that hold me away from the soul of my life." It went for $320,320 in 2019, about four times its presale estimate, when the notorious Aristophil collection was auctioned. (There were two other Napoleon-to-Josephine letters in the sale; collectively, they went for $575,000.) Another sold in Britain in 2007, and it's similarly passionate, written after a fight the couple had had the evening before. That went for £276,000 — about $500,000 at the exchange rate back then.
Bottom line, says Reznikoff? "A good pair, $500,000 to $700,000." But, he was quick to add, French restrictions might well make it impossible to bring them here. Vive le Roy!