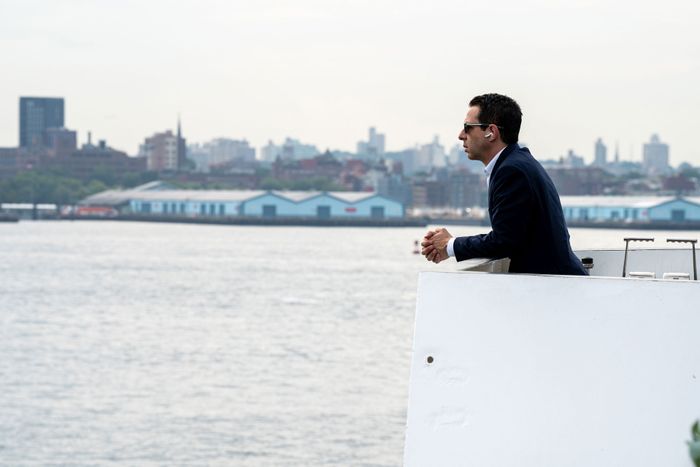 Where have we seen this before?
Photo: HBO
It's easy to forget how Succession started. The initial medical emergency that kicked off the Roy saga in 2018 premiere "Celebration" has been crowded out by subsequent moments like Kendall crawling out of a pond where a young man drowns to death, Tom telling Greg he'd like to castrate and marry him, Roman's quirky sits and dick pics, and all of Shiv's high-waisted pantsuits. But "Connor's Wedding" closes the loop on the narrative roller coaster comprising Logan's health problems, glee in playing his children off each other, and zeal to outplay all of his peers, rivals, and even allies. With Logan's death, Succession reveals how often it has moved to the sway of its own echo, and that reverberating melody of "Fuck off!"s, traumatic childhood memories, and shots of the Roy children coming together in anguish reaches a gut punch of a crescendo.
During the episode, Succession withholds nearly as much information from viewers as it does from Kendall, Roman, and Shiv, who seize the scraps Tom gives them over the phone from a plane to Sweden. In a season where the Roy children finally stand together against Logan, "Connor's Wedding" unifies them through their confusion, shock, and grief. That's a noticeable shift from the preceding seasons, each of which was built around one of the next-gen Roys eager to run "empire of shit" Waystar Royco when Logan eventually stepped aside. The first season was primarily about Kendall, who tried to oust Logan after his stroke but ended up in his father's debt after Logan covered up Kendall's involvement in the drowning of a waiter at Shiv's wedding. (Death at Roy nuptials: another echo.) Season two switched focus to Shiv, whom Logan anointed as "the one," abandoned for new flame Rhea Jarrell, but then brought back into the fold after hanging the cruises scandal around Rhea's neck. Roman — arguably the most damaged of the Roy children, and the one most craving his father's approval — stepped into the spotlight in season three, working closely with Logan to schmooze streaming-media competitor Lukas Matsson before falling out of his father's favor with the reveal that he was sending dick pics to Gerri. (And in typical forgotten-child fashion, Connor has always just sort of floated on the perimeter, buoyed by his Conheads as he scrambles for any kind of relevance.)
Since Kendall, Shiv, and Roman's character arcs sprawled over the length of ten, ten, and nine episodes each, with most story bombshells arriving in penultimate and finale installments, Logan's death this early in season four is a disruptive shock to the way Succession usually does business. But the events of "Connor's Wedding" feel inevitable because of how much this series has made a custom of referencing itself — not just by returning to the question of Logan's health, but by mimicking the dialogue and visuals that Succession has already used to emphasize the Roy family's dysfunction and loneliness under Logan's reign.
That all the infighting amid the siblings occurs under Logan's belittling, megalomaniac gaze, along with their shared history, means that Succession often draws from the same well in terms of their emotional concerns and interactions with one another. In season four, Kendall, Shiv, and Roman's newfound loyalty is used to accentuate the chasms of the past: Consider how Logan's "I love you, but you are not serious people" assessment of his children in "Rehearsal" brings to mind Kendall saying to Roman all the way back in season one's "Sh*t Show at the F*ck Factory," "I love you, man, but you're not a serious person." Or also in "Rehearsal," how Kendall goading Logan about his physical abuse of Roman — "Come on, Dad. What are you sorry for? … Hitting Rome when he was a kid?" — is a sign of Kendall's protectiveness of his siblings, in contrast to season two's "The Summer Palace," when Shiv almost sounds a little gleeful recounting, "Dad, you beat Roman with a fucking slipper in Gstaad till he cried for ordering lobster, remember?"
It's not surprising these characters would speak alike or bring up the same events from the past; that's simply consistent writing. But where Succession has always excelled is foregrounding how our histories are never quite buried, how they lurk at our peripheries, ready to knock us off our present-day axis if we let them. "Connor's Wedding," then, suggests through its evocations of the past that the Roy children have been subconsciously practicing for this world-exploding moment, if not their entire lives, then at least during the ambiguous amount of time in which the series takes place. This is their personal Doomsday Clock making that last minuscule movement to midnight, and director Mark Mylod's compositions consistently point backward, positioning the Roys in familiar frames that we know communicate their varying levels of fragility. Ken's walk through Connor's wedding meet-and-greet to find Shiv brings to mind his alibi-establishing traipse through Shiv's wedding reception in "Nobody Is Ever Missing," both treks reflecting his internal fracturing:
Later in the episode, when Kendall calls father figure Frank to ask how Logan is doing, his thousand-yard stare isn't dissimilar from the visible existential turmoil that defined his visits to Waystar Royco's rooftop in "Safe Room":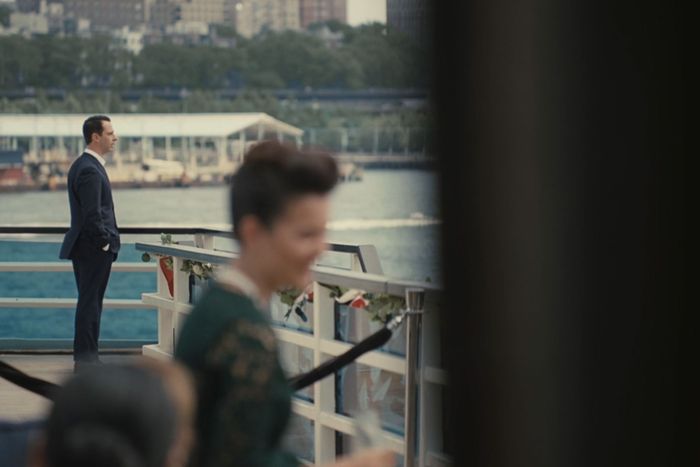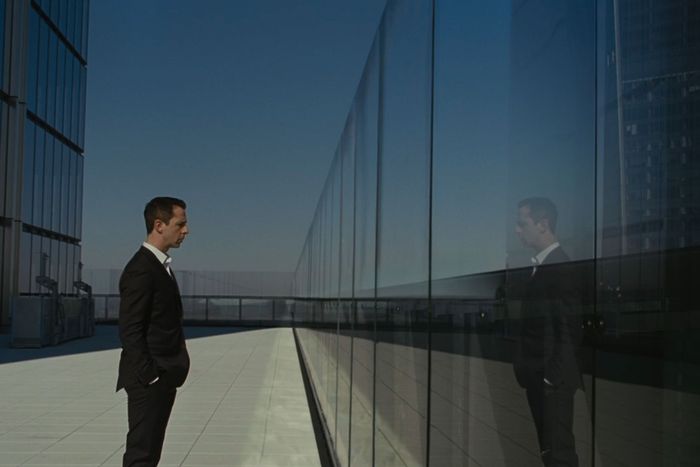 Kendall is again referenced when Shiv faces the media to read the statement she and her siblings have prepared, her solitude against the wall of reporters akin to her older brother's adversarial stance in "This Is Not for Tears":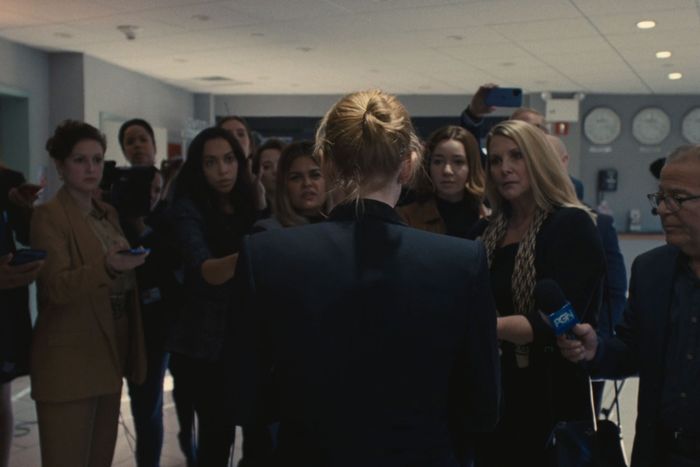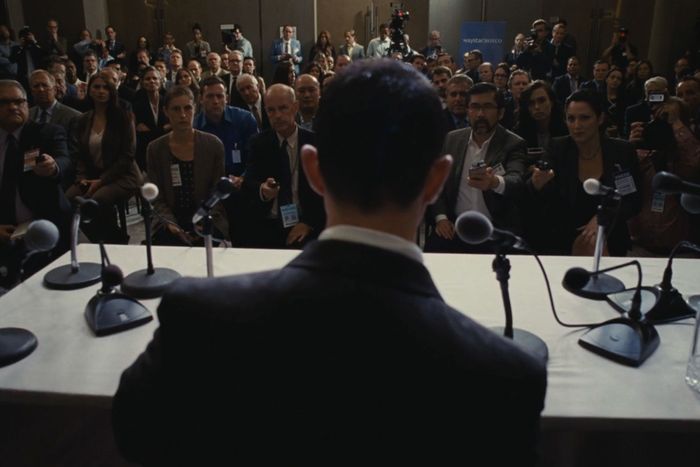 And the incredibly memed images from "All the Bells Say," of the Roy children embracing in Italy before and after Logan (with an assist from Tom) schemes to deprive them of control of Waystar Royco, laid the groundwork for their pained grasping of each other when they see his plane across the Teterboro tarmac.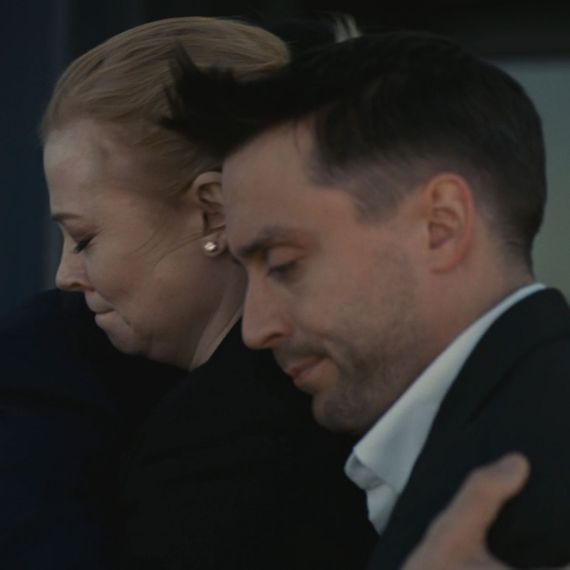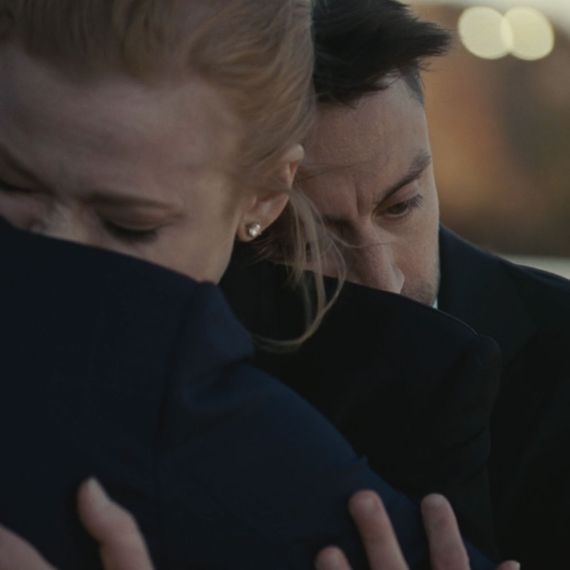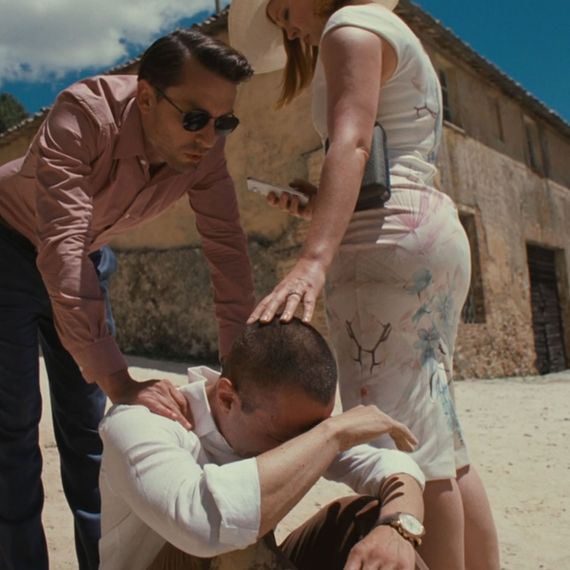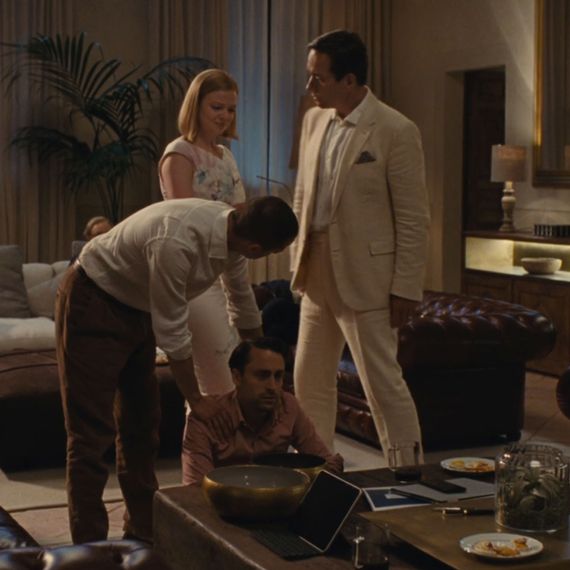 In "This Is Not for Tears," Roman wondered whether the Roys could ever "talk to each other about stuff normally," a sentiment immediately mocked by Shiv and Kendall doing high-pitched baby voices and the former joking, "We don't have any feelings, what are you talking about?" In "Connor's Wedding," though, all they can offer each other is raw, wounded grief in response to a father who as recently as the night before had scoffed at them. As Roman, Kendall, and Shiv spill out their panicked well-wishes, apologies, and declarations of love to the possibly already dead Logan (a man they've called a "malignant presence," "a cunt," and a "human fucking gaslight"), it's impossible not to think of Logan's snarled "You come for me … with love?" from "All the Bells Say," the rejection that caused Roman to fall to his knees in demoralization.
It's fitting that the children who could never live up to their father's expectations react to his death with uncertainty and despair; there's a tidy portrait of what abuse looks like when Roman wonders whether news of Logan's death is actually "a big fucking test." But the man who constantly lectured them about family and sacrifice would probably be pleased that the children wrest control of the public announcement of Logan's death from Frank, Karl, Karolina, and Hugo, and that they describe him as a "beloved father" within that statement. As ex-wife Caroline once said of Logan, "He never saw anything he loved that he didn't wanna kick, just to see if it would still come back," and Kendall, Roman, and Shiv have embodied that again and again, up through their final good-byes.
What all these echoes reify is how much Succession has always orbited around Logan's outsize influence, and how its internal rhythm has always been electrified by his ruinous effect. So what happens without him? By cycling through the sights and sounds of its own mythology, "Connor's Wedding" reminds us that this repetition can't last. The series has to change with Logan's departure, and its final seven episodes will deliver on the hypothetical scenario that "Celebration" kicked off. "You can reset your dynamic as a family," Kerry said in "Rehearsal," but only without Logan can the Roy children, and Succession as their story, finally do so.