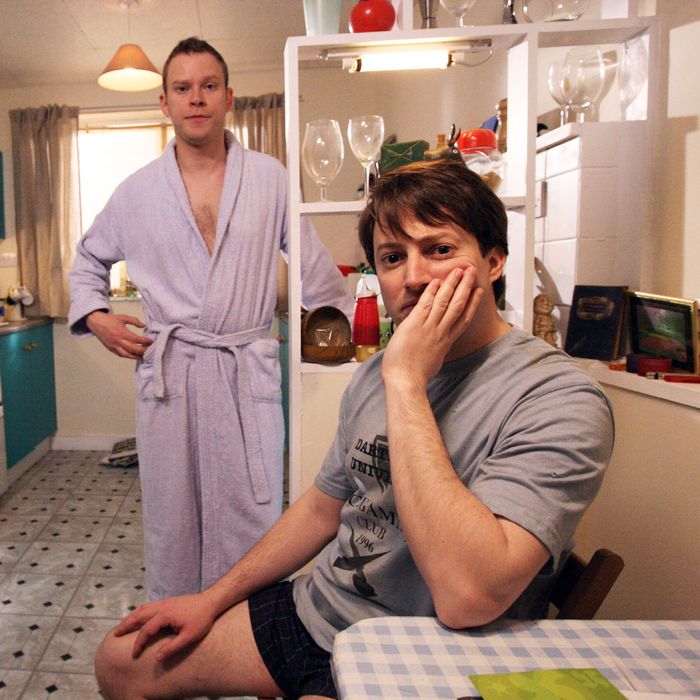 You may not be able to make a Tomelette without breaking some Greggs, but now that Succession has concluded its wild second season, there's one thing you can control in your life: watching more of Jesse Armstrong's dramedies to fill the Waystar Royco void. (And if you don't want to, then, to quote some wise men, fuck off.) Armstrong has been an integral part of Britcom DNA since the early aughts as a writer and creator, and, thanks to the powers of streaming TV, most of his shows are a click away if you want to forget that whole Gerri and Roman thing ever happened. Enjoy, you slime puppies!
Peep Show
David Mitchell and Robert Webb, the crown princes of modern Britcoms, star as delightfully dysfunctional pals who live together in a drab London apartment complex and go about their lives to mixed success. But the real fun comes from their internal narration and literal "peeping" point-of-view filming style. (And because it's always a good time to celebrate Olivia Colman, she's there too as an increasingly unhinged love interest.) Armstrong also frequently penned segments for the duo's sketch show, That Mitchell and Webb Look, but it's sadly unavailable to stream stateside.
Where to stream: Amazon Prime, Hulu
Fresh Meat
A group of "freshers" (first-year students) at a Manchester university have to learn how to co-habitate with each other in perfect harmony after being assigned to a random off-campus house — remember to meet the dorm deadline, kids! — while dealing with all those being-alone-for-the-first-time jitters. Ah, college! But soon the first year turns into the second and then the third, and what's that? These young adults have a ton of debt and a total lack of job prospects? At least they have tons of fun along the way, right?
Where to stream: Netflix, Hulu
Babylon
London's Metropolitan Police Service is having a bit of a crisis. Criminals are everywhere, just stabbin' and murderin' random folks all over the place, but that's the least of the force's problems — it has the worst PR team in the country. (Nay, world.) Enter a brash American (a pre–The OA Brit Marling) who, as a new director of communications, is tasked with bringing everyone into the digital age whether they like it or not. Yeah, they mostly don't like it.
Where to stream: Amazon Prime
The Thick of It
You thought Logan Roy had a colorfully profane vocabulary? Fuckity-bye! Malcolm Tucker (the always welcome Peter Capaldi) plays the director of communications for every 10 Downing Street dweller, where he's passionate about few things other than (1) cursing out civil servants, (2) threatening civil servants with various levels of extreme violence, and (3) spinning the truth, baby. Armstrong would go on to co-write a film spinoff, In the Loop, which brings the main satirical action to D.C.'s Department of State.
Where to stream: Amazon Prime, Hulu
Black Mirror ⁠— "The Entire History of You"
Armstrong is the only person other than Charlie Brooker to pen a Black Mirror episode, and this season-one melodrama is one of the show's best: In a world where everything is seen, heard, and recorded from a person's POV with "grain" technology — and, yeesh, can be replayed whenever — a man is slowly driven insane by the suspicion that his wife (Doctor Who's Jodie Whittaker) cheated on him with an old acquaintance. And did we mention he's having a pretty shitty time at work? He can't catch a break!
Where to stream: Netflix