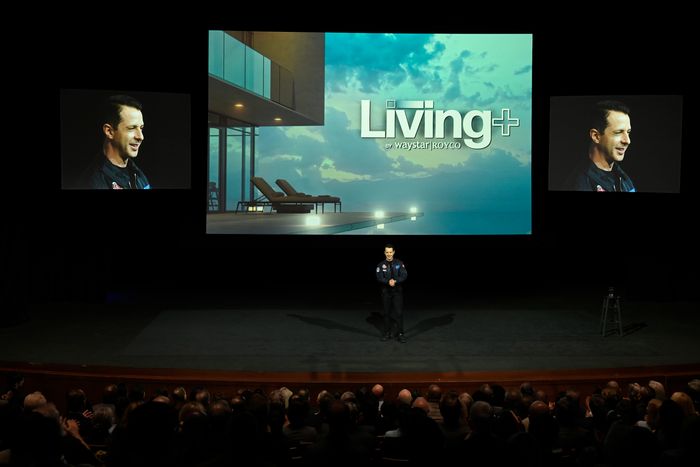 In February 2022, the Walt Disney Company announced "Storyliving by Disney
,
vibrant new neighborhoods that are infused with the Company's special brand of magic." The pitch is indistinguishable from Living+.
Photo: David M. Russell/HBO
Margaret Atwood has long attested that every oppressive element of The Handmaid's Tale has already happened in the real world. The same probably applies to the late-capitalist dystopia presented on Succession, from the cruise-ship scandals and media buyouts/layoffs to the failed rocket launch and Matsson keeping headphones on during sex. (The blood thing I'm not so sure about, and I'm not looking it up because I know I won't like what I find.) Season four, episode six of Succession, "Living+," opened up a whole new landscape of Waystar Royco nonsense by finally giving the conglomerate's West Coast operations some attention and introducing what might be its most outlandish creation to date: Living+, a planned residential project described as bringing "the cruise-ship experience to dry land." It's a real-estate venture aimed at senior citizens that treats gated communities like a franchise, with planned rollouts in multiple American locales and promises of "safe, secure community enriched with the integrated interactions with the cherished family of Waystar's movie and TV characters." It's such a corporate-overreach parody of IP's creep into every element of our lives that it might as well be a rejected Black Mirror pitch.
So of course Disney's already done it.
In February 2022, the Walt Disney Company announced "Storyliving by Disney, vibrant new neighborhoods that are infused with the Company's special brand of magic." The pitch is indistinguishable from Living+, converting the Disney Adult concept beyond "faith, trust, and pixie dust" wall decals into an enveloping force infantilizing fans from womb to tomb, as the first marketing materials pitched it toward 55-plus buyers. When Kendall describes Living+ to Roman as "planning to warehouse the elderly and keep them drunk on content while we suck 'em dollar-dry," a deck plays in the background displaying a softly lit photo of multiracial senior citizens laughing and clinking their wineglasses. A near-identical shot exists in the first Storyliving promo video.
An earlier Living+ slide promises "Waystar Service," echoing Storyliving's promise of neighborhoods built by Imagineers and guest services staffed by "Disney castmembers," their term for theme park and cruise staff. A deep fake of Logan promises investors that Living+ will double the earnings of the Parks division, which seems like a strange branch of the company for residential real estate … until you learn that Storyliving also appears to be run by Disney's Parks division. And Disney, like Waystar, plans to suck its captive audience dry with a private beach and a members-only "Artisan Club." Kendall promises "movie-themed events"; Storyliving will offer a replica of the house from The Incredibles that will "bring Disney adventures to life."
Until now, Succession has mostly depicted the political side of Waystar's operations, with some allusions to The Biggest Turkey in the World and Kalispitron thrown in to remind us that it does, in fact, make movies. The company's family and children's offerings have served as the settings for several illuminating moments across the series: Cousin Greg worked at a Waystar theme park in the pilot, and Kendall threw his daughter a birthday party there in "Vaulter"; Roman even berated parkgoers as a mascot during his stint at the Scooby Doo School of business management. Although the theme park looks second-rate and regional, the very existence of a Waystar Cruise Line suggests it's meant to be more of a Disney analog: an entertainment company that expanded into tourism and broadcasting. Throughout "Living+," glimpses of movie posters appear in the background of scenes at the studio, and for the first time, we get a sense of its animation division. In an aerial shot, the studio HQ exterior is adorned with a massive poster for a movie called Morons, which looks suspiciously like Minions: stark white background and yellow font, oval-shaped CG characters with bug eyes and wacky grins. Unlike Minions, the Morons come in a variety of colors: yellow, green, pink, red. Like the Minions, they have the sinister feel of a French cartoon. Morons also feels like a true Easter egg because you can totally hear it in Logan's voice. Maybe animators were inspired after one too many angry visits from Logan.
The other poster in the episode is a standee for a movie called Doderick and Friends coming "this spring." Doderick and at least one of his eponymous friends are shown in silhouette, and it's truly impossible to tell what sorts of ungodly anthropomorphized creatures they're meant to be. However, we learn that Doderick must be a flagship character for Waystar because his mascot is handing a child a balloon in the Living+ presentation. Even out of silhouette, it's unclear what he is (a dog-bear, maybe?). This is a retirement-age community that promises that your family "will not want to stop visiting." It's tragic to think that senior citizens need the promise of Morons™️ to get family to visit, but that's also the implicit promise of Disney's Storyliving.
But Living+ isn't just a direct parody of Storyliving. Its "real estate as tech product" features align it with data-mining smart-home security companies like Apple Home and Nest. And Kendall's favorite feature — personalized "life-extension" medical tech — reflects the obsessions of billionaires like Peter Thiel, packaged for an aging population. Even this has echoes of Disney; one month before Walt's death, he recorded an eerily similar-sounding pitch for his Experimental Prototype Community of Tomorrow, a tech-forward, Disney-fied planned community. The shadow of the original EPCOT concept looms over Storyliving, just as fantasies of Living+-style life-extending technologies are inextricably tied in the American imagination to the urban legend of Walt Disney's cryogenically delayed death.
The worst part of Waystar's Living+, however, is that the first wave of IP-fueled private residential communities has been upon us for some time. In 2010, Walt Disney World launched an on-site gated development called Golden Oak, although due to its location and price point, it exists more in the familiar realm of luxury vacation properties. And Jimmy Buffett's Margaritaville brand now has a franchise of 55-plus communities in three different locations in the South, for retirees who want to surround themselves with Parrot Head proprietary culture. Storyliving promises a much more scalable overextension of this trend, as it builds its first community, Cotino, in Rancho Mirage, California, hours away from a theme park or beach destination. In the Succession episode, Living+ is swiftly memed and mocked on Twitter, just as Storyliving was on the day of its announcement. But as companies get bigger and fewer, and people like the Roy family grow richer, this might actually be our future: Snow Crash, the Pixar adaptation.