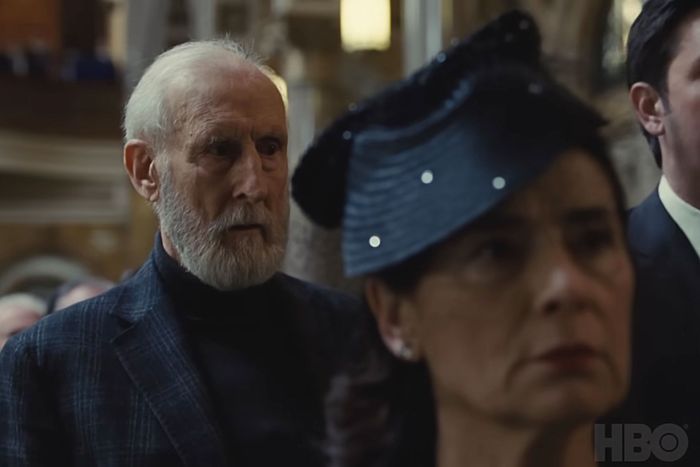 Just because a Succession character makes a strong impression doesn't mean we'll be seeing a lot of them. This truism has been embodied throughout the series by Logan's third (and final) wife, Marcia, Succession's version of Catherine Parr, who knows exactly how to play the game of being married to a rich and powerful man: When scorned, jet somewhere offscreen (shopping in Milan, perhaps?), and return only when suspense is at its highest.
Marcia (Hiam Abbass) executed her signature move earlier this season, appearing at Logan's wake to send an impostor scurrying back to her tiny little apartment, while recent episodes "Tailgate Party" and "America Decides" have brought back a few more previously MIA characters such as Ashley Zukerman's political strategist, Nate Sofrelli, and Mark Linn-Baker's progressive news-media heir, Maxim Pierce. The teaser for Succession's penultimate episode confirms Marcia will return again for Logan's long-delayed funeral alongside other oft-offscreen characters like Logan's brother, Ewan, and second wife, Caroline. Which leads us to wonder which other familiar (and maybe not-so-familiar) faces will turn up to give Logan one final "fuck off" send-off. Here, our predictions:
Confirmed
Ewan Roy (James Cromwell) 
Last seen in: season three, episode five
The Esau to Logan's Jacob, Ewan had an estranged relationship with his younger brother. This is more to do with them being ideological opposites — the elder is an environmentalist and philanthropist who enlisted in Vietnam; the younger thrived on corporate greed and public misinformation and had an interest in military history even though he never served — than with any family disputes. (The brothers lost their sister, Rose, as children. How she died is unknown, but it was something Logan blamed himself for, even if Ewan did not.)
Despite the siblings' polarized points of view, it would have been unlikely for Ewan to miss Logan's funeral. And it would behoove Logan's youngest child, Roman (Kieran Culkin), who has volunteered to give the eulogy, to play nice with his uncle since Ewan is still a Waystar Royco board member.
Lady Caroline Collingwood (Harriet Walter) and Peter Munion (Pip Torrens)
Last seen in: season three, episode nine
There was a lot of bad blood between Logan and his second wife after their bitter divorce hit her financially and personally (Roman and his elder siblings, Jeremy Strong's Kendall and Sarah Snook's Shiv, chose to be raised Stateside by Dad while she returned to England). There's even more bad blood between Caroline and her children following last season's finale, when she and Logan cut a backroom deal that renegotiated the terms of their divorce settlement and kept the kids from blocking Logan's sale of Waystar to GoJo.
The news came while the family had gathered in Tuscany for Caroline's wedding to her ladder-climber beau, Peter Munion. That, as she exclaimed, "Peter is so excited" about her and Logan's arrangement suggests he's one of the few who came out ahead in this deal. No one probably wants Caroline and Peter to be at the funeral, but they went ahead and got those plane tickets anyway.
Definitely Possible
Iverson Roy (Quentin Morales)
Last seen in: season three, episode nine
While his sister, Sophie (Swayam Bhatia), was recently seen experiencing Kendall's attempts at parenting, Iverson has been conspicuously absent since last season's family trip to Tuscany. That's when Grandpa Logan's last acts of bonding with him included forcing him to be a poison tester at an awkward family dinner and shaming his chosen reading material.
Even if Ken weren't interested in securing his own line of succession now that he's (co-)CEO of his dad's company — and sorry to Cousin Greg, but if we're playing by British-royal-family rules, Sophie and Iverson are currently the next generation's only legitimate heirs to the throne — think of the media optics if neither of his kids were there posing like Prince George and Princess Charlotte at King Charles's coronation.
Marianne Hirsch (Mary Birdsong)
Last seen in: season one, episode one
Ewan's daughter and Greg's cynophilist mother put the once-forgotten Roy cousin on his path to being the world's worst de facto HR executive when she sent him to beg his great-uncle for a job. Greg shows up on the very day Logan has a stroke and, for better or worse, has since left behind his days of eating California Pizza Kitchen's Cajun-chicken linguine. But Marianne? Her father cut her off long before he decided to donate Greg's inheritance to Greenpeace. She has since racked up a fortune in credit-card debt, according to her son. While Greg might have gotten stuck paying it off, Marianne is probably volunteering at pet-adoption fairs while secretly seeking out purebred breeders to find a new expensive furry friend to add to her collection. Will she come to say good-bye to uncle? And will she bring an emotional-support animal?
We Wish
Kerry Castellabate (Zoe Winters)
Last seen: season four, episode four
The smart money says we've seen the last of Kerry on this show, but can you blame us for wanting an encore? After she made a spectacle at the Roy townhouse following his death, Logan's, um, assistant is definitely persona non grata at the funeral, but it would make for good television if she found a way into that room. And, as we know, the Roys put making good television above all else.
Jamie Laird (Danny Huston)
Last seen in: season two, episode ten
A Logan ally and finance guy, he was held hostage in a Turkish hotel in the name of brokering a deal for Waystar Royco. Provided he's still not mad about that — or about how Roman told his dad that Laird's behavior had blown the deal — he should be there.
Tabitha Hayes (Caitlin FitzGerald)
Last seen in: season two, episode eight
When your boyfriend has to pretend you're dead to have sex with you, you get the hell out of there and do not waste time bonding with your electric toothbrush. Hopefully, Tabitha clocked Roman's fascination with Gerri and used it as an escape opportunity to return to her previous life of meeting Manhattan's finest at secret underground lairs. At least she has some fond memories of her time with the Roys, which she'll always carry with her thanks to that video she made of Kendall's infamous "L to the OG" rap.
Michelle-Anne Vanderhoven (Linda Emond)
Last seen in: season three, episode six
The senior White House aide was the only one Team Waystar Royco could get on the phone as the then-president (a.k.a. the Raisin) went to war with Waystar Royco and ATN. She was also one of the few humans who was not afraid to spar with Logan. She should be the outgoing administration's representative at the funeral.
Not a Chance
Gil Eavis (Eric Bogosian)
Last seen in: season two, episode ten
One of the first tall male antagonists in the series' run of characters who tower over Roman, the liberal U.S. senator turned vice-presidential candidate's political credits include questioning Waystar Royco employees about cover-ups in their cruise division, Brightstar. But even though he's Shiv's former employer, after the way ATN botched its election coverage, Gil would be a traitor to his core demo if he went to Logan's funeral.
Rhea Jarrell (Holly Hunter)
Last seen in: season two, episode nine
Logan's maybe paramour–briefly handpicked successor served as the kids' scapegoat when news of the cruise scandal broke. She left Waystar Royco because of its "toxic" work environment that also clearly extended to the home environment. Now that the kids are interested in buying out her former employer, Nan Pierce (Cherry Jones), Rhea could make an appearance to get back in their good graces. But that purchase seems to have been tabled until after the funeral.
Michelle Pantsil (Jessica Hecht)
Last seen in: season two, episode four
The journalist's tell-all book about Logan already got a big break with the deathbed confession of Logan's associate (Moe)Lester McClintock. And it probably wouldn't take much for her to get some family members to talk (Greg — We're talking about Greg). But finagling a way into the funeral? Not even if she disguised herself as Karl Jenkins. She also might be too busy to attend now that Hugo someone is leaking Logan's dirty laundry just as the company needs to signal a new era of executives.
Grace (Molly Griggs)
Last seen in: season one, episode five
Roman's partner — but not his wife, according to Culkin, despite Ro's wedding ring — has been MIA since the show's fifth episode. That's when Roman picks a fight with her at Thanksgiving for watching The Biggest Turkey in the World, a hit for the family's movie studio that he passed on when he worked there. She also has a child whom Culkin has said is not Roman's. (This tracks because the youngest Roy's impotence issues are common enough knowledge for Shiv to mock him.) We don't think Grace will be at the funeral. But does she have a copy of the screenplay Roman might have written? Because we'd really like to read that.
Gerri Kellman's Daughters 
Never Seen
Gerri's adult daughters have been mentioned but have yet to show their faces. We'd love for them to show up at some point before the series ends. It took a lot of work for J. Smith-Cameron, the actress who plays their mother, to bring them into this world.
Lawrence Yee (Rob Yang)
Last seen in: season two, episode six
The former Vaulter head stupidly trusted Kendall with his media company, an experience that has probably made him leave the media profession altogether.
Eva (Judy Reyes)
Last seen in: season one, episode four
ATN executive producer and legal consultant Eva hasn't been seen since the first season. It may be time to check back in with her now that Matsson's looking to make some regime changes. Although someone with her level of legal prowess would probably know to stay away from this hot mess.