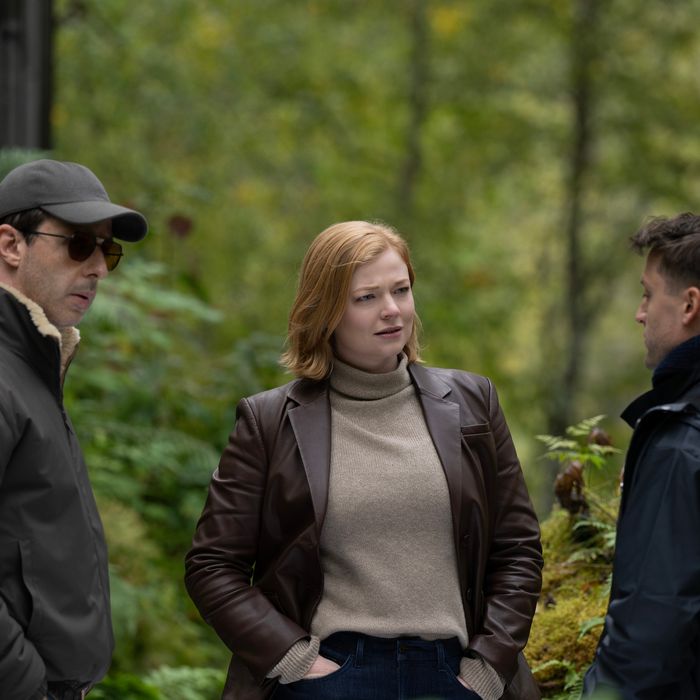 Photo: HBO/Graeme Hunter/Graeme Hunter
It's all come full circle now, with Kendall in the backseat of a limo, pumping himself up with rap music, luxuriating in his image as the hip modern executive, Master of the Universe 2.0. In the very first episode of Succession, he was shadowboxing to Beastie Boys' "An Open Letter to NYC," and now it's Jay-Z's "Takeover" because daddy's gone and he's "runnin' this rap shit." He and his brother may have conned their way to the top, but Kendall can't stop playing pretend because he's an incurious dipshit who never learned how to run the business. His father's words continue to ring true: "I love you. But you are not serious people." Wall Street understands this. "The Grays" on his team understand this. So did Lawrence Yee, the Vaulter CEO, and Angela, the hipster with the art app who dismissed him at Tom's bachelor.
And so the best Kendall can do, even now that he's in interim co-CEO with his brother, is to seem like he's making power plays, eager to scheme and blow things up. When Lukas Matsson calls the entire team to a Norway corporate retreat for a negotiation, Kendall asks, "What does it look like if we say 'no'"? When Shiv inquires about the odd proliferation of articles burning their father — articles he secretly ordered through Hugo in another silly power play — Kendall tells her they're "death-wrestling with ogres." ("You're reading documents," she deadpans flatly.) The truth is that they've been tasked with the extremely limited task of going through with the sale to Matsson that their father negotiated, and even then, there's an excessive amount of hand-holding from the old guard to make sure they don't screw it up. But Kendall being Kendall, he wants to stay in charge because future opportunities for an inept wannabe Big Shot are slim. What does a big sale even matter to him? As he tells Matsson, he's already rich.
"Kill List" is an entertainingly nasty little episode that gets plenty of comic mileage out of the clash between corporate cultures, much like Season Two's "Tern Haven," when the Roys spent the weekend on the Pierce estate. It's classic fish-out-of-water material, with the Waystar group always made to look like the Beverly Hillbillies around their more cultured, sophisticated counterparts. Hugo gets scoffed at for overloading his plate at the Swedish buffet. The combination of Tom trying to bluff his way through a conversation about the future of France and Greg revealing himself as yet another dumb member of the Roy family leads Matsson and his entire team to yuk it up in Swedish. (At that point, Kendall has had enough: "Maybe it's funnier with subtitles.") The truth is, Matsson has serious home court advantage, having summoned these yokels out to Viking country two days after their leader died and the company's stock has tanked.
However, the major difference between "Kill List" and "Tern Haven" is that Logan Roy's body is a little colder this time. We may be two episodes removed from when he died en route to jumping through more hoops for Matsson, but only two days have passed on the show. At this rate, the corpse won't reach its final resting place until the finale. And who knows what it'll look like when it gets there? Marcia wants to put Logan in a kilt, and Connor wants to be fully empowered to decide what their father will look like, which ignites the imagination. ("If I go in the embalming room and start throwing my weight around, I'm going to need to make some asks, but I don't want to get blamed.") Connor is at least where you'd expect a son who's just lost his father to be, but his siblings have been given no time to work out whatever complex feelings they have about the man who dominated their life. Mourning a monster is still a form of mourning.
"Kill List" is another episode for the Kieran Culkin Emmy file. It's not necessarily a contest over which sibling is most screwed-up by Logan's death, but Roman has the hardest time compartmentalizing it. He was the last person to accept that his father was dead in the first place — he needed to head out to the tarmac to confirm — and he's uncharacteristically quiet during the trip to Norway, with his percentage of spicy bon mots dipping as drastically as Waystar's stock price. En route to his and Kendall's final meeting with Matsson on a mountaintop, Connor texts him an ill-timed picture of his dad for approval, setting the stage for an outpouring of sadness and fury that's one of Culkin's rawest moments on the show. Roman is done being the professional asshole who connects with the Swede. He now sees Matsson as the "inhuman fucking dog" who killed his father with stress by dragging out the sale for months before forcing them to come out two days after his death. It's not deal-making. It's sadism.
Yet the episode also gives Shiv a surprising time to shine. She's a conspicuous afterthought to the "CE-Bros" running the company, but she makes herself relevant in the shadows. Much like when she was asked to front-face a company plagued by a sexual assault scandal, Shiv gets a private moment with Matsson when she can be the woman "who can take a joke" while advising him on a pathway through truly abhorrent executive misbehavior. Matsson tells her he's in "a bit of a pickle" over his inappropriate relationship with Ebba, GoJo's version of the hyper-competent Karolina, that involved him sending her half-liters of his own frozen blood. Shiv's been-there/done-that assessment of his PR situation is telling: "If you're the creepy stalker guy who sits in the dark writing code and dripping into an IV bag and harassing your direct reports, it's going to have an economic impact." (Line of the night contender: "Deniability is difficult given she has so much of your blood.")
In the end, Shiv becomes a co-conspirator in her brothers' humiliation. She's rightly upset about Kendall and Roman freezing her out of their sibling partnership the moment they could take control of the company, and she's insulted by her role to "advise and lias." Though a massive offer for Matsson to buy all of Waystar, including ATN, is cause to pop the champagne on the PJs — Karl looks ready to drift to the heavens with his golden parachute — the whole Norway excursion was the Swede's reminder to the brothers that they were not relevant to the deal. Roman can tell Matsson he hates him, but the offer comes through to Frank and everyone else on the plane anyway. Matsson asks Shiv to sneak a picture of her brothers. They may not be on the provisional "kill list" that will rip through Waystar's executive offices, but they're as good as dead.
Sad-Sack Wasp Traps
• Incredible reports of the "panicky vibes" from the hibernating robot movie that Kendall and Roman are now overseeing. "The second producer signed off on leave, citing mental collapse slash overload."
• Tom on their Scandinavian excursion: "Norway? Sweden? What's the difference? They're all descended from the same rapists."
• Hilarious bit of dialogue on the plane, with Gerri trying to reassure the troops they have the edge on the GoJo people. "Sure, they're young and they're fit," she says. "But they're European. They're soft. Hammocked in their social security safety nets, sick on vacation mania and free health care. They may think they're Vikings, but we've been raised by wolves, exposed to a pathogen that goes by the name of Logan Roy." To which Hugo replies beautifully, "We're snakes on a plane."
• More Hugo greatness in his small talk with the GoJo guy who choked at the Winter Olympics: "They tell me you almost got a bronze at Sochi. That's almost huge, man. Those darn tenths of a second, huh?"
• Matsson's version of empathizing with the Roy brothers is to share his own story about his dad's death: "At least you didn't find him yourself. BMW still running. That shit can be traumatic."
• Greg doing some reconnaissance on Matsson's sexual peccadilloes for Tom: "Pretty cold. When he's fucking randos, he does noise-canceling headphones. Podcasts. He just lies back, cans on, watches them slide the beanpole."
• Frank and Karl have become the Statler and Waldorf of Succession. While everyone else is having a miserable sauna in a fishbowl, Karl cracks, "Poor bastards. Hanging in the window like Peking duck."
• "Majestic stags, sparring with their memory foam hard-ons?" The writers on this show are very funny and could also be Pavement lyricists.
• As many predicted, Tom seems to have found his way back into the fold via Shiv, who ends the episode by suggesting that she'll shove Cyd out the door for courting the Mencken campaign and earnestly inviting him to dinner when they get back. And all this after he likened her "thick, chewy" earlobes to "barnacle meat."
For more, join us for Succession Club, our subscriber-exclusive newsletter obsessively chronicling all the biggest twists of the final season. Existing subscribers can visit this page to sign up. If you're not a subscriber yet, click here to get started.