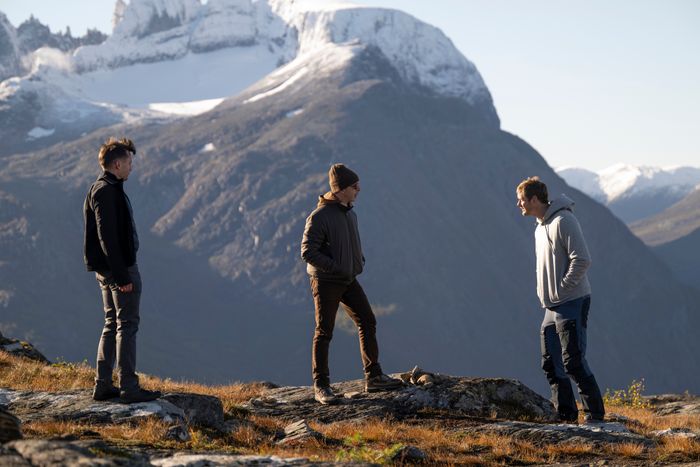 Just forget the 10-consecutive-days thing, okay?
Photo: HBO/Graeme Hunter/Graeme Hunter
Succession seems to be grounded in a reality similar enough to ours (minus any explicit signs of COVID or Trump) that we hold its plots and characters to real-world standards. We publish an obituary for Logan Roy like he's a real guy; we purchase Waystar Royco corporate gear to wear to our desk jobs. But the sped-up pace of events during season four (death, pregnancy, and, most of all, the return of Marcia) have revealed our favorite prestige corporate-intrigue drama to be more of a soap opera than it lets on. Despite the show airing since 2018, if you try to graft the series' plot onto a timeline, it has technically taken place over the course of a calendar year. Shiv and Tom's engagement, wedding, and separation, all in a year. Waystar's cruise scandal, congressional hearings, and presidential-campaign tampering, all in a year. Kendall's cycling in and out of drug use and his father's favor — one year. Willa's failed Broadway play, Connor's failing presidential run, their engagement and marriage: 365 days, baby.
Although the Senate-campaign plotline of season one suggests it's actually been two years since the series began, we're hard pressed to find where the time jumps could have been. Some time between season three's shareholders' meeting and the Republican convention, maybe? Some things actually make more sense if the first three seasons spanned a single year, like Logan's failing health and the high-speed pace of the news cycle. Other things make way less sense: How could Tom have possibly risen the ranks so fast?
As if all of that time bending wasn't bad enough, cast members Brian Cox and Arian Moayed confirmed that season four takes place over the course of ten consecutive days. This means that, so far, the Roys have had the busiest four days anyone has ever had in the history of days.
Like, let's say that the season premiere, Logan's birthday, falls on a Wednesday. Within that one Wednesday, Kendall, Roman, and Shiv meet with their team to work out strategy for the Hundred in Los Angeles; Tom tells Shiv he had dinner with Naomi Pierce; the sibling trio flies to the Pierce compound in wine country and wages a proxy bidding war with Logan for PGM; Shiv flies home to New York and discusses divorce with Tom; and Connor comes up with new plans (including bum fights and razzmatazz) for his wedding to Willa … which I guess is in two days. That's a lot of last-minute planning for a wedding that's so soon, but I guess Connor's just a cowboy renegade that way. Fast 'n' loose.
The very next day, Tom has already met with all the city's top divorce lawyers so that they're "conflicted out" of taking Shiv as a client. How? Shiv's executive assistant or whatever mentions five of them: Gretchen Young, Crowley, Cole Meyer, Bullock, and Camden. Tom asked Logan for help with the matter only the night before or possibly even that morning. Did Logan just call in the favor to these five lawyers? Would Tom have to meet them in person for there to be conflict? And if so, how did he get to all of them before Shiv's person did? Meanwhile, the siblings are in Albany, but their helicopter privileges have been revoked by Logan some time over the course of the day — like, after they had all already arrived in Albany — so by the time they make it back to the city, they've missed most of Connor and Willa's rehearsal dinner. Before the night is through, Sandi and Stewy try to fuck with the GoJo deal, Matsson threatens Kendall about it, and Connor arranges a meeting of the family with Logan at a karaoke bar. Also Willa visits an aquarium-supply retailer, a dry cleaner, and the Williamsburg Bridge before returning home. As far as bachelor parties on Succession go, this night is actually pretty uneventful, but the lawyer stuff happened mad fast. Also Logan scheduled a board meeting for the following day … which we'll call Friday … which is also the day of his eldest son's wedding.
Friday: quite eventful! Connor did manage to find a brass band within two days to play his wedding, so props to him. En route to Sweden, Logan tells Connor he's going to try to make it to the wedding. (Considering what gets packed into a single day on this show, it's not as disingenuous a promise as it sounds.) He also tells Roman to fire Gerri because, ever since the dick-pic incident, he's been wrapped up in their whole psychosexual cat-and-mouse thing, so that's fun. But he also dies, which is not fun. Scenes for this episode are meant to take place in real time, and it shows. Despite how much goes down, it doesn't feel like a week of activity packed into a day. By the time the plane makes it back to Teterboro, Logan's death has been leaked to the press, and the stock exchange has closed out for the weekend with Waystar way down from the big-boss shake-up.
Saturday is rescheduled board meeting–wake day. It starts with Shiv getting the results back from an amniocentesis test, and those results normally take three days to process. When on earth did she take this test? You're supposed to rest for a day after the invasive procedure, and I imagine helicopter rides are a big no-no. We know Shiv rode the chopper Thursday and had a wedding to attend Friday, plus was in California on Wednesday. So maybe she got the test Tuesday and flew the next day anyway because fuck it? We also learn that sometime Friday afternoon — before Logan's death was announced at a press conference — Hugo's daughter sold her Waystar shares. Marcia also made her way back to town from Milan. By early afternoon, Kendall and Roman have appointed themselves Waystar successors and announced it to the board. The action in this episode is mostly confined to Logan's house, so it all feels plausible, but as Sandi and Stewy arrive to pay their respects, it's wild to think it hasn't even been 48 hours since they met with the siblings to try to mess up the GoJo deal. In that same amount of time, Willa has gone from fleeing her rehearsal dinner to taking the measurements of her brand-new marital mansion.
And, tomorrow, it looks like the mourners (and pre-mourners) are headed to Norway to meet with Matsson. All in less time than it's taken for the new episode to come out. Which global markets have you tanked this week?
Update: Episode five has officially tanked the "each episode is one consecutive day" gambit. "Kill List" opens with Kendall walking into work as background actors in businesswear head to their own jobs. The Waystar lobby and offices are full. It's a Monday, and we lost Sunday; this season of Succession is playing by Book of Genesis rules. But the timeline goes even more off-course when the gang boards the plane to Norway. Here's where things get dumb and I have to break out the middle-school math.
It's late October, and we know this because the election is imminent. The sun sets just before 6 p.m. in New York at the end of October, so let's say the Waystar crew is talking on the tarmac around 5 p.m. EDT. PJ etiquette states that you arrive for your flight 30 minutes before it takes off, so we'll say the flight departs at 5:30 p.m.
Here's where things get tricky: The flight to Norway is seven hours, and the country is six hours ahead of New York, so they should be arriving at 12:30 a.m. EST, 6:30 a.m. Norway time on Tuesday. This would make sense, because they get chauffeured to the resort, settle in, then head straight to brunch. But the sun doesn't rise in Valldal, Norway, at that time of year until 8 a.m., yet when the plane touches down, it's in the early morning light. So there are 90 minutes that go unaccounted for somewhere during this overnight flight. Maybe the ghost of Logan was meddling with the plane; maybe Greg had to get a pat down. I'm starting to see why conspiracy theorists get obsessed with flight logs.
Anyway, the Waystar team stays in Norway overnight, so by the time they depart, it's sometime Wednesday, and they'll land back in New York on Wednesday as well. In the trailer for the next episode, Roman rides around the Waystar Studios backlot in L.A.; Matsson exits a plane barefoot at Westchester County Airport; Matsson is back on the plane with Shiv; and Roman, Tom, Shiv, and Kendall are all at Investor Day, presumably in New York. We also see Kendall trying to execute some last-minute stagecraft the day before Investor Day. All of this jet setting, scattering, and regrouping probably takes place over Thursday and Friday instead of late Wednesday and Thursday. And if that's true …
… We can now predict how Succession is going to end. After Investor Day, there will be four episodes left. If those episodes pick up the season's episode-a-day conceit again, they will take place over Saturday, Sunday, Monday, and Tuesday. From here, we can guess that Logan's funeral will be the series' penultimate episode. Succession filmed this funeral at the Roman Catholic Church of St. Ignatius of Loyola, a Jesuit parish on the Upper East Side. The Catholic Church typically doesn't hold funerals on Sundays; Jackie Onassis and Oscar de la Renta both had their funerals at St. Ignatius on a Monday. If Logan's is also on a Monday, then the final episode will fall on a Tuesday. Election Day. A perfect one-two punch of final episodes.
For more, join us for Succession Club, our subscriber-exclusive newsletter obsessively chronicling all the biggest twists of the final season. Existing subscribers can visit this page to sign up. If you're not a subscriber yet, click here to get started.
Election Day must fall on "the Tuesday next after the first Monday in November," so if this Monday were November, Election Day would take place the next day, right in the middle of the Norway trip.
Norway and the rest of Europe end Daylight Savings on the last weekend of October. For the sake of clarity, we're going to pretend that's the weekend after the Norway trip, because otherwise this timeline gets more convoluted. Election Day is November 2 in the Succession timeline and that's that.