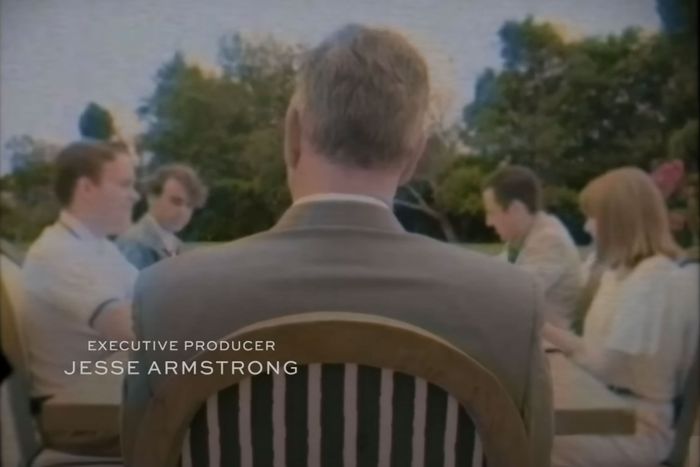 Mama, let's research.
Photo: HBO
The Succession theme song will go down in history as one of the greatest of all time. Nicholas Britell was on some other plane when he came up with that track, and its beat drop every week has had fans in a Pavlovian chokehold since 2018. Along with Cristobal Tapia de Veer's menacing-but-danceable take on "Dies Irae" for The White Lotus, Britell's instrumental is an instantly sticky modern classic that plunges the viewer into the show's anxious, lavish, funny, dark mood. But it simply would not hit the same without the imagery. Each season, Succession opens its episodes with slight variations on the same components: old home footage of a wealthy family doing wealthy things alongside glossy New York City B-roll and winking headlines from various Waystar media properties.
Let's start with component No. 1: the retro home movies. There's some debate as to whether the family is canonically the Roys because the oldest son looks much too close in age to his younger siblings to be Connor. Let's settle that right here: This confusion is likely due to an inconsistency between the first season's and later seasons' opening credits. In the first, only two sons are depicted in the credits. My theory is that the one who would later be identified as "wrong Connor" was meant to be Kendall in season one. He's got that serious, hangdog face. That would make the younger brother, who I've never thought looks like Kendall at all, Roman. And in the final shot, there are two girls and two boys at the table. Wouldn't it be such a perfectly Succession moment to leave Connor out of the opening credits altogether? In later seasons, they retrofit the older boys to be Connor and Kendall and add a younger brother with a very Romanesque smirk. They also recast the teen sister to look like a dead ringer for Shiv, and they change the table layout to the three brothers and one sister. It all maps onto the Roys. Am I treating this fake family footage like the Zapruder film? Yes.
The only new family footage in season four comes around a minute into the title sequence, showing a little boy in an expensive-looking knit turtleneck driving an old-fashioned toy car while a matching red sports car can be seen in the background. Does the toddler signify a new heir threatening the Roy kids' claim to the throne, courtesy of Kerry? Or does it suggest that Kendall will find himself in another tragic car crash, mirroring the events of the season-one finale?
Contrasting with the grainy home-video clips are cold, contemporary images of skyscrapers, helicopters, and the various media holdings of Waystar Royco that just scream executive producer Adam McKay. It's the HBO-drama equivalent of when a photographer says, "Now let's do a silly one!" The fictional headlines and broadcasts throughout the credits are littered with Easter eggs that change every season, satirical chyrons that poke fun at the lobotomycore state of mass media under corporate owners like Waystar Royco. These aren't just Fox News parodies; they also hint at action to come in the season.
On the new screens, we see ATN broadcasts with segment names like "America Decides" (images of the White House, polling maps) and "The Breakdown" (current affairs). Season three focused on the upcoming presidential election and Logan Roy's kingmaker status as the head of a major media company. Unfortunately, these new graphics give us exactly no details about how that's going.
A broadcast of ATN News Live shows the headline, "CHINA HACK COULD SEE 40M AMERICANS ENTOMBED IN THEIR ELECTRIC CARS." As the TikTok hearings are underway in our reality, this doesn't seem far off from the typical conservative spin on things.
A giant screen on the exterior of the Waystar Royco building broadcasts the news item, "DEEP STATE BLUNDER: CLASSIFIED DOCS DISPLAYED ON NBA JUMBOTRON." The docs are largely redacted, so no clues there.
The ticker, on the other hand, is just pure silly Billy: "MANY WITH BIRD FLU CAN'T STOP THINKING OF DUCKS."
Next, there's a close-up on a smartphone with the StarGo app on the screen. It promises "all your favorite Waystar movies and TV in one place." It also gives us a taste of what kind of content, exactly, Waystar Studios has been kicking up. There are icons on the app for channels like "WSP," "Voila!" and most delightfully, "Gourmando." There's a glimpse of a movie poster that looks like it could be a Marvel movie set in space; another looks like it could be a sci-fi version of Oppenheimer; the one getting top billing is none other than, Kalispitron: Destroyer of Moons. This isn't the first sighting we've had of Kalispitron; last season, posters for the blockbuster made their way into multiple Tom-and-Greg folies à deux. Is this proof that the Waystar-GoJo merger goes through?
We're gonna miss this show driving us loopy.
For more, join us for Succession Club, our subscriber-exclusive newsletter obsessively chronicling all the biggest twists of the final season. Existing subscribers can visit this page to sign up. If you're not a subscriber yet, click here to get started.