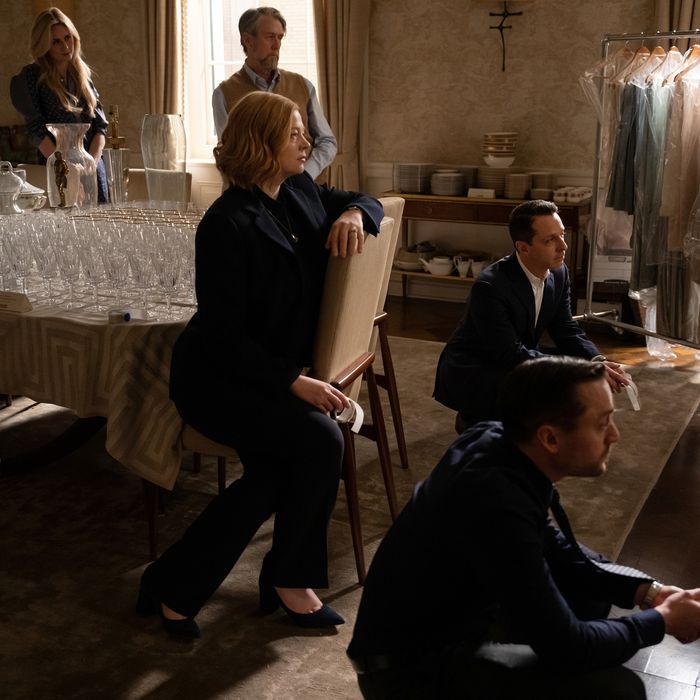 The Succession finale is a tale of two scenes, one planting the seed that renders the other one inevitable.
In the first scene, the Roy family, gathering in their father's home to lay low before the board vote on GoJo, pauses for a moment in claiming his stuff (a protocol called the "stickering perambulation unit," or SPU) to watch a video of their father at dinner, looking happier than they, or us, have ever seen him. The kids have a good laugh over his recitation of presidential "losers," a dinner party trick they've heard from him before. But then the video goes around the table: Gerri shares a dirty limerick, Connor amuses his dad with an impersonation of him singing "I'm a little teapot," and, finally, Karl sings the Scottish folk song, "Green Grow the Rushes, O" in sterling voice, with Logan and others joining him. For Kendall, Roman, and Shiv, it must feel like a slap in the face. Who is this man? Why did they never see him? What kind of relationship, really, could they be said to have with their father?
In the second scene, the three kids are having a panicked meeting during the board vote, which Shiv exits dramatically after a 6-6 tie makes her the decider. There's a lot to unpack in this scene alone, which raises the specter of Ken's "accident" at Shiv's wedding and the provenance of his children, among other nasty business, and builds to a physical altercation with Roman that threatens to pop more stitches and veins on his forehead. But the essential truth — the truth their father had told them implicitly and explicitly all these years — is agreed upon by Shiv and Roman: "We are bullshit." They're not serious people. Logan never wanted any of them to succeed him at Waystar. That's why he sold the family business to Lukas Matsson. That's why Frank, who was at the dinner table and is not bullshit, voted in favor of the deal. He would have been happy with how it went down.
With his engineering of this ending, creator Jesse Armstrong has done what great writers often do: Make us guess wildly (and ridiculously) over a conclusion that was right in front of us all along. Kendall did not look like a future CEO in that first scene of him rapping and shadow-boxing in the back of a limo. Shiv may have savored that moment when her dad outlined a plan for her ascension while they were staying in their country estate ("It was warm in the light"), but she was getting played. Roman was the most easily manipulated of the three, bound and broken by his father's abuse, but never seriously understood as someone who could run a company. They had their names. They had their board seats. They had some power. But their schemes were crude and their plans reliably foiled. They were two failsons and a faildaughter. Their dad saw it that way, and the people who mattered — the serious people — saw it that way, too.
Maybe they should have listened to their mother this whole time. Lady Caroline is understood to have fucked up the deal in Italy, but she would say that she did the motherly thing by giving them a way out, ending the dysfunction and unhappiness that would cling even harder to them if Italy had gone as planned. She put an ocean between herself and Logan, and we've seen her host a wedding at an English castle and be the bride at another storybook wedding in Tuscany. When she invites the kids to spend time at a nice little getaway in the Caribbean, she may have silly ulterior motives involving her husband and his "special cheese"–loving friend, but she honestly wants them to stop fighting and discover a little peace in their lives. Roman retreats to mommy before the other two, needing a parent (even this distant, imperious parent) to salve his physical and psychological wounds, and Caroline argues strongly for a healthy outcome once Kendall and Shiv arrive.
What Caroline gets instead is a mess, made worse when the kids have stopped fighting bitterly and come to an agreement that will sink them deeper into the muck. In a dramatic moment, Greg uses his app skills to translate an exchange in Swedish between Lukas and Oskar in which Lukas says he has no intention of hiring Shiv as his American CEO despite all the work she's been doing to secure the board votes he needs, including hers, to buy Waystar. It's a hell of a chip, mirroring Tom informing Logan of his wife's plans in Italy. But Greg, being a Roy, plays it wrong. Tom understood that Logan always wins. Greg should have known that Logan's kids never win, but this was his chance to be part of the "quad" that could take over the company. He could do a lot better than the drastic pay cut that was coming to his $200,000 assistant job.
The mad scramble for votes has been a consistent Succession event, from the time Kendall attempted a "no confidence" bid against his ailing dad to that initial agreement with Matsson and GoJo. The important difference this time is that a Roy kid gets the final vote. We can see by Roman's body language that his "no" is wishy-washy, suggesting more conviction about wanting to vaporize from the room entirely than to anoint his brother. Just being in the building has taken everything out of him.
When the vote gets around to Shiv, she faces a much more fascinating dilemma. Voting "no" gives her the opportunity, at a minimum, to rebuff Matsson, a horrible person who has played her and embarrassed her. (And she doesn't even know, as Tom does, the true depths of his icky feelings for her.) It's also a solid "fuck you" to Tom, who's been shifty about his relationship with Matsson and cool to her proposals for reconciliation. But her "yes" is compelling on two fronts: She can be the one to declare definitively what Logan and everyone else knows about Kendall, which is that he's unfit for the job — morally, strategically, and temperamentally. ("I don't think you'd be good at it" is blunt and true. As is, "You can't be CEO. You can't. Because you killed someone.") She can also reengage a marriage that's been transactional and full of deep betrayals on both sides but also the most real love she's ever had.
We could have anticipated the despair that Kendall is left with in the final shots, but Tom and Shiv in the limo is something more mysterious entirely. I keep coming back to George and Martha in Who's Afraid of Virginia Woolf?, who spend the entire play fighting over the course of a long, excruciating evening, most painfully over their shared illusion of a child that doesn't exist. The central exchange has Martha saying, "Truth or illusion, George. You don't know the difference," and George responding, "No, but we must carry on as though we did." Shiv and Tom will go on, too — with an actual child, in their case — but there's an unease and uncertainty even in how they clasp each other's hands. They don't know what's real between them and what isn't, but like George and Martha, they will see the dawn together.
Sad-Sack Wasp Traps
• All this drama and it comes down to Tom, "a highly interchangeable modular part," prized for his exceptional malleability rather than his exceptional lack of imagination. Or, as Shiv puts it, "Tom will honestly suck the biggest dick in the room." (That line probably sells him to Matsson, frankly.)
• Two great Shiv quotes to Tom: "Are there any positives about the nightmare we've shared?" And: "I know that we've said the worst things, but I think I've always been scared in relationships of, you know, like, the underneaths. You know, what's the worst thing a person thinks? Once you've said and done the worst things, you're kind of free. Are you interested in a real relationship?"
• Kendall calls his current assistant "New Jess." Then Matsson relays his feelings to Tom about wanting to have sex with Shiv, which he sees as a big obstacle to giving her the job. ("Why don't I get the guy who put the baby inside her instead of the baby lady?") Succession doesn't underline it emphatically, but the corporate misogyny that's run through the show has been strongly detailed.
• Petition to call human eyes "face eggs" from here on out. "Pain sponge" is another excellent phrase.
• Tom makes an excellent pitch for himself as precisely the empty suit Matsson is looking for. On the ATN consumer, he says, "If they want red meat and boiling tar, buon appetito."
• "He said a lot of things and he said them to me first." Kendall, the would-be CEO, so often falls back on grade-school language. (See also: "I'm the eldest boy and you're not!")
• "I don't think dad gave a fuck about anything more than putting one foot in front of the other." Shiv telling the truth.
• Wonderful sibling bonding scene in Caroline's kitchen, reminiscent of the scene at the boat house during Shiv's wedding weekend. Those three really could get along great if they didn't have this one thing to fight about. They should enjoy being rich and making jokes about going down on special cheese.
• Connor and Willa are already exploring a long-distance relationship. "They call it the two-week itch," says Roman.