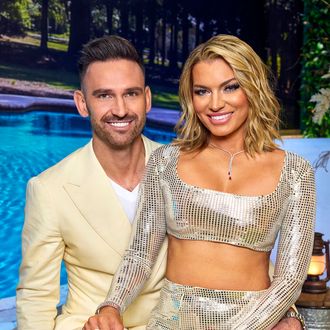 Photo: Bravo/Clifton Prescod/Bravo
Update, September 14: Lindsay Hubbard has now shared her side of her split from Carl Radke, saying she was "humiliated by how it went down" and "heartbroken." In a statement on Instagram, Hubbard admitted she didn't call off the wedding. "I do not agree with quitting a relationship (at this level) without trying everything possible first," she wrote. The star further added that her "trust has been betrayed." It's vague yet pointed enough to give fans much to speculate about. Hubbard went on to thank her friends, family, and cast amid the split. "I am still grieving and trying to process all that has happened," she added, "but I felt it was important to update you all."
After ending their engagement at the end of August, Summer House's Lindsay Hubbard and Carl Radke have canceled their wedding as of September 11. According to People, Radke sent out a letter to wedding guests apologizing for the "lack of communication" on the ceremony and confirming the split. "There have been a lot of false narratives and misunderstandings that have made this all the more painful but sadly at this time we are not moving forward with the wedding," Radke wrote. "The fact of the matter is Lindsay is devastated and I'm crushed with how all this transpired. I graciously ask for some patience and grace to heal and recover while we navigate this extremely difficult time." Per "Page Six," Hubbard was caught off guard by the note, and while the note was only signed off by Radke, it still included language that indicated it was in part a group effort. By the end of the day, Hubbard had removed all the wedding content from her Instagram account, but still kept group photos with Radke, giving us plenty to analyze leading up to the return of Summer House.
Original story published August 31 follows.
Get to your group chats and start analyzing the Insta posts: We've got another major Bravo breakup on our hands. Summer House couple Lindsay Hubbard and Carl Radke reportedly called off their engagement, just two and a half months before their November 17 wedding. A source first broke the news to Entertainment Tonight on August 31, saying, "Carl told Lindsay he couldn't move forward with the wedding." "Page Six" also confirmed the split. Hubbard and Radke's engagement was a focal point of last season, leading to a fight between Hubbard and her friend Danielle Olivera, who thought the couple was moving too fast and that she felt left out of the loop. (However, they may have settled that beef on the upcoming season eight.) The pair seemed to begin dating sometime late 2021 or early 2022, after a previous fling in 2019. In other words, they didn't last two full summers together.
The breakup comes right after Hubbard's August 12 bridal shower, where Radke even showed up to surprise her. (Fans have taken to their wedding registry site to share condolences.) And, per ET's source, "the breakup was filmed and will most likely play out on the next season of Summer House." Are we sure Andy Cohen isn't planting breakups post-Scandoval?