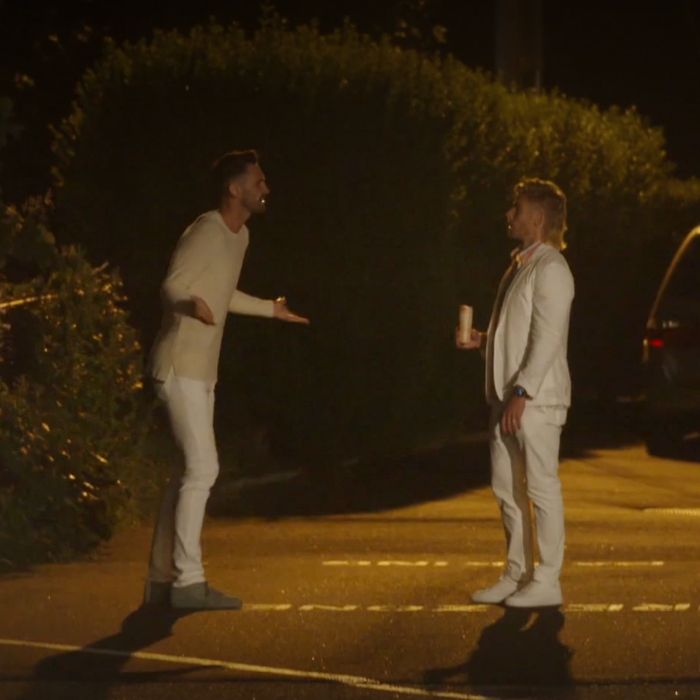 Just like Mya says in this episode, "Carl and Lindsay aren't even here, but we're talking about them." Yes, they were in a combined 30 seconds of footage the entire episode, but everything revolved around them. So, yes, it's time to talk about Larl, and I'm not sure what to do with them.
As the episode starts, Carl walks away from the cameras after his confrontation with Danielle's boyfriend, Robert, and he doesn't want to film anymore. Kyle McGill Cooke, who, against all odds, has become the voice of (drunken) reason in the house, is trying to talk him down. Carl feels like he "ruined" his one shot at a proposal, because he pissed off Robert and Danielle. Kyle is saying that people — and by "people," I think he means his housemates and vocal fans on social media — have been questioning him on every step of his journey with his business and Amanda. He's not wrong. Remember when we all told Amanda not to marry him? Well, I only did that so I could marry him. I don't know what was wrong with the rest of you.
Kyle is trying to get Carl to calm down, telling him it will all work out. And he's right. The proposal was still perfect. Lindsay still said yes. It was gorgeous and televised, and you got the ring for free. There will be a wedding, and your friends will be there, and it will work out.
Lindsay comes out, and as soon as she sees Carl distressed, she says, "We're leaving. We're going to Southampton Social, where our real friends are." Kyle, rightfully, takes this as a dig, considering he's currently out there trying to help his bestie not go down some awful pit of despair, and Lindsay is like, "Deuces. Never liked ya." Lindsay always thinks that people are either with her or against her, and even Danielle being against her means that the whole house is against her. It's been poisoned like a fart winding through a Hertz shuttle leaving the airport.
Lindsay and Carl leave the party at Capri and don't come home that night at all. They even wait until everyone is out for their boat party to sneak into the house to get their things and, of course, the rest of Lindsay's pineapple upside-down cake. That's like when the Grinch took the last can of Who Hash! I agree with Paige, though. If I'm leaving the house, all of the desserts, especially if I made them, go with me. My friends already know this, so they won't be as shocked as the Summer Housers to find out that the cake is missing.
As they go upstairs to collect their things, Carl throws a sheet over the camera in their living room. Both Lindsay and a producer yell at him. Lindsay says they can't disappear. They have to show them leaving, which makes sense from a production standpoint though possibly not a personal one.
Now, I'm not going to say that Carl and Lindsay aren't good for each other or assume anything about their relationship because of it, but it seems like there is a disconnect in how the two of them feel about the show. (Remember, all fights on the show are about the show.) Carl seems like he is done with filming. When he talks to Kyle and is fleeing the cameras, he says, "I'm sick of this shit." Is he talking about Lindsay and Danielle, or is he talking about being on the show? When Kyle calls Carl to find out where they are, Carl says that no one called to check on them last night (which, I'm with Amanda, why would they check on you when you clearly wanted to be alone?), and he says, "Taking a break is what is best for me." As they're packed up, Carl says he's ready to move on to a better pasture. "I'm over this place."
This leads me to believe that Carl isn't just against the drama. He's over being on the show. Really, we've seen it ever since he got sober but especially this season. Carl is waking up early, he's going to bed early, he's not really partying, and he's barely bringing it to events. Carl isn't here because he wants to be. He seems to be here because Lindsay wants him to be.
But I can't tell if Lindsay wants to be on this show or if she wants to be on any show. She has given up her PR company to focus on influencing, so she needs something. She knows that she needs to finish telling the story of their leaving with production — unlike Carl, who is ready to burn the whole thing to the ground. Yes, Lindsay is missing a lot of filming to make Carl happy and tend to his needs, but she has given no indication that this isn't the life for her. I have a feeling that Lindsay would rather be on a show that is not about single people in their 20s partying, since neither of them is that anymore. (As soon as Amanda gets pregnant, she and Kyle shouldn't be on the show either.) I don't think Lindsay is done with reality TV, but she's done with being here. She wants to be more front and center, then Carl can fade into the background wearing a tuxedo like he's Rob Minkoff.
So, yeah, where does this leave them? A reality-show couple without a reality show that they want to be on or, frankly, that wants them. Paige, Ciara, and others are right. It seems that now that Carl and Lindsay are gone, everyone in the house can have a lot of fun. Sure, that fun is for the Bedsore Sisters to create the ultimate manifestation of their powers: The Megabed! In one of the rooms with two queen beds, they move the nightstand between them (even though it is covered with enough empty Loverboy cans and Burger King wrappers that it can qualify as a Superfund site) and smoosh the beds together. They then sleep four across with Mya, Ciara, Paige, and Craig all in a row. Craig finally got three women in bed at once, and, unlike last time, he didn't have to pay a single one of them. (Just kidding! I'm sure Craig gets laid all the time.) However, the next day, that bed looked like the Great Pacific Garbage Patch. Looking at it onscreen made me want to reach for the scrubbing bubbles.
After Larl left (Lexit?), it seemed like an old Summer House episode. There was a sloppy dinner, where everyone was so hammered that no one had any excuse to cook — even if it was just bodega sushi. (Tom Wambsgans would never!) There was throwing shit in the pool, boys were wrestling in their underpants, and a weird sex game where Gabby had to ride Chris and gave the saddest face that looked like she needed to be medivaced away immediately. I was having a blast with these people.
But I don't understand something: When they go for their boat day, why was half of the cast on a big fancy yacht and the other half on some dingy that used to be in a Hamptons ice-cream parlor for decoration? Couldn't Danielle have just put the whole cast on the big boat? It doesn't seem that hard.
Back at the house after the boat day, Chris and Kory run ragged around the house, trying to break every bed by tackling people onto it. (The house has always been fratty, but I feel that with the intro of the Southern Charm boys on this show, it has gotten to a level of cishet man that is a little bit of a turnoff.) They go into Carl and Lindsay's room and put on the cowboy hats that were hanging on the wall. Danielle freaks out and tells them that they're better than that and they aren't going to be destroying other people's property.
I agree with Danielle in theory. If I were the house mother, I would have said, "Guys, don't break anything." But they were being fairly respectful with the hats. They weren't breaking anything, and it's not like they had to dig through their bags to get them. She is overreacting. She overreacted to Mya when she told her to "shut the fuck up" because Mya was insisting that she was "hot" at the moment. I mean, these are all drunken fights. This is all drunken stupidity but sure.
Strangely enough, Craig is the most perceptive in the situation. He says that Danielle is still worried about Lindsay getting mad at her about the hats even after their friendship ends. He says Danielle's problem is that she has been loyal to Lindsay for six years and she can't admit that she was wrong to back her this whole time: "This is happening because of Lindsay. She is the poison." Plenty of people in the house have a similar view that as soon as Lindsay got Carl, she didn't need Danielle anymore and dumped her. Granted, this is coming from the anti-Lindsay faction of the house, so I take it with a grain of salt as big as the plastic chair Chris threw in the pool, but I can see how the evidence points in that direction.
Craig then goes right from being wise to drunken fights when he forgets his mother's birthday, then is mad at Paige because she's not paying attention to him. She goes for a fight in the bathroom, where she ends up puking everywhere, so it's a bad night all around.
But it's these bad nights that are also good nights. They were all laughing at dinner. They were having a blast on the boat. Would that happen with Larl still in residence? I don't know, but that is why leaving is never the right move. You need to be around to have fun, witness the shenanigans, and have some arguments. That is what bonds them. Maybe this is why Lindsay and Carl feel disconnected from the house. They only want to be there on their own terms, and they only want to be there when they can call the shots. But it's the times in between, the times when other people are the main characters, that bond the group together — the times when they can look back years later and say, "Remember when Craig and Kory threw everything in the pool that they couldn't understand?" And those things only happen if you stay. Those things only happen if you're there. Lindsay and Carl, they're not there, physically or mentally, and I'm sort of unclear where they're going to end up.