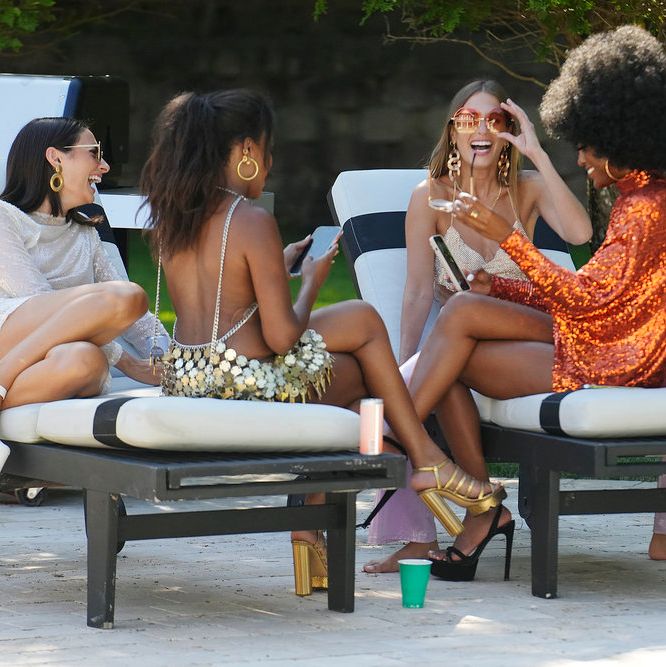 Photo: Vulture; Photo: Sean Zanni/Bravo
The funny thing about our reality-television stars is that we want them to grow, change, learn, and evolve, but, you know, not too much because if they were all enlightened, mature, and sober, we wouldn't have any activations to fixate on and judge. I think this episode of Summer House was kind of a perfect blend of some people behaving immaturely and some behaving so appropriately that I had to take a step back and Google Image search the "growth" GIF from Insecure.
Let's look at our new girl, Gabby. At dinner, she sits next to Danielle because the two women already know each other from Instagram stalking. It turns out the cheating ex who was so awful to Gabby that she won't even consider dating anyone born in the midsummer was also dating Danielle at the same time. When the editors showed the same picture from episode one featuring Gabby's ex and a blurred-out woman but then removed the blur to show Danielle, I screamed out loud. I shouted and hollered and rolled on the ground. That is how you do a callback.
Anyway, as they compare stories and timelines, it turns out this dude would ghost Gabby to hang out with Danielle for months and vice versa. He had told Danielle that Gabby was his ex and that there was no overlap, but there wasn't just overlap, these two could probably smell each other on this guy's dirty drawers.
Usually, on one of our favorite Bravo programs, this would happen and one of the women would freak out on the other one. Look at when Brandi Glanville and Scheana Shay met up so that Lisa Vanderpump could launch a spin-off. Brandi got all pissed at Scheana when everyone should have been pissed at the future Eddie Rimes. (If you understood every word and allusion in that last sentence, congratulations, you have earned an advanced degree from the Real Housewives Institute.) Not our Gabby — she tells us in a confessional, "I will not and cannot blame Danielle for what happened. She was as much of a victim of his schemes and lies as I was."
See, look at how exceedingly mature that is? Oh, but wait, I did not finish that quote. "But I am so excited to have her as a friend because he is going to shit his pants, and I thrive in that space," she says. This is the Gabby of "I will never date Cancer men no matter how hot they are." This is the insane Gabby that got herself cast on Bravo: the Sociopath Channel. Then we find out that when she broke up with the dude, she had all of his social-media passwords and posted a message on them about how he wasted her time for years and is a liar and a cheat. Hello, this is giving me BGBE: Big Garcelle Beauvais Energy. After last week, I thought Gabby was a crazy person and a lost cause. This week, I think she might be the future of the whole show.
Speaking of the other newbies, the jury is still out. Chris seems like an adult with a real job, a hot body, and a propensity to stay out of the drama. However, when he is flirting with Ciara over a giant game of Connect Four, he just comes off as way too cheesy. "Too much, too fast, too thick," Ciara says. The English call a guy like this "factor 50," which is also what they call 45 SPF sunscreen. Get it? He's laying himself on so thick that you can still see it no matter how much you rub it in or try to wash it off. If you don't get it, just do yourself a giant favor and get into Love Island immediately. You're welcome.
Sam, I can't really tell. It was sweet that she invited Josh, her hot boxing coach, out for a little visit, and it was very mature when she was talking to him about what she does and doesn't want in a relationship. Not mature? Dissing him because when she was dancing on the kitchen island (something I feel like she does every single day she's in the house), he didn't get up there and just watched her. Seriously? You need company for this? Coyote Ugly–ing is usually an activity best pursued alone. Then, after she decided to get rid of him, she left him perched inside the front door waiting for an Uber that would never come as she laid out back and sunbathed with Amanda. Not mature.
While we're talking maturity, what about my imaginary husband, Kyle Cooke? I feel like it was mature to not want to leave good French fries behind on the table but immature to try to stuff them in his pockets. (Between pocket fries and bag sandwiches, this show is one fanny-pack taco away from being Doomsday Preppers.) Also mature, saying that there is nothing more American than a tortilla chip made into a spatula for getting fat. Immature? Being up at 3 a.m. to eat them out of the bag mumbling to yourself while Paige and Ciara are harassing Mya into sleeping in the bed across from them because every night has to be an eighth-grade slumber party.
The bulk of the episode is about the argument between Danielle and Kyle about Kyle's remarks about Carl at the last episode's dinner. It came up at the girls' tea party, which, thanks to Lindsay being away that weekend at a wedding, did not dissemble into screams and recriminations, as most Summer House events usually do. Amanda was especially mature, talking to the women about her fertility issues with honesty and vulnerability. When Danielle brings up how much shit Kyle was talking about Carl the night before, Amanda gets in there to shut it down. "I think there were a lot of things that he did where any other company would have fired him, and it was constant," she says. "So there is a lot going on. Not that you gossip, but maybe just letting them work this out before it's 'He said this, she said that …'"
Look at how grounded and reasonable that is! Sadly, Danielle had already let this cat out of this particular Telfar clutch. Should she have told Lindsay and Carl what happened? Yes, totally. However, I would have said something along these lines: "Carl, Kyle was talking a lot of stuff about what's going on at Loverboy last night. I don't really want to get into it, but you guys really need to talk." I think it would have shown her loyalty that she reported it back to her friends but also stayed out of it enough that Carl wouldn't go into the discussion quoting things Danielle may have erroneously reported.
While the girls are having tea, Kyle is getting drunk with Chris; Mya's boyfriend, Oliver; and Rob, some drunk dude who stayed up until 3 a.m. drinking with Kyle and Chris and, honestly, for that alone, should be given a berth in the house. (While we're on the subject, where did Rob even sleep? Chris was passed out in various and sun-dried chairs. Did Rob take a beach towel into the gym and curl up on the weight bench? Whatever, this dude is a new hero.) Danielle shows up and feels like she needs to talk about things with Kyle but is waiting until the next day because he's already wasted and she doesn't want to get into a circular screaming match. Where is that "growth" GIF? When Kyle hears his name, he storms out of the brewery where they're hanging; the editors then treat us to a montage of Kyle storming out of places. Nothing has ever made me happier except a collection of Rihanna leaving restaurants with a full glass of wine.
Smartly, they leave it until the next day, but before Danielle returns to Montauk, Kyle decides to bring it up, and they chat. Instead of going after Carl again or getting worked up, Kyle says, "You walked into a very sensitive subject, and I'm not handling it well as a friend or as a CEO." Look at how smart! Kyle is admitting his mistakes, that he's in a difficult situation he is emotionally unprepared for. It's as if he's about to ask Danielle for advice. Then we find out he drunkenly fired off a text to Carl in the middle of the night saying, "I'm done."
Oh, Kyle McGill Cooke, the fire of my loins, the wine in my chalice, the Tostito Scoop to my guac, you really bungled this one up. Like Carl is going to come into a conversation calm and ready to negotiate after a hotheaded move like that. (The biggest disconnect seems to be that Carl thinks he's indispensable to Loverboy, and Kyle thinks the opposite.) I feel like his rash behavior the night before cancels out any sense of emotional moderation he might be experiencing at this (very hungover) moment.
But I don't want to end with that. I want to end with the moment I found the most shocking, the one I think will have the biggest impact on the rest of the season: Paige and Danielle's conversation at the brewery. This one was all maturity, all honesty, and all destructive.
Danielle is telling the Bed Sore Girls — Paige, Ciara, Mya, and Gabby — that she feels like she needs to resolve things with Kyle. "Do you, though?" Paige asks her. And she's right! Paige says Danielle throws herself under the bus way more often than she needs to. Look at what happened last year with her fight with Ciara. That wasn't anything to do with Danielle and Ciara, that was all because of Lindsay (and that Muppet-mouthed motherfucker from Southern Charm I don't want to mention).
Paige then breaks in with an iconic statement that I am quoting almost in its entirety. "I'm gonna say something totally honest, and I've known you for five years," Paige says. "Do I feel like for even one summer that Lindsay has ridden for you the way you ride for her? No. I've known you for five years, and I know how you ride for your friends, and it is motherfucking admirable, but I know for a fact that last night if we were at dinner and Kyle was talking shit about you, Carl and Lindsay would sit there and not say anything … You are a very good friend to them. Do they give you that?"
Do they? Do they, though? I don't necessarily agree with Paige, but you can see how this little leech has already weaseled its way from Danielle's ear right into her brain to control her like she's Kirstie Alley (R.I.P.) in Star Trek II: The Wrath of Khan. You see her spending this one weekend in the house when all the drama is gone — all the drama except for what she is creating for Lindsay and Carl. Maybe that was enough, and maybe this was the opening, this was the little crack in the ground, a line in the sand, that is going to grow and grow like a Florida sinkhole, sucking all of them into the abyss and sending their beloved house and all the Amazon boxes in front of it to someplace we've never seen before.