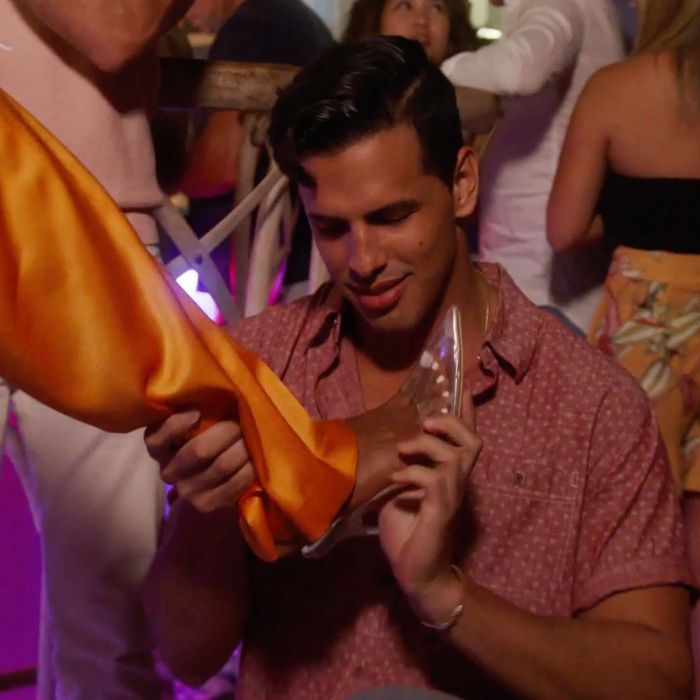 In this episode, Amanda Batula says the most unrelatable thing ever uttered on a reality television program: "Did no one bring any of the boxes in?" No one brought the boxes in because no one on the planet Earth that we are destroying with free same-day shipping has ever had an entire princess castle worth of boxes on their front porch every week. They've been coming in dribs and drabs all summer, but for Kyle's 40th birthday party, we are back to a deluge — just a hand-chapping, finger-cutting, Bezos-bolstering flood of packages of uncertain origin that stay by the front door for the entire weekend.
The weekend before, there were two big mysteries. The first is why, on Saturday evening, there was still a bunch of box stragglers hanging by the front door like the only puppies at the adoption meet-and-greet that are too ugly to go to a forever home. The second is why an enormous geyser erupted from the ground in front of the house. Was this a sprinkler malfunction? Did someone dig a hole and find Old Faithful living in Long Island? Does this have something to do with the WAP that Cardi B warned us about and was it brought on by Kory's imminent arrival into this house?
And what about parking? Why is everyone complaining about the parking? They're just going to stay in that house all weekend. I mean, some of the residents aren't going to leave their beds; what do they even need a car for? They're drinking for the rest of the weekend, so it's Uber city. Just let everyone chill in the driveway and let it look like the sort of Tetris grid my five-year-old niece makes on my phone because she has no idea how to play. She also doesn't have thumbs. (She's also made up.)
I'm talking about this because not much happened in this episode and I get paid by the word. (And here you thought all those Tom/Tom slash fictions in Vanderpump Rules recaps were just for kicks. No, honey. They are for coins!) The biggest thing we have resembling a fight is the continuation of Lindsay and Danielle arguing at the girls' dinner that started last week. I have a hard time deciding whose side to be on. Lindsay is right when she says that being in a relationship means sacrifice and she's trying to find a balance between staying sober for Carl and partying as much as she always did. I also see Danielle's point because when Lindsay and Carl meet up after their respective boys' and girls' nights, they leave almost immediately. I'm happy for them, but they continue to separate themselves from the group.
I also agree with Sam; if Danielle needs Lindsay to party and drink as much as they used to, that's not a very sold friendship either. I think Danielle should support Lindsay and Carl, but I disagree when Lindsay says that as long as she's happy, a best friend should be happy for you. I mean, what if your best friend marries an asshole? What if your best friend is happy, but the person she's with is faking cancer? I would hope that you would be a Tamra Judge and tell me to my face that he's an asshole and I need to get away. I wouldn't want what Lindsay seems to want, which is blind obedience. But also Carl is a great guy, so why is Danielle so concerned?
I don't quite get the whole thing, but I think the craziest factor here is how the other women in the house react to Danielle and Lindsay's schism. Strangely enough, we get a great illustration of that in the conversation between Gabby and Ciara. Gabby tells Ciara that she doesn't feel like they have given each other a chance to be friends. Danielle chimes in and says she wishes she and Ciara had that conversation three years ago when she first got into the house. Ciara and Danielle say they kept missing each other because they wanted to miss each other. Danielle says the reason behind this is "there were sides."
Yes, there are sides in the house, and while sides are the best part of the meal at Popeye's, they are the worst thing for a reality television program. Ideally, for a docusoap like this, you'll have a group of people who have interconnected and shifting dynamics. When you get sides, you get trench warfare. The Bed Sore Sisters are actively trying to recruit Danielle to their side to discredit Lindsay. Amanda tells Kyle she thinks Danielle is living in Lindsay's shadow. Paige says, "Now that Danielle is finally speaking up about it, it validates everything we say about Lindsay." To which Ciara responds, "She is the common denominator in everyone's fights, and then she's like, 'I'm such a good friend.'"
These girls hate Lindsay and I think Lindsay hates them. Like Danielle and Ciara, I think they always missed each other because there were sides. Lindsay was on the OG side, protecting herself (and her spot on the show) from younger, hungrier women. The other newbies in the house don't have the same allegiances. Sam is as close to an ally as Lindsay has in the house, and Gabby seems too concerned with reliving her breakup to even be bothered by what anyone else is doing.
We know that Lindsay and Danielle are headed toward a rupture (we all saw the mid-season trailer after the episode), but how much is Danielle being persuaded by the rest of the girls in the house? But also, if Lindsay were investing as much as she should in her friendship with Danielle, would she be persuadable? I don't know the answer to any of these questions, but I feel like we will be asking them a lot for the rest of the season.
Before we move on to the Southern Charm invasion in the second weekend of this episode, I need to stop by Chris's weird initiation with the guys. They make him go into all the girls' rooms and take something they would miss. He takes Paige's toothbrush, Lindsay's comb, Sam's slippers, and Kyle's mullet dryer, which Alex — I mean Chris! Sorry and R.I.P. Alex — mistakenly thinks is Amanda's. But what is really creepy is that he takes a pair of Ciara's panties. Okay, taking a toothbrush and a comb is a silly prank, but a man taking a woman's underwear and rifling through her intimates? Not cool, bro. Not cool.
To make it even worse, when Chris reveals all the purloined goods in the morning, Ciara's panties are missing. I know where they are. Kyle McGill Cooke, my rascally imaginary husband, was talking about how turned on he was just seeing them. He totally has them in his pocket and just delicately fingers them throughout the day to maintain a chub. As if we had any doubt, the next weekend, when he poses for a picture with Ciara, he says, "I'm going to caption this one 'Hall Pass.'" Kyle! Give the panties back!
Yes, Craig and Kory, from Southern Charm and Winter House, respectively, arrive for Kyle's big bash. Kory is dressed perfectly for the occasion with Gucci Loafers, no socks, white pants, and a dumb grin on his fuckboy face. They seem like they're setting up a fight between Ciara and Sam for his heart, but of course, he will sleep with the ditzy blonde. That's what he did in Winter House! And we saw it in the trailer — sorry for not giving a spoiler alert. I have no idea why he and Craig need to stay up until 4:30 a.m. trying to find the login for the WiFi, but I wonder if it starts with A and rhymes with Dadderall? Maybe we'll get an answer next weekend when all of those boxes transform into Kyle's birthday party. Gosh, I hope more happens then.