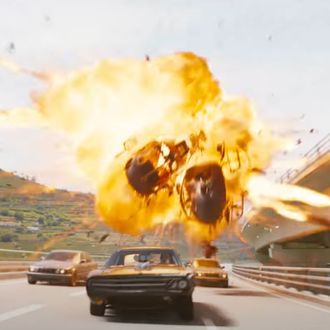 Your hungry guys didn't have just Totino's Pizza Rolls to deal with on Super Bowl Sunday. The category of "Super Bowl commercial" typically makes us think of Doritos or beer, but maybe we need to open our mind to new possibilities. As movie theaters continue to lure audiences back into communal-viewing experiences with strategies such as lowered prices, the Big Ol' Game is the one time a year when they want audiences at home, on the couch, laughing/gasping/crying/peeing their pants at ads for upcoming films. Super Bowl LVII, which took place February 12 at the State Farm Stadium in Glendale, Arizona, happened in-between trailers for The Flash, Fast X, Transformers: Rise of the Beasts, Air, Guardians of the Galaxy Vol. 3, Super Mario Bros., and more. Below, all the trailers and teasers that aired on Super Bowl Sunday.
65
Abraham Lincoln: Vampire Hunter is so 2012. In 2023, we've got Adam Driver: Dinosaur Hunter. 65 is set 65 million years ago and claims that "65 million years ago, humans discovered the earth." We're gonna check in with some historians on that one before the movie comes out March 10.
Creed III
No, we're not talking about the third album from the band Creed, Weathered. We're talking about the third film in the Rocky universe sequel-franchise Creed, starring Michael B. Jordan and Jonathan Majors, out March 3. Like Weathered, however, this Jordan-directed movie does have some big musical shoes to fill, since Rocky III was the one with "Eye of the Tiger" as its theme song.
Transformers: Rise of the Beasts
More Creed? Transformers: Rise of the Beasts was directed by Creed II's Steven Caple Jr. Now he has graduated from sports to sports cars (that turn into aliens). That's Hollywood, baby! TROTB is out June 9.
Super Mario Bros.
The teaser for Illumination's Super Mario Bros. stayed away from any controversial lack-of-accents, but did come down hard on the Mare-io side of "how do you pronounce Mario?" debate. Plus, they brought back the rap from the cartoon. Fun!
Indiana Jones and the Dial of Destiny
De-Aged deepfake Harrison Ford is back, and he fucking hates Nazis! A new Super Bowl spot gave more time with s Mads Mikkelsen's Voller, a Nazi-turned-??? inspired by many scientists poached by US under Operation Paperclip.
Guardians of the Galaxy Vol. 3
Groot's looking ripped as hell in the new trailer for Guardians of the Galaxy Vol. 3. The new trailer gave us more looks at Will Poulter as Adam Warlock, as well as more background on Rocket's life as part of the High Evolutionary's lab of horrors. Guardians ride again May 5.
The Flash
The movie that, despite a complete restructuring of the DC Universe and continued controversy surrounding its star, just won't die gave another proof of life Super Bowl Sunday. DC movie co-czar James Gunn said The Flash "resets the entire DC Universe," and will be doing so June 16.
Ant-Man and the Wasp: Quantumania
While the upcoming Ant-Man sequel has yet to put out a full trailer, it has already released a teaser in association with Heineken. If you need your Rudd fix, this should do nicely.
Scream VI
Scream VI hit the ground running by being the first film to release a full trailer this Super Bowl season. Scream vets across generations — including Jenna Ortega, Courtney Cox, and Hayden Panettiere — are starring in the upcoming film, which comes out March 10. Boo!
Fast X
The upcoming tenth Fast & Furious film wants you to remember all those warm and fuzzy feelings you felt watching guys race cars from years past. The Fast X trailer is heavily centered around the events of Fast Five, which is no surprise given that the main villain (played by Jason Momoa) is the son of the Fast Five villain Hernan Reyes. It's giving … Shrek the Third. Race to the theaters on May 19 to see the full film.
Air
What's sneakerhead culture's ground zero? When Nike inked a deal with Michael Jordan and debuted the Air Jordan line of kicks back in the '80s. Dunkin' ambassador Ben Affleck thought it would be fun to direct and star in the Amazon Studios film AIR, a movie about that very deal. The trailer has a Super Bowl spot, plus infant EGOT winner Viola Davis, Jason Bateman, Chris Messina, Marlon Wayans, and Chris Tucker. AIR bounces into theaters April 5.
Dungeons & Dragons: Honor Among Thieves
Dungeons & Dragons: Honor Among Thieves would like you to know there is going to be action. There will be flames and water and beasts and violence. If you want some humor and/or plot, the film has already released multiple other trailers to pique your interest before it premieres on March 31.
Did Dick Van Dyke Go on the F****** Masked Singer?
So The Masked Singer dropped a trailer that will be aired during the Super Bowl, and in it the show teases a shocking reveal of a "Tony, Grammy, and Emmy award winner," who Nicole Scherzinger says the whole world loves. Look over who has the EG_T, and who the whole world loves the most, and you'll find it is definitely 97-year-old Dick Van Dyke. I mean, it could be Cyndi Lauper? And Lin Manuel-Miranda is too busy, right? RIGHT?
This is a developing story.