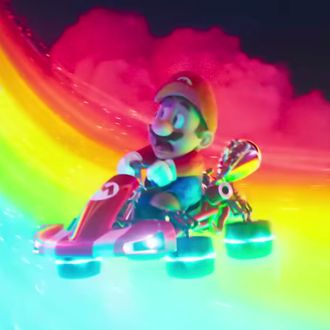 Mario!
Photo: Universal Pictures
It's a-him, Mario! There's a new Super Mario Bros. Movie coming out, and Mario is ready to kart around willy-nilly, bump his head on blocks, and fight a turtle ten times his size. He's not ready to have an Italian accent, though. The upcoming Illumination film has released a final trailer for your viewing pleasure, teasing a whole lot of references to various Nintendo games and some classic anti-Bowser rhetoric. Un-dock your Switch, because Mario's going to the big screen on April 7, 2023, Americano style. Below, our cheats for The Super Mario Bros. Movie.
What's going on in the trailer?
The upcoming animated film appears to follow Mario, Princess Peach, and Toad attempting to stop the evil lizard Bowser from taking over the world with his army of Koopas. Pretty par-for-the-course Mario stuff, though it is notable that throughout the trailer rollout Peach has been right alongside Mario in most of the quest scenes, rather than being the person who needs saving. Still making a point of that instead of pursuing real progress: giving us Wapeach. Instead, Luigi seems to be in damsel mode as he dangles in a cage in Bowser's dungeon. In previous trailers, Donkey Kong appeared as Mario's opponent in a Super Mash Bros. coliseum, but in the final trailer, they work together and get fire power-ups. (Cue Chris Pratt's half-assed Mario voice: "This is fun!") Cranky Kong's involvement in the larger plot is still unclear. Meanwhile, we see Mario attempting to bypass obstacles across the galaxy, Thee Fire Peach, and the whole crew racing down Rainbow Road. Luigi will also be in his element at some point: getting scared shitless in a big spooky house.
Who's in the cast?
We have a veritable smorgasbord of famous actors voicing beloved characters in the project, but you could probably tell that from the trailer, as none of them appear to have altered their voices at all. Most obvious is Chris Pratt as a Mario who appears to be from, like, Cleveland. Plus we have Anya Taylor-Joy as Princess Peach, Charlie Day as Luigi, Jack Black as Bowser, Seth Rogen as Donkey Kong, Keegan-Michael Key as Toad, and Fred Armisen as Cranky Kong.
What's up with Chris Pratt's Mario voice?
Just when you thought you recovered from Harry Styles' accent in Don't Worry Darling, you're slapped in the ear by Chris Pratt's Mario, who sounds less like a cheerful little Italian plumber and more like if Bradley Cooper did a lazy guest stint on Robot Chicken playing Rocket Raccoon on space quaaludes. "Mush-rum king-dim, heah we come," he said in the first Super Mario Bros. Movie teaser, below, as he ran off into the candy-colored abyss. The animation itself is darling — Mario looks like a squishy little dumpling of a hero — but the confounding, dull voice coming from under his mustache simply doesn't match up.
When is the release date?
The new movie is apparently out April 7, which means they have more than enough time to rush Mr. Pratt into the studio and rerecord his little Mario voice to be a little bit more … Mario. Sonic gets it.
This post has been updated.