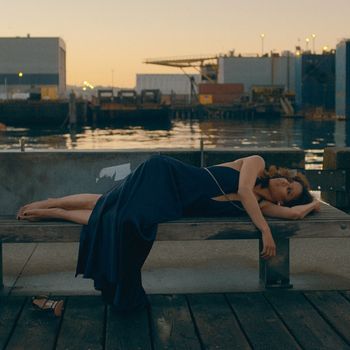 This week, a pivotal sequence revolves around the classic painting Ophelia, by John Everett Millais. As Sophie admires the painting, slipping further under the spell of the mystery hallucinogens she took earlier in the evening, she tells Caroline the woman in the water looks peaceful. Caroline looks at her, mildly shocked, and retorts that Ophelia is dead.
It's a great line. But Ophelia isn't dead in the painting. At least not yet.
Millais depicted Ophelia singing as she drowns. The text of Shakespeare's Hamlet notes that Ophelia is given a few extra moments of life as air bubbles collect in the folds of her gown, keeping her afloat for some final breaths before her body succumbs to the pull of the water. In the image, Ophelia is on borrowed time; so is Sophie.
It's fitting that the writers would select this painting, as there is some debate about Ophelia's state of mind and her intentions as she drowns. Some Hamlet aficionados believe poor Ophelia's death is an accident — a branch she sits upon cracks and falls — while others claim she committed suicide during her descent into madness. The truth is never fully clear in the play. Again, this comparison neatly ties into Sophie's situation. But Ophelia never rocked a slinky black ball gown or popped party drugs in the pursuit of transcendence.
As with the Ophelia conundrum, we still don't know whether Sophie jumped from that boat or was pushed. Given what we've seen of her erratic behavior, what we know of her mother's mental-health history, and a dreamlike moment she has on the pier late in the episode in which she envisions herself jumping into the water, it still seems possible — if improbable — that she might have tried to commit suicide. To circle back on a version of the question posed in the premiere: If Sophie had 3.1 million dollars, why would she try to end it all?
While this episode has a lot of visual fun with Sophie's drug trip (the interlude where she explores the museum atrium is particularly stunning), we take some detours and learn some things about Baden, James, and Caroline. As Baden flails his way through this investigation and increasingly engages in shoddy and impulsive detective work, it's feeling more and more like he's a babe in the woods, hoodwinked by pre-accident Sophie and unwittingly strung along by post-accident Sophie.
Conversely, Caroline and James seem to know exactly who Sophie is. And it turns out she didn't need to be afraid of them at all; in fact, it feels as if they're kind of scared of her. Before attending the gala, Sophie lets it slip to James that Caroline told her about her affair with James. James retorts that he knew Sophie was having an affair as well. Sophie is a few drinks in at this point, so she sort of just brushes that last part off with an eye roll and a defiant swig of her whiskey.
Later, when James confronts Caroline about her admission of the affair, the two have a knowing — if infuriatingly cryptic — conversation about Sophie. It's clear they're both working to keep her safe, and James in particular proclaims that he just wants to protect her. But it still remains unclear how keeping the truth from Sophie is protecting her, especially since she's going off to try and solve the mystery on her own and getting mixed results.
This brings us to the pink pills. Upon hearing Baden has a stash of synthetic hallucinogens, Sophie remembers that Encounter Memory Solutions, the quacky clinic she went to in the previous episode, employed hallucinogens to help people bring back repressed memories. Even though Baden echoes her therapist's warning and tells Sophie not to take any because the dealers "make it in a garage in Richmond," she goes ahead and snatches some from his medicine cabinet anyway.
It's clear Sophie has decided to take things into her own hands. Gugu Mbatha-Raw's performance shifts to accommodate this metamorphosis as Sophie starts to exhibit a shifty pluck and determination, characteristics that were utterly foreign to the Sophie of the first few episodes. Mbatha-Raw starts to move her body more confidently, boldly centering herself in every space she's in and using Sophie's signature slinky black dress as armor against the world. As Sophie begins to tap into the reserves of who she once was, Mbatha-Raw seems to delight in adjusting her expressions accordingly. Her face becomes a collection of wry, enigmatic expressions that suggest an ocean of treachery and chaos roiling beneath the surface.
Instead of staying at the gala, Sophie decides to bolt and head to the Li Bo Lounge. There, she hallucinates that a bar patron is the girl she's been seeing in her memories. As usual, the ghostly girl refers to her as Tess, but this time she's got a bit more to say. Blood cascades from her face as she levels accusations at Sophie. When Sophie asks, "Why did I run away from you?" the girl responds, "Because that's your thing, Tess." Adding insult to injury, she says, "And you don't care about the mess you leave behind."
Certainly, Sophie left behind a huge mess when she landed in the water beneath that ferry all those months ago. According to James, she wasn't supposed to come back. It's been curious thus far that no one has told Sophie where she was going when she fell off the ferry, but after her long, strange trip throughout the streets of San Francisco, she ends up at the pier where the ferry departs. A terrified worker wakes her up the next morning, and she immediately starts asking questions. He's obviously thrilled that he doesn't have to deal with a dead body, so he answers her right away. He tells her that the ferry goes to something called the Industrial Peninsula, where there's an airport for private planes. Interesting.
As Sophie begins to shake off her trippy evening, she finds her way home. On her way, she listens to a message from Baden saying the information he got from James's laptop was useful. On the day before Sophie's accident, 3.1 million dollars was transferred into an account for "Tess Caldwell." Oooh! That name rings a bell!
Even with this damning information rattling around in her foggy brain, Sophie still insists on dominating the city, brazenly walking barefoot in the middle of the street as she approaches her house. There, she finds both James and Baden waiting for her like nervous parents waiting for a tardy teen after curfew. She slinks past both of them without a word, waiting for Baden to leave and James to follow her into the foyer. There, she asks the question that Surface viewers have been waiting for someone to ask for weeks. She says, "The missing money. Was it me?" James quietly nods, confirming this theory and hopefully setting the stage for much more truth telling in episodes to come.
Recovered Memories
• It's of note that Sophie's drug trip doesn't actually yield any useful information. Baden gets the information about Tess's bank account via James's computer, and Sophie learns about the ferry's destination from the worker at the pier after her trip.
• The scene in which Baden confronts James provides an amusing and exciting beat. James isn't really too peeved at the fact that the dude in his driveway is the guy Sophie's been sleeping with, but he doesn't want to deal with anyone at that exact moment. He grabs a screwdriver for protection, and Baden retorts that the best screwdriver for an attack is a flat-head, not a Phillips. Get this man a self-defense TikTok!
• Earlier in the episode, Baden is emphatic in telling Sophie that she just got caught up in "other people's crimes" and that she's innocent. Well, things will get interesting when he finds out who Tess Caldwell really is. Will he still protect his dear Sophie once the truth comes to light?
• When Baden gets the USB drive from James's work computer, he says there's nothing useful on it, just spreadsheets and James's Pornhub history. James has glass walls in his office, though, so the idea of him watching porn at the office is just yuck.
• The funniest line of the episode goes to James's co-worker explaining Sophie's blissed-out state as she walked out of the gala as "Coachella, day three, clearly missing the bus."