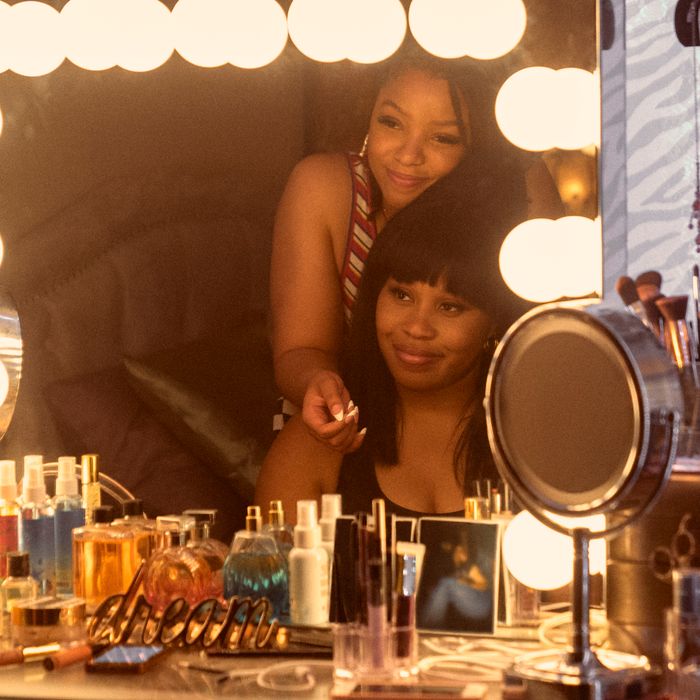 Swarm
Stung/Honey
Season 1
Episodes 1 and 2
Photo: Warrick Page/Prime Video
"Who's your favorite artist?" is the question Swarm poses in its first moment. If you're Dre (Dominique Fishback) and Marissa (Chloe Bailey), it's Ni'Jah, Swarm's version of Beyoncé. They both love the pop star so much that one kills herself after going through a personal tragedy that mirrors Ni'Jah's Festival: a masterful musical project accompanied by visuals that announces that the world's most famous woman has been cheated on.
This is one of a long string of real-life events that co-creators Donald Glover and Janine Nabers's Swarm will depict through Dre's story. When Lemonade dropped in 2016, a now-debunked news article circulated about a woman named Marissa Jackson, who supposedly committed suicide after listening to the project. But Swarm isn't just a retelling of real-life events: It's a dark comedy fused with a thriller. Another inspiration was a tweet Glover saw about serial killers. Nabers recalls it as reading, "Why does every Black woman on TV have to be a therapist, or a funny best friend, or someone looking for love, or a teacher? We can be crazy; we can be serial killers, too."
With these two overarching ideas, Swarm kicks off in 2016 in Houston. From her throaty voice to the visuals she releases, it's not a secret who Ni'Jah is based on — and Dre and Marissa are two sisters who share a love for her. As teenagers, they ran a Twitter fan account called the Swarm. Now young adults living together, they're hustling for rent and navigating the grown-up world. Except Dre hasn't shaken her childish obsession with Ni'Jah. She still runs the Swarm account and uses a credit card to purchase $1,800 tickets to Ni'Jah's tour for Marissa's birthday instead of paying rent. It's evident that Dre is socially awkward (and a bit creepy), while Marissa is well-adjusted (at least comparatively). Their relationship is the typical "obsessive female friend" trope that we see a lot in thrillers: Dre watches Marissa and her boyfriend Khalid (Damson Idris) having sex; other than Ni'Jah, Marissa is obviously the center of Dre's world; when Marissa's self-harm scars are revealed, Dre showers them with kisses. It borders on homoerotic, as the best obsessive-BFF tropes do. Naturally, Dre doesn't care for Khalid. He's sleazy and too interested in Dre's sex life, at one point going from innuendo to a straight-up proposition to help her lose her virginity.
Though the deep love between Dre and Marissa is apparent, like most codependent relationships, it's also toxic. Their codependency comes to a head when Dre nearly misses covering Marissa's shift at the T-shirt kiosk in the mall and then leaves the kiosk unattended (to talk with Khalid, of all people), resulting in it getting robbed and vandalized. When Marissa has to bail Dre out, she confronts Dre about the codependent nature of their relationship and announces she's moving in with Khalid. Dre tells Marissa about Khalid's advance, but Marissa doesn't believe it and dramatically leaves. Dre freaks out, but then, like a call from God herself, Ni'Jah drops a new project, Festival, with no warning. Dre, inspired by Ni'Jah's latest masterpiece, heads to the club in a backless dress that hangs off her body like water, approaches a man (Rory Culkin) on the dance floor, and ends up going home with him and losing her virginity. In the morning, she charges her phone and sees that Marissa has been blowing her up with calls and texts about how all men cheat, including Khalid and Ni'Jah's husband. She says Festival could've been written from her heart.
Dre rushes home to surprise Marissa with the Ni'Jah tickets, thinking she's sleeping on the bed before realizing there's no longer life in her sister's body. Marissa is confirmed dead at the hospital. Dre has a complete mental breakdown, eventually getting evicted from her apartment (Marissa was covering most of the rent). At the funeral, Dre is asked to leave at the family's request, even though she also claims to be family.
With no family left to speak of, Dre begins turning into the serial killer promised by Nabers and Glover. Her first murder is, naturally, Khalid. She visits him at his dad's house, and they talk about his absence from Marissa's funeral before Dre attacks him from behind, bashing his head in with a vase before impulsively eating a pie with her bare, bloody hands. Dominique Fishback's performance is an explosion of emotion and violence. It's fantastic to watch; horror might be this actor's best genre.
Dre is now officially a murderer on the run, but she's also on a mission, which finds her working at a strip club in Fayetteville, Tennessee, in 2017. Seeing her dance to a Ni'Jah ballad (this universe's version of "Haunted," a song about Bey's miscarriage) makes me wonder how she even made it past auditions, but somehow she's there. The other dancers don't understand her except Hailey, another dancer who latches onto Dre (now going by Carmen) while dodging her abusive boyfriend. Paris Jackson guest-stars as Hailey, giving us a great line about being a quarter Black. Dre gets wrapped up in Hailey's drama with her man, which quickly leads to her second (Hailey's boyfriend for being a violent domestic abuser) and third (Hailey for being annoying and not a Ni'Jah fan) kills.
But they aren't her main target. She's been stalking a man who made fun of Marissa's suicide on Twitter all the way to this specific strip club. So Dre still shows up to work the next day and agrees to drive some of her co-workers to a gig tricking for a baseball team. On their way home, Dre's car breaks down in the woods and a club patron with a tow truck comes to their rescue. Dre recognizes him as the man she's been stalking. When he tows them back to his home so he can fix the car, Dre confronts him about his negative Ni'Jah tweets. Before they leave, Dre sneaks back into the house and tries to murder the man in his bathroom. He puts up a good fight until the girls see him trying to choke her out and assume he's raping her. One of them pulls a gun out of her purse and shoots him dead. Dre makes a run for it in the post-murder confusion, leaving the strippers to answer for the death.
Hive Mind
• A month ago, my friend asked me if I wanted her extra Beyoncé Renaissance tour ticket. The answer was an immediate yes. Never mind rent was due, my apartment needed furnishing, and I still had to ship my belongings to the new state I was living in. Finances be damned, I decided to make it work. For the most part, I've never been celebrity- or influencer-obsessed (though I find the cult of celebrity fascinating), but Beyoncé is the exception.
• Donald Glover's use of bizarro versions of real-world stories carries over from Atlanta, where he mutated reality just enough to be absurd yet grounded. For example, in the Atlanta universe, Justin Bieber is Black, Chief Keef becomes an Ice Cube–like family-movie actor, and Atlantic Station is a wormhole to a time loop. Glover and Nabers use this creative device to create a world where fandom takes us all over the edge.
• Glover's touch is so apparent during the sex-party scenes: somehow, the whole baseball team is white (when does that happen?), and they all enjoy ravaging these Black women, with one of them jerking off to Dre as she binge-eats. It wouldn't be a Glover production without something like this, but perhaps it's meant to represent white men fetishizing Black women. Who knows?!
• Nabers told the Los Angeles Times that Dre is completely fictional, but they've "taken real internet rumors, real murders and combined them in the narrative of our main character, Dre. Not much of it is fabricated." As the opening credits ambiguously state, "This is not a work of fiction. Any similarity to actual persons, living or dead, or actual events, is intentional."
• Indulgence is already a huge theme in Swarm. Beyoncé is constantly criticized for her open displays of luxury and wealth, so seeing that reflected in Dre's binge-eating is interesting. And I see it as a metaphor for stan culture's obsessive consumption of people like Beyoncé.
• I love, love, love the intentional use of the buzzing sounds during highly emotional or pivotal moments. Not only is it an obvious nod to the bee theme, it also evokes the feeling of intrusive thoughts and an overflow of internal feelings that can't be contained.
• I'm a fashion girly, so I will always be looking at costuming. Dre's clothing choices are very telling. In the beginning, like Khalid says, she covers herself up with only a hint of something sexy hiding away, like the bodysuit–puffer jacket combo she wore at the mall, versus what she wears when at the club dancing to the Festival drop or when she's performing to Ni'Jah at the strip club when she's totally bare, wearing her emotions on the outside. At Marissa's funeral, she's scantily clad, her emotions on display. Her cute but childlike hairstyles are also the perfect touch, adding a tragic innocence.