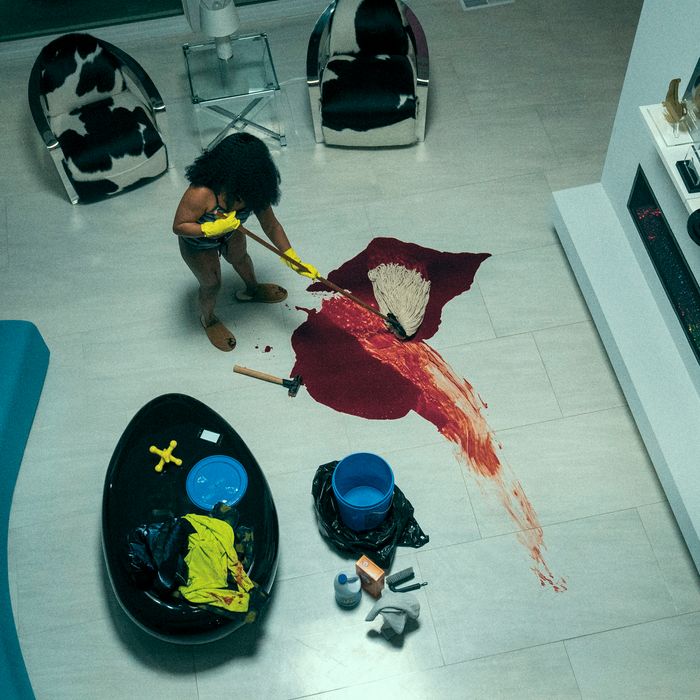 Swarm
Taste/Running Scared
Season 1
Episodes 3 and 4
Photo: Quantrell D. Colbert/Prime Video
"Ni'Jah is a queen. Ni'Jah is a god. Ni'Jah is our sister," Marissa says as she walks through a parking structure after a Ni'Jah concert. The shaky phone-camera footage implies that Dre is rewatching this video for the umpteenth time, likely as a reminder of her best friend, yes, but Marissa's euphoric speech also serves as a shared mission statement: "Fuck these haters, okay? Ni'Jah is our queen, and we got to protect her at all costs," she says as if hyping Dre up directly. For members of the Swarm, talking shit on Ni'Jah is an act of war, and defending her is their sacred duty. Their battleground of choice is Twitter, but sometimes actual blood must be spilled.
With Marissa's opening words, we find Dre on a cross-country mission to avenge her friend's death (which has become internet fodder). When the episode opens, Dre's in Seattle at the home of her target, a man who tweeted that Ni'Jah couldn't keep a man happy. He gets hammered in the face for his transgression in the first of the series' multiple murders and insights into Dre's psyche.
In the trailer for Swarm, it seems as if Dre's love for Ni'Jah is what drives the murders, but as we watch the show, we learn this isn't entirely the case. Yes, she is targeting people who have talked shit about Ni'Jah, but her inability to cope with her emotions is what leads to the violent killings. Mostly, it's Marissa's death, with the texts Dre's sending herself from Marissa's phone, guiding her on her killing spree. But what's even more interesting about Dre's murderous tendencies is that I don't think she necessarily enjoys the act of murder. She isn't into killing — she's into purging. Compared with other famous serial killers, both real and fictional, Dre lacks the artistry of some of her cohorts. Dre is sloppy, emotional, and uncontrollable, often sobbing as she hits her victims with a frying pan or rolls over them with her car. Then she's loose and free while cleaning up in some of the calmest states we've seen her. And almost always, she gorges herself with food after (and sometimes during) the kill. Murder and binge eating are Dre's ways to purge the emotions she keeps inside. She admits that bashing one of her victims in the head made her happy, but she says this as though murder is like squeezing a stress ball, not like a sport she's partaking in for the fun of the game.
As the show picks up the pace, it feels like a mixture of Dexter, Atlanta, and Poker Face. The serial murders take on an anthology feel with great guest stars and many pop-culture references. While Dre's in Seattle, Alice Dudley, a right-wing influencer and Ni'Jah hater, accuses the singer of talking about police brutality in her music (a nod to the conservative backlash from "Formation") and questions whether Ni'Jah is a true feminist. The Swarm immediately jumps to Ni'Jah's defense, with one fan doxing Dudley's address. Dre follows the lead, going to Brentwood in Los Angeles and to Dudley's gym, where Dre runs into George, a gym member wearing a Caché tour jacket with staff passes hanging from his bag. Caché is Ni'Jah's rapper husband who is embarking on one last tour before retiring (a direct reference to Jay-Z's 4:44 Tour). Its final stop is in L.A., and Ni'Jah announces on Twitter that she'll be in attendance, bringing Dre one step closer to seeing her idol in the flesh.
Dre's initial plan is to steal the concert tickets from George, but she ends up hanging out with him, and they talk about their addictions (Dre's comment that "sometimes it's good to give in" hits on so many levels). It takes only a few hours until they're binge eating together between make-out sessions, the ultimate bonding experience. He takes her to the Caché concert the next day, where she does everything possible to ensure she's present at the after-party; this includes locking George in a freezer. Once at the party, she's face-to-face with Ni'Jah but hilariously fumbles her chance at a meaningful interaction. She salivates in Ni'Jah's presence and goes into a trance, believing she's biting into a piece of fruit only to realize she has bitten into Ni'Jah's face like it's Eve's apple from the Tree of Knowledge.
Soon, like the rumor that Sanaa Lathan bit Beyoncé at a party for Jay-Z's 4:44 album, the internet floods with theories about who bit Ni'Jah's face, and the online mob is activated. Naturally, Dre believes she must apologize to her "friend" for biting her, so she heads to Tennessee where Ni'Jah is headlining the Bonnaroo music festival (paralleling Bey's history-making Coachella performance). En route, Dre is pulled over by a creepy sheriff who follows her until a white woman named Cricket (Kate Lyn Sheil) scares the police away. Cricket then invites Dre to stay with her and her friends until Ni'Jah's set.
Here, Swarm fictionalizes the NXIVM cult with Billie Eilish playing a charismatic cult leader, Eva. She runs the women's-empowerment group DecaWin, which she describes as "unlocking female potential through teaching, learning, training, and, most of all, healing." It's classic cult shit. From Eva and her followers' creepy speech cadence to the brandings each woman proudly sports as a form of "sacrifice," the comparisons to NXIVM are uncanny. A large part of all cults is ensuring that their followers are emotionally vulnerable, and Eva does this through her "Evolution to Understanding" therapy sessions.
In one of the series' best scenes, Dre sits down with Eva for an EU session. Eilish's acting is surprisingly great; she perfectly complements Fishback's intense performance as Dre opens up more than ever. Eva's brainwashing and lines of questioning cause Dre to reveal her real name (she's currently going by the name Kayla), disclose memories of her tough childhood, and confess that she thinks death is beautiful because it's "equal." Dre talks about being bullied and rejected as a possible reason for her seeking community in the Ni'Jah fandom. In the context of the cult she's mingling with, this highlights the strange ways people can seek community. Some, like Dre, find solace in common interests, even if it's an obsessive love for someone they've never met; others may find themselves the victims of cults, like Eva's followers. Both Dre and the ladies of DecaWin are drawn to their leaders. Eva (through her sessions and constant affirmations) and Ni'Jah (through her lyrics and persona) provide blueprints for being a strong, independent, fulfilled woman in a world that instructs women to be otherwise. Their followers feel seen. While it's normal to feel represented and honored when listening to a pop star's music (I do when listening to Beyoncé, for example), there's a fine line between being seen and having a full-blown unhealthy parasocial relationship. The popularity of social media and the increase in access to the lives of public figures and influencers have caused a rise in parasocial attachments. Still, fandoms like the BeyHive, Nicki Minaj's Barbz, and Taylor Swift's Swifties take it to the next level — the dedication these fans have borders on cult status.
Dre doesn't care about any of this, not her sudden emotional breakthroughs, not her repressed memories of being rejected, and definitely not her ruminations on why she's such a die-hard Ni'Jah fan. Once she realizes her phone is missing, she quickly snaps out of the trance and confronts Eva, who knows about Khalid's murder. Equipped with Dre's secrets and phone, Eva holds her hostage as a cult member. During an evening bonfire ceremony with the DecaWin ladies, Dre overhears the sound of drums from Ni'Jah's Bonnaroo set, and it dawns on her that she has no idea what day it is and that she's missing the performance. Dre panics. She gets in her car and demands her phone back from Eva, who threatens blackmail — and Dre runs Eva over for her transgression. The brainwashed women of DecaWin go full zombie, crawling on Dre's car and trying to retaliate, but they're no match for Dre's briefly sublimated rage, which she unleashes on her victims as she kills her way out of the compound.
Hive Mind
• I listened to Lemonade for the first time since watching Swarm, and wow, "6 Inch" will never sound the same: "Six-inch heels, she walked in the club like nobody's business / Goddamn, she murdered everybody, and I was her witness." LMAO.
• The fact that one of Dre's victims' last words are "Nigga, Twitter?" is satirically amazing. It encapsulates not only Dre's delusion but the real dynamic people have with social media. Sadly, Twitter is never just Twitter.
• Another real Beyoncé moment is a reference to the infamous Solange–Jay elevator scandal. I wish more time were spent talking about Alice and her "feminist" statements and how we look to people like Beyoncé to represent all women — or how white women are so quick to try to discredit Black women.
• Some interesting sexual undertones are going on that are vaguely hinted at. Dre clearly has a complicated relationship with sex. During her session with Eva, she mentions how she was called a homophobic slur when getting bullied, and there are all kinds of homoerotic moments within the cult. Plus, Ni'Jah/Beyoncé is a hypersexual artist, so I'm hoping there'll be more about Dre's sexuality in the coming episodes.