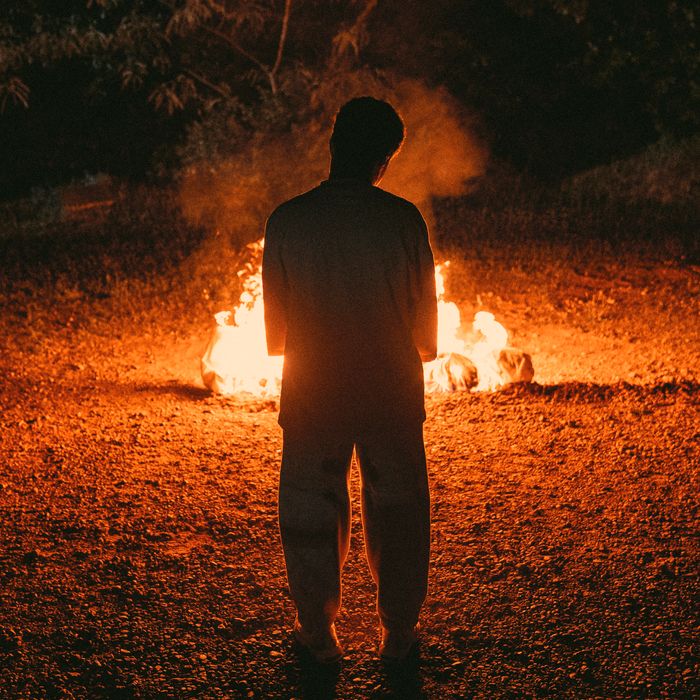 Swarm
Only God Makes Happy Endings
Photo: Quantrell D. Colbert/Prime Video
For a show that has created so much commotion, the finale ended not with a bang but in a whisper. Each episode added another fascinating layer, but the finished product is somewhat shapeless. If Dre is Swarm's Dorothy, I'm confused about where the yellow brick road led us. I'm left with so many unanswered questions it feels like a dead end.
I shouldn't be surprised that I left viewing Swarm in a state of discomfort, as that's one of Donald Glover's favorite things to do with his work. Janine Nabers cited using The Piano Teacher as inspiration because of how uncomfortable watching it can be. She wanted to re-create these feelings through the lens of a Black woman obsessing over another Black woman in the most violent ways. These themes were introduced via Dre's para-social relationship with Ni'Jah and her codependent relationship with Marissa, leading her into a homicidal psychosis. The added layers of addiction, binge-eating, grief, Black womanhood, and repressed sexuality make Swarm one of the most unique shows we've seen in a while, but the ending failed to tie it all together in a meaningful way. I yearn for two more episodes to flesh out the themes and commentary Swarm proposed at the beginning of the season. By not doing this, the show seems like Twitter topics lifted from the timeline to the screen with gorgeous cinematography and expert acting. And, like Twitter, this leaves too much for interpretation, leading viewers into an echo chamber of what we already know to be true (stans can be crazy and Black women are multifaceted), with the answers to the proposed questions dependent on the viewers' original stance. Swarm doesn't directly give any whys or hows, but it opens up the floodgates to an already polarized conversation.
If episodes five and six establish that Ni'Jah and the Swarm (and therefore Bey and the Hive) are merely a conduit to explore Dre's mental health, then it's expected that episode seven would conclude with a deep dive into Dre's psyche: Why the fandom community appealed to her and how the obsessiveness exacerbated her unhealthy behavior. But it doesn't. It gives us Dre's perspective of the events leading up to her onstage arrest and an opportunity to see a truly deranged Black female character in action, which isn't always seen. For too long, since it was rare for us to tell our own stories, a lot of Black television and film featured Black characters who upheld respectability politics as a way to reverse the damage of the slew of negative depictions of our people. And, in a post-BLM world when studios were forced into a mass reckoning with the lack of diversity in Hollywood, we were inundated with token Black characters (I'm over seeing Black women as therapists and judges). Glover and Nabers set out to give us a pure anti-hero.
The finale is not a redemption episode, but it is Dre's dream ending, literally and figuratively. Living in Atlanta in 2018 under the identity of a masculine-presenting woman named Tony, Dre's life once again parallels Bey's career. In 2018, Beyoncé and Jay-Z released a collaboration album titled Everything Is Love, meaning Ni'Jah must have done something similar, and our twisted protagonist stumbles into true love themself. A run-in with a clubgoer and her drunk friend develops into one of the healthiest relationships Dre has ever had. The clubgoer is a grad student named Rashida, played by the always lovely Kiersey Clemons. She comes from a healthy family and is honest, open, and unwavering about her desire for Tony from the beginning. It starts slow, but along with the new gender expression, Dre's temperament as Tony has changed to calm, cool, and collected, making it easier for their romantic relationship to develop. Her temperament has changed so drastically that even when Rashida says she hates Ni'Jah on the night they meet, Rashida walks away from the encounter alive and well. Months later they're in a committed relationship.
Rashida's whole family accepts Tony with open arms, welcoming them into their family bubble that's very clearly filled with love and affirmation. All of this is rubbing off on Dre, whose attitude is more outgoing and confident. Things are great on the surface, and we barely hear Ni'Jah's name or get any updates about what life is like for the singer, except Dre sneaking a peek at a Ni'Jah music video at the gas station. SZA's "Normal Girl" plays when they have sex for the first time, insinuating a possible "normal" future for Dre now that she's in a healthy partnership. But we go back to square one when Dre thinks it's a good idea to gift Rashida tickets to Ni'Jah's tour for their one-year anniversary. Marissa, who just came home from a long day at work, rightfully goes off on Dre's idea of a night celebrating their love.
Nothing about Rashida's stance on Ni'Jah has changed since she told Dre that she hated her. Her distaste for the walking embodiment of capitalism may have even increased in the year since they met. Dre's stance on Ni'Jah remains unchanged too; she's just a bit quieter about it now that she has assumed her new identity. But Rashida still hates how much space Ni'Jah takes up in their relationship, and these feelings explode as she goes in on Dre for the lack of thoughtfulness. She says Dre could have used the money for literally anything else and speaks down to her partner, calling her a selfish asshole who should have at least bought them tickets to see Ni'Jah's sister, sending a silent Dre over the edge. She wraps her hands around Rashida's neck until her lover quietly loses oxygen after pleading for Dre to stop. Dre holds Rashida's dead body, falling asleep with her girlfriend in her arms, officially returning to her old ways. And for those of you who believe the theory that Dre is the one who killed Marissa, this is a full-circle moment, as Marissa rejecting the Ni'Jah tickets is what made Dre snap.
Rashida's murder is the most emotional of all the kills we watched throughout the series. Dre looks away with tears in her eyes as Rashida struggles under her, making this the only murder she executes with her bare hands. Dre whispers, "I love you. I wanted to share Ni'Jah with you because I love you." She burns Rashida's body, wearing all white as she's in her purest form. Then she heads to the Ni'Jah concert, unaware that she burned her ticket that was still in Rashida's pocket. Racking up numerous dead bodies didn't stop Dre from her mission to meet Ni'Jah, so neither will this. She kills a scalper for one of his tickets and enters the stadium. Once at the concert, Dre hallucinates like she did when she bit Ni'Jah at the after-party and climbs onstage, magically avoiding security. Ni'Jah tells her security to let her go and hands Dre the mic, encouraging her to sing out into the crowd, and the two leave the show arm in arm through a swarm of buzzing paparazzi. They enter her limo and drive off, with Ni'Jah holding Dre close to her chest.
When Dre finally faces Ni'Jah, the woman we see onscreen is clearly the face of Nirine Brown, who plays Ni'Jah, and Marissa. Their identity being fused further emphasizes how much Dre's unhealthy love for Marissa was connected to her obsession with Ni'Jah. In the final moments, we get to see Dre's psychosis; she's finally seen by the world at large as she speaks to the crowd, and she's seen by the woman she loves the most. This is the ending she's always wanted, the feeling she's been chasing since the talent show. But, obviously, there's no way it's real, meaning the true ending to Dre's story is her arrest for climbing on the stage.
Dominique Fishback's performance is the most universally praised aspect of the show. Critics and viewers have raved about the depth she brought to the character, leaving us wanting to know more about Dre. Some people even root for her despite being a serial killer. What makes us see ourselves in this woman? How does all of this tie into celebrity worship? How does Dre's repressed romantic and sexual love for women correlate to her obsession? The show doesn't definitively answer any of this, since Dre doesn't have a backstory, and it ends before we can learn more. Beyond that, Glover doesn't seem to care about any of these questions because he wants Dre's character to feel like an animal, not a human being. In a Vulture profile on Fishback, Glover said he told her to "think of the character more like an animal and less like a person." It is a very poor choice of words for someone constantly accused of hating Black women (and who seemingly joked about being scared of us).
Glover has been hounded with challenges to write a nuanced Black female character that doesn't feed into his own warped observations of Black womanhood, so finding out that his next big project would have a Black woman protagonist was a big deal. But to then compare the lead character to an animal unworthy of a well-thought-out backstory is only more evidence that he doesn't particularly like us, nor does he care to listen to the critiques of women in his community who feel disrespected by his work. It detracts from his abundant talent and the other interesting topics he wants to explore.
The energy and discourse that Donald Glover brings to any project he's attached to will always lead to accusations of misogynoir for as long as he continues to say things like this. Or until he deals with whatever internal resentment he has about Black women. Sadly, this overshadows the work of a very talented Black woman writer. I've seen too many viewers attributing the show only to him as if he single-handedly wrote and directed every episode without mentioning Nabers. As a Black woman, I want to give Nabers her flowers. Whether I was satisfied with the ending or not, seeing work like this from the mind of a Black woman will always be a treat, and I'm anticipating more great work from her.
Regardless of anything anyone has to say, myself included, Nabers achieved what she sought out to do. As she told Vulture, "I really want this show to start a movement for Black writers to feel unafraid to tackle any subject matter and tell it in as punk a way as possible." She wanted to start a dialogue, and she did. So, in the words of Beyoncé Giselle Knowles Carter: "You know you that bitch when you cause all this conversation." Well done, Janine.
Hive Mind
• For me, the biggest missed opportunity in the show is failing to dive deeper into Dre's sexuality. There's a fascinating story about Black womanhood and gender identity that could have been taken further. Was Dre's masculine presentation a way to balance the shame she felt for her homosexuality? Or was it an easier way to get closer to Ni'Jah? Interestingly, Dre gets her period once she finally emotionally connects with another woman … is this a statement on womanhood?
• Adding Cree Summer to the list of guest stars rounds out a fantastic list of familiar faces. I never thought I would see Cree Summer, Paris Jackson, Rory Culkin, Rickey Thompson, Damson Idris, Leon, and Chloe Bailey in one project.
• I have many critiques for Donald Glover, but one thing you can always count on when he's involved with a project is that it will be aesthetically gorgeous. Swarm being shot on film gave the series a great texture and the feeling of nostalgia that matches the Beyoncé timeline.
• Kiersey Clemons delivers one of the show's best lines: "You could be a med student … or a serial killer."