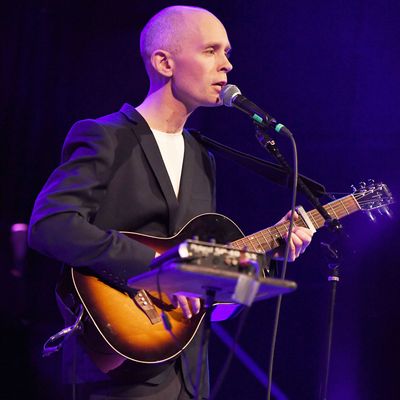 Photo: ANGELA WEISS/AFP/Getty Images
The other day, I was visiting the offices of a certain publication to get an early listen of a heavily anticipated album (no spoilers!), when an editor popped his head into the listening room: "This sounds like the Tough Alliance!" One of the twentysomethings in the room quizzically asked, "Who are the Tough Alliance?" With mock astonishment, the editor implored her to check out the Swedish agit-pop duo's brief, beautiful discography first thing after work.
I recount this anecdote not to shame anyone for not being aware of the totality of pop music that's been released in the world, but to highlight a fascinating byproduct of the passage of time: Around the time that Robyn's brilliant self-titled LP made its way to North American shores in 2006, indie culture had begun to develop a preoccupation with variants of Swedish pop and rock — from dusky guitar music to freaked-out techno-pop, and from brash electro to bright and sunny acoustic pop.
But trends come and go, and even though Robyn's latest, the clubby and delightful Honey, serves as a reminder that there's always interesting stuff going on in Sweden, much of the indelible and influential music that has come from the country over the last 15 years has perhaps become overlooked by younger generations (not to mention listeners who got hip to Robyn's music in the years since Robyn, as well as 2010's exquisite Body Talk trilogy). So we've put together a little primer on some artists from the last 15 years of Swedish indie, dance, and pop music — arguably, the three genres that Robyn's own work occupies — that are worth checking out if her bold pop music whets your taste for more Swede sweetness. It's by no means exhaustive, so if we've missed something, do unto others and introduce a friend to another of the wonderful artists that hail from Sweden.
The Tough Alliance
May as well start out with the act that was first mentioned in this piece: Throughout the 2000s, Henning Fürst and Eric Berglund produced some of the most fascinating and flat-out pleasurable pop music you've likely never heard over the course of three albums and five EPs, both on the storied Swedish label Service and on their own Sincerely Yours imprint (more on that later). Their last release was the indelible remix collection Prison Break, from 2009; check out DFA producer and dance music extraordinaire the Juan MacLean's remix of the title track from 2007's perfect A New Chance — it's total house music bliss. Steeped in Situationist politics and carrying a deep undercurrent of aggression, the Gothenburg-hailing TTA were somewhat notorious in Stockholm after being thrown off stage during a 2007 show when they began swinging baseball bats at the crowd. Their breakup was no less implosive, as Berglund soldiered on to the still-going CEO project after dismissively referring to his creative partnership with Fürst as little more than "teammates on a football team."
The Knife/Fever Ray
The dark, often dissonant duo of Karin and Olof Dreijer are one of a few acts on this list that also collaborated with Robyn in the course of their career; they produced "Who's That Girl?" off her self-titled LP. Otherwise, you're likely familiar with a sliver of the Knife's music one way or another: "Heartbeats," the lead track from their 2003 album Deep Cuts, was a blog sensation that put their names on the global indie map, and 2006's intense and glimmering Silent Shout was one of the decade's strongest electronic records, an impeccable fusion of techno's irradiated pulse and sproingy synth-pop that left a trail of imitators in its wake. After two excellent left-turn follow-ups — 2010's operatic Tomorrow, in a Year, and the coruscating noise of 2013's Shaking the Habitual — the pair hung it up, but Karin continues with her radical Fever Ray solo project, which just released its stellar second album Plunge last year.
Jens Lekman
Often compared to former Modern Lovers frontman and modern-day troubadour Jonathan Richman and wielding a dizzying array of samples atop a guitar-based framework, singer/songwriter Lekman has made a name for himself since 2004's When I Said I Wanted to Be Your Dog through chronicling the same unmistakable feelings of new love and heartbreak that Robyn's proved herself so adept at. Frustratingly, the excellent 2005 compilation Oh, You're So Silent Jens isn't currently available on streaming services, but no matter; 2007's Night Falls Over Kortedala is a beautiful place to start, with its tributes to illicit hairdressers and odes to drive-in bingo nights — and if you can track it down, the companion EP Kalendervägen 113.D showcases Lekman in a more stripped-down format, as he performs Kortedala standouts and a few covers alone in his apartment while providing some commentary along the way.
Icona Pop
Caroline Hjelt and Aino Jawo just want to have a good time. Can you blame them? As Icona Pop, they make high-energy electro-pop that comes closer to the big-tent vibes of EDM than anyone else on this list — if you've been to a sporting event or seen a movie trailer some time in the last four years, you've undoubtedly heard their heart-pumping 2013 Charli XCX collab, "I Love It." Their sophomore LP from that year, This Is … Icona Pop, has plenty of huge cuts to match that song's effortless energy, with party-hardy synths and shout-along choruses that are so radiantly positive they feel like an injection of vitamin C. Their third LP is reportedly due next year, so you have some time to get your serotonin levels up to be ready.
Peter Bjorn and John
The Stockholm trio of Peter Morén, Björn Yttling, and John Eriksson hit it big back in 2006 with the whistle-laden "Young Folks," but their career has been much deeper and longer-running than that song suggests: for one, the album it was from, Writer's Block, still holds up as a wonderfully multifarious collection of indie rock's varying sounds, and their discography is littered with choice tunes otherwise. After you've finished with Writer's Block, dive into their first two LPs (2002's self-titled debut and Falling Out, from 2004) and then fast-forward to this year's solid Darker Days — it's the best the band's been in more than a decade after some mediocre efforts between Writer's Block and now.
The Field
Sweden's no stranger to quality real-deal dance music, from the dark disco of Robyn collaborators Mr. Tophat and Art Alfie to Baba Stiltz and the Studio Barnhus crew's woozy, playful hip-hop-indebted house music. In particular, Stockholm-based DJ and producer Axel Willner has made his mark on techno over the last decade under his alias of the Field; his classic 2007 debut From Here We Go Sublime is seen as a landmark release for the dance sub-genre, flipping the sparse aesthetic of minimal techno by employing repetition to create dense thickets of sound. His releases since then have been very reliable, leading up to this year's Infinite Moment; if you're looking for a darker path after Sublime's heavenly radiance, maybe check out the alluring and shadowy grooves of the 2013 masterwork Cupid's Head — or, take the opposite direction and jam out to his remix of Swedish sensitive-rockers the Honeydrips' "Fall From a Height," a sugary flip that is nothing but melodic gooeyness.
Lykke Li
Pop singer-songwriter Lykke Li cut a promising figure with her 2008 debut Youth Novels (produced by Yttling of Peter Bjorn and John, naturally), and her music has only gotten more sumptuous and dense since then. 2011's Wounded Rhymes added a darker edge to her sound, while the 2014 breakup chronicle I Never Learn found the singer, born Li Lykke Timotej Zachrisson, blowing up her sound to cavernous yet intimate proportions, practically going full-Adele in the process. Her latest, So Sad So Sexy, came out this year; when it comes to her discography, best to start from the beginning to get an idea of how she's progressed artistically.
The Sincerely Yours label
There are a few Swedish indies chock-full of indie-pop gems — the aforementioned Service, the more rock-based Labrador imprint — but Sincerely Yours deserves its own recommendation because of its bewildering digestibility. Over the span of seven or so years beginning in 2006, the TTA-run label released some of the strangest, scariest, and most flat-out beautiful pop music in recent memory, from sorely-missed collagists Air France to narco-pop druggies jj and elusive singer Kendal Johansson (whose sole song to date, a 2010 cover of Big Star's "Blue Moon," has remained one of indie-pop's great mysteries from this decade). If all this wasn't enough, Sincerely Yours were practically the Swedish version of Supreme (don't laugh) — in addition to their limited-edition vinyl releases, the imprint would put out high-end SY-stamped items from armlets to bulletproof jackets (yes, really).
The Radio Dept.
Speaking of Labrador: The Malmö-founded label's been running for 21 years now, and they've released an impeccably sturdy collection of the country's indie rock — spanning dark goth, synth-laden dread, and classically jangly indie-pop — since the Tough Alliance guys were practically in short pants. I was in Sweden a few years ago to check out Gothenburg's Way Out West festival, and while taking an audio tour of the city I could've sworn I heard a tune or two from the label's flagship act, Acid House Kings — and then there's the Radio Dept., Lund's gloomy lo-fi mood-makers who landed a whopping three songs on Sofia Coppola's Marie Antoinette soundtrack in 2006. The best of those songs, "Pulling Our Weight" (from their 2003 debut, Lesser Matters), is certainly playlist-worthy, but their high-water mark is still 2010's gorgeous and distant Clinging to a Scheme (although 2016's political Running Out of Love is certainly worth your time, too).
Tove Lo
Stockholm pop singer-songwriter Ebba Tove Elsa Nilsson first broke big on U.S. shores with 2014's "Habits (Stay High)," a moody synth-pop song extolling a life spent eating dinner in the bathtub and hitting the sex-club circuit — in other words, disarmingly frank pop music, which Tove Lo has turned into her calling card. Her last two LPs, 2016's Lady Wood and the sequel-of-sorts Blue Lips, from the following year, have explored chemical bliss and sexual freedom with equal aplomb, with some memorable visual treatments to match; check out the Muppet-sex (you read that right) clip for strobing single "disco tits," or the hilarious cunnilingus-themed video for the remix for "Bitches," which features Charli XCX and fellow Swedes Icona Pop as well as an acting turn from Broad City's Paul Downs.
José González
Some more Swedish wire-crossing here: many in the States became aware of González's spellbinding folk music through his cover of the Knife's "Heartbeats," which was almost as much of a blog hit as the original back in the day. That cover was taken from his 2003 debut Veneer — but perhaps it's best to start with 2007's stark In Our Nature, a hollow and lovely record that finds González creating cyclical tapestries of sound with just his voice and a guitar. González often gets compared to late folkie Nick Drake, which is both fair — try listening to In Our Nature with your eyes closed and not thinking of Pink Moon — and shortchanging his own range; in addition to his solo project, he mans the sometime rock group Junip, whose 2010 debut Fields is also worth exploring if In Our Nature grabs you the right way.
Love Is All
Much of the rock-based music on this list lands on the slow, slightly sad-sounding side. Love Is All are not that type of band. The Gothenburg greats' current status is unknown, but from 2006 to 2010 they released three amazing albums of spiky, energetic indie rock with conversational vocals and jagged guitars, not unlike legendary British indie act Life Without Buildings. All three albums are great, but 2006's debut Nine Times That Same Song is absolutely perfect — a practical bridge between Sweden's sweet-sounding indie-pop style and the raucous sound of downtown NYC rock circa the early 2000s.