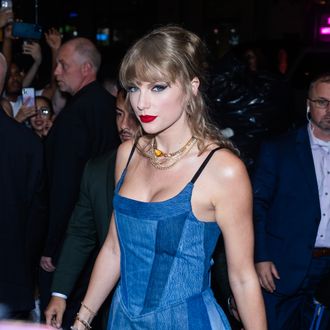 The full 1989 (Taylor's Version) tracklist is finally here, and you won't even have to google it. Swift posted the album cover to Instagram, and if you can read her handwriting, you'll see the vault tracks include "'Slut!'," "Say Don't Go," "Now That We Don't Talk," "Suburban Legends," and "Is It Over Now?" None of the tracks have listed features, dashing some speculation over a Nicki Minaj collaboration, but fans also suspect Swift will have another Target-exclusive track for the album. "Thank you for playing along, sleuthing, puzzling, and making these reveals so much chaotic fun (which is the best kind of fun, after all 😜)," Swift wrote on Instagram to her fans on September 20.
The Swiftie activity had already threatened to break, break, break the website, with Google posting that the vault puzzle was jammed within hours, and the search engine was in its "fit-it era" to try to get Swifties back on track. What did they expect when they asked fans to solve millions of puzzles in order to reveal the five vault tracks to 1989 (Taylor's Version)? For everyone to calmly solve one puzzle a day like it's a crossword? Here's how it worked: Google "Taylor Swift," click the vault, and solve the puzzle. Per Google, there were 89 different puzzles (for obvious reasons), and once 33 million were solved globally, the vault would be cracked open. Swift skipped the release of a vault puzzle for Speak Now (Taylor's Version) earlier this year, making it the only vault song reveal without a game to go along with it. You could say … Swifties are lusting to play this game. All the vault had to do was stay. Not that Swift needed the SEO help, but the strategy worked — according to Google Trends, search interest in her name more than tripled in a single hour. Tree Paine, you've done it again.
This post has been updated.