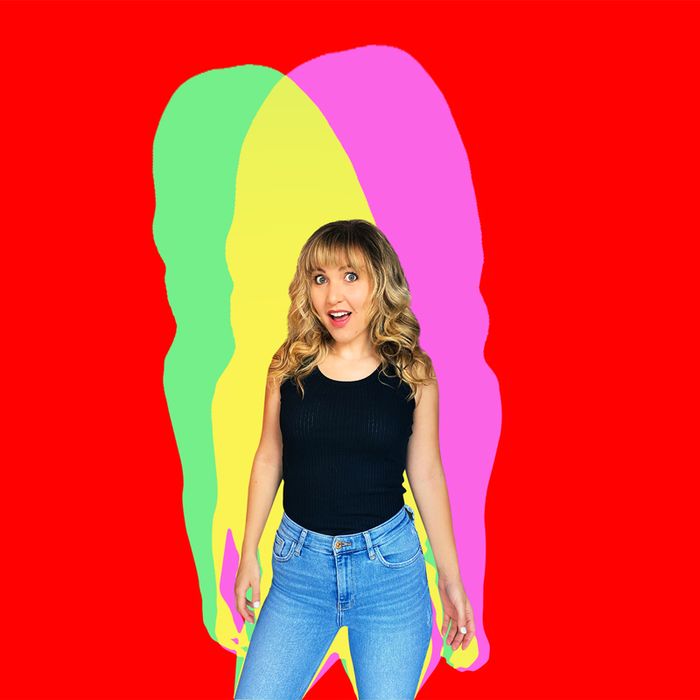 Taylor Tomlinson.
Photo-Illustration: Vulture and Photo courtesy of comedian
This week, we're highlighting 20 talented writers and performers for Vulture's annual list "Comedians You Should and Will Know." Our goal is to introduce a wider audience to the talent that has the comedy community and industry buzzing. (You can read more about our methodology at the link above.) This year, for the first time, we asked the comedians on this list to answer a series of questions about their work and comedy under quarantine. Next up is Taylor Tomlinson.
When did you feel that you were funny enough to make a legitimate go at comedy?
I started doing stand-up in high school and knew I was funny, but I didn't think it was something I could actually do full-time until I was maybe 19 or 20. After graduation I went away to college in a beach town where there was nowhere to perform and realized I needed to do stand-up. So I transferred back home near San Diego and met other young comics who were really going for it, every night. That motivated me. Other people were really trying to make it, why couldn't I?
Describe your comedy in five words.
Personal, relatable, dense, polished, funny. (I hope.) This question always makes me feel like a psychopath, describing my own style of comedy. Also five words is so many. I'm sorry I used "funny." I was clearly struggling.
If you weren't a comedian, what would you be doing?
Writing young-adult novels in a cabin. It was not a cool plan, but it's what I wanted to do when I was a kid.
What of your work do you think you're best known for?
My Netflix special Quarter-Life Crisis. I'm very proud of the way it came together and feel like it's a good representation of who I was at that time in my life.
What's some of your work that you're most proud of?
My Netflix special, my late-night sets, and a project I just sold that I can't talk about but am very proud of.
How has quarantine affected the way you approach your comedy and your audience?
I didn't go onstage — indoors, outdoors, nothing — for five months. That was crazy. It still is. I'm rusty.
What have you done in quarantine for comedy that you thought you would never do?
I never would have done sketches on Instagram before quarantine. Not because I think Instagram sketches are dumb, but because I didn't have the self-esteem to do it. To me, it really feels like putting yourself out there in a big way. Acting is embarrassing for me. Stand-up had to be taken away for me to consider it.
Who are some of your favorite comedians right now? Who is putting out work that excites and inspires you?
Maria Bamford is my favorite comedian, but there are so many comedians pivoting during this time in ways that inspire me.
What is the best comedy advice, and then the worst comedy advice, you've ever received, either when you were starting out or more recently?
The best comedy advice in the beginning of my career was get onstage every night, as many times as possible. It's the only way to get better. You can't practice stand-up alone in your room. You can't find out if a joke works by asking two of your friends.
Tell us one story from your childhood that is a good representation of your life.
I got my period early and now I'm a comedian; those things are probably connected. And my mom died. Are these the hilarious fun stories you were looking for?
Assuming quarantine ends at some point, is there anything about the way that comedy or the industry in general has changed that you hope continues post-quarantine?
I hope meetings continue to take place on Zoom — especially general meetings. Nobody needs to take a flight and/or sit in traffic to make small talk and drink Dasani.