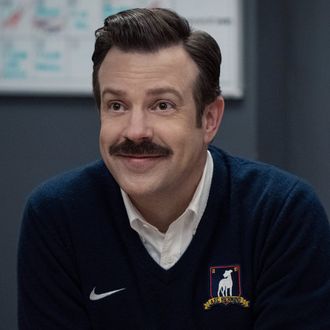 Spoilers follow for Ted Lasso's season-three — and possibly series — finale, "So Long, Farewell."
One of the many — arguably, too many — story lines resolved in the season-three finale of Apple TV+'s Ted Lasso is that of Trent Crimm's book about AFC Richmond's season. Nearing the completion of his first draft, the reporter, formerly of The Independent, gives early copies to coaches Lasso and Beard and welcomes their notes. Lasso loves it, but quibbles with its title, The Lasso Way. "One small suggestion," he notes. "I'd change the title. It's not about me. It never was." Later, Crimm is seen at a book event, signing a book titled The Richmond Way. There are a couple of ways to interpret this. It could be one final display of Lasso's humility and team-mindedness before he moves back to Kansas to be closer to his son and the show ends its run permanently. Or it could be the show's winking way of closing the door on Ted while keeping the window cracked for future iterations without him.
This is a reflection of the ambiguous party line regarding the show's future its creators and actors have stuck to since creator Jason Sudeikis initially indicated Lasso would end after three seasons in 2021. He walked this claim back ahead of the season premiere in March, telling Deadline that season three marks the end of the story he wanted to tell but that they'd "set the table for all sorts of folks … to get to watch the further telling of these stories." More recently, there was this David Lynch–referencing tweet, sent by the official Ted Lasso account ahead of the finale: "I can't tell you what's happenin', but I sure as heck don't want it to end." Generally, there seems to be some consensus that one chapter of the show is ending, but that anything could happen in the future.
With a complete lack of clarity either way, all fans can do is look to "So Long, Farewell" for clues. And like an inkblot that looks like whatever your psychology projects onto it, the episode reflects both possibilities. In many ways, the episode functions exactly like a series finale, putting neat bows on story lines involving Nate, Rebecca, Beard, Sam, Colin, Shandy, Zava, and more. There are glimpses of Nate chumming it up with his dad! Rebecca has a chance reunion with her Amsterdam boat fling and his daughter! But there are dangling threads, too. After finishing the season in second place, will AFC Richmond get another chance to win the Premier League title? Will Roy or Jamie end up with Keeley, or did they ruin their chances with her permanently by fighting over her like oafs? These questions remain.
Perhaps the strongest clue of a continuation of the series without Lasso is a montage at the end showing Coach Beard's future wedding to his longtime partner, Jane. Nowhere to be seen in the festivities? Lasso. Does it seem a bit weird he wouldn't find a way to fly out for his best friend's wedding? Of course. So much so that it's glaring. But if this is the show's ham-fisted way of foreshadowing that these characters' lives continue without Lasso in the picture, yeah, point taken.