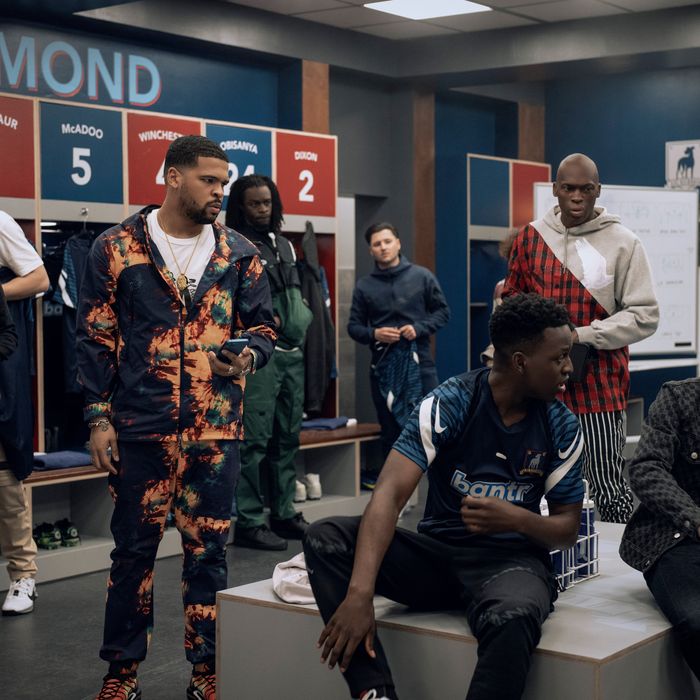 Photo: Vulture; Photo: Apple
Welcome back to a new season of AFC Richmond football action! Oh, right, that also means we've begun a new season of Ted Lasso, the TV series that chronicles the ups and downs of the Greyhounds on and off the field. At least for now. If you missed the news, Jason Sudeikis recently revealed that this third season of Ted Lasso will be its last, telling Deadline, "This is the end of this story that we wanted to tell, that we were hoping to tell, that we loved to tell." Though spin-offs remain a possibility — The Adventures of Will Kitman, Kit Man maybe? — it's going to be three seasons and out for the series proper. (The news arrived around the same time as both Barry and Succession revealed that they, too, would be bowing out after their current seasons. It feels like the beginning of the end of an era.)
The series will be missed, but as the story of Roy Kent illustrates, there's something to be said for knowing when to hang up the cleats. If Ted Lasso can deliver one more memorable season, it will likely have assured itself a place in the TV Comedy Hall of Fame (located, I believe, in the lobby of the Chicago apartment building where Bob and Emily lived in The Bob Newhart Show). But that's something to worry about later; we've got 12 episodes before we get there.
That journey kicks off with "Smells Like Mean Spirit," which finds the Greyhounds still in preseason mode, Ted (once again) in a vulnerable emotional state, Keeley taking care of (a new) business, and Nate (maybe) going full football supervillain. All that only becomes apparent, however, after a fake-out (or maybe a piece of foreshadowing).
The episode begins with Ted looking a little rough (the unkempt mustache is the giveaway) despite what appears to be a major change in his life. As he sits in the airport, he receives a text from his wife, Michelle, telling him she loves him. Or, more accurately, she loves somebody. The intended recipient turns out to be their son, Henry (Gus Turner), whom Ted has to pull away from his game of Super Smash Bros. in order to get him to the gate on time. After a summer in London, Henry returns to Kansas City and Emily and, in Henry's words, a troubling "political landscape." ("I have a tendency to doze off with CNN on," Ted explains to the friendly airline worker charged with getting Henry on the plane.)
With a warning not to watch other passengers' screens lest they be watching movies about scary clowns in sewers (a lesson learned the hard way that will have consequences later in the episode), Henry's off, but not before leaving his father with a final gift: a LEGO rendition of the Premier League trophy he hopes his father will win (the EFL Cup, specifically … or the Carabao Cup, if you want to use the sponsored name).
All this is understandably a bit heavy, so Ted would make a seemingly scheduled call to Dr. Fieldstone (Sarah Niles) on his way back from the airport. Their conversation plays out over footage of Ted cleaning up his new Henry-less apartment after placing the miniature trophy in what's become his place's centerpiece: a LEGO rendition of Wembley Stadium complete with miniatures of Ted's co-workers (including Nate, who's been placed away from the others). The talk includes a typical Ted anecdote involving parental neglect, his own selflessness, and a train accident.
More to the point, Ted's begun to wonder why he's still in England. "As the man once said," Doc replies, "doubt can only be removed by action." A fan of pithy sayings, Ted likes that. But it feels like that way of thinking could lead to some big changes down the line. (With the revelation that Doc has a boyfriend, or at least someone who sleeps over, she's clearly had some changes of her own.)
Though Ted seems to have found some calmness (and cleaned up that mustache) by the time the credits roll, Greyhound quarters is an unsettled place. Rebecca (Hannah Waddingham), for one, is having trouble letting go of the news that all the sports pundits have AFC Richmond set to end the season in last place.
It's this scene that greets Ted when he arrives, pastry in hand but with no jolly wordplay to accompany it. Ted's still feeling downcast about Henry's departure but freely sharing that feeling instead of keeping it bottled up. Rebecca also lets her feelings flow freely. What's worse, the same pundits predict great success for West Ham, the team now owned by Rebecca's scheming ex-husband, Rupert (Anthony Head). Rebecca's concerned for her recently promoted team, of course, but she's also taking this development personally. She wants to put a little more "firepower" into the team. Ted's not so sure, however, politely noting that the team they have is "gelling real nice," and he predicts they'll do "just fine." That's not, Rebecca reminds him, what he promised her. He promised to "win the whole fucking thing." Message received.
As in the head office, so in the locker room: having read the same pundits, no one is happy. Well, that's not exactly true. Dani (Cristo Fernández) seems happy enough in spite of the dire projections, and Jan (David Elsendoorn) remains as pragmatic in his thinking as usual, noting that most promoted teams only last a year, statistically speaking. But Isaac (Kola Bokinni) is especially enraged, and the others are worked up too.
In the office, things are a little calmer. Roy (Brett Goldstein) reports back to Coach Beard (Brendan Hunt) with a positive review of Hoosiers before revealing his strategy for the new season: Keep it simple. It's a back-to-basics approach after Wonderkid Nate the Great's (Nick Mohammed) four-dimensional chess approach, but he thinks it's a winner, and Ted, armed with knowledge gleaned from playing FIFA with Henry, signs off on it.
Speaking of Nate, he has settled into his new office and his new attitude. He's focused to the point of rudeness, but it's social media that has his attention, and social media is telling him he's about to have an amazing year. Also in a new job: Keeley (Juno Temple), who now presides over KJPR, gives spirited quotes to Joe Rogan from her office as her curiously muted staff goes about their business. Keeley has a lot of privacy, thanks to the sleazy tendencies of the previous tenant, and that comes in handy, because it gives her space for her regularly scheduled crying session.
Today she's double booked the spot with Rebecca's visit, which conveniently gives Keeley a shoulder to cry on, even if the mascara does a number on Rebecca's blouse. (She doesn't seem to mind.) Rebecca appreciates Keeley's love of a good cry, having gone years without crying. She has worries of her own, too. Maybe Ted's not concerned enough about winning. ("Let Ted be Ted," Keeley tells her.) And Rupert, despite Rebecca's protests, is very much in her head, even if she's no longer driven to a destructive rage by his very existence.
Keeley considers Rebecca a mentor and a guru, but the arrival of Barbara (Katy Wix), the CFO appointed by her investors, suggests she still has a lot to learn about being business savvy (beyond not knowing what "CFO" stands for). Pointedly declining to call her boss by her first name, Barbara informs Miss Jones that her plans to spend £200 on office flowers will not fly, flowers being for two things: "Dead people and dead marriages."
Flitting between Keeley, Ted, and Nate, the episode offers a study of management style contrasts. Nate has none of Keeley's problems wanting to be liked. He gave up on that with the heel turn that sent him into Rupert's employ after telling off Ted. His coaching style mixes repetitive drills with humiliation. Players get the job done, or they end up standing on the "dum dum line." (He's not subtle.)
Nate is deferential to Rupert, who has returned from a trip with his "dear friends the Sacklers" and is ready to work again in an office that could have been made for a supervillain. Rupert's in a good mood for the same reason Rebecca's in a bad one: He loves what the pundits have to say, and he's eager to hear Nate apply his cutting wit at the upcoming press conference. The only thing troubling him: There's an ugly Mini Cooper parked in the prestige lot that needs towing. He stops after Nate sheepishly claims it as his own.
The players bring their downcast mood to the field, but Ted's not having it. With some help from Kenneth (Mark Kempner), a failed cult leader and dedicated hippie, they all take a bus trip to a destination of Ted's choice: the sewer. That might seem like an odd choice, but it's soon revealed as the perfect site for one of Ted's motivational speeches.
Ted first toured the place to help Henry overcome his It-inspired fears. The team's current situation put him in mind of it: Like the cholera-stricken London of 1857, they need to construct an "internal sewer system" to remove that mental waste. And, because they're so connected (like London's 1,200 miles of sewer tunnels), they can use their teammates to help flush that sewer out, metaphorically speaking. With the lesson ended (and well received), they decide to head back to the surface.
Back from Keeley's, Rebecca decides to watch the West Ham press conference, which is quite the event. Nate's nervous, so nervous he quotes lyrics from The King and I as an answer, then has to disappear under the desk in fear. Recalling past moments of humiliation, he works up enough anger to spit (a meaningful gesture for Nate) and emerges a transformed man: Confident, articulate, and mean. He spars with reporters and delivers a zinger about how AFC Richmond is expected to finish 20th because there's no 21st. Emboldened by the ensuing chuckles, he comments that a picture of AFC United descending into the sewers makes sense because "their coach is so shitty." Rupert loves that. Rebecca does not.
Nate's comments don't go over so well with AFC Richmond either, but Ted finds he doesn't have to jump in to guide them through their reaction. Jamie Tartt (Phil Dunster) is on it, reminding them of Ted's sewer lesson and sealing the reminder with a Ted-worthy bit of wordplay directed at Dani: "Bingo, el Ringo." Heading into their third season, Ted's started to become part of the way the team thinks even when he's not in the room.
That allows Ted to focus on his own press conference — after an uncomfortable meeting with Rebecca. She doesn't want to finish last, she doesn't understand why they needed to take a field trip to the sewer, and, worst of all, she knows Rupert is laughing at her. She begs Ted to fight back.
That's not really Ted's style, however. He's all smiles and folksy charm as the press conference begins, noting he and the team have 38 chances to prove the pundits wrong. With Trent Crimm no longer at The Independent, his successor, Marcus (Marcus Onilude), asks the tough questions about Nate. Now's Ted's chance to punch back, a chance he passes up. Instead, Ted engages in a round of weaponized self-deprecation. He thought Nate's comment was "hilarious" and has nothing bad to say about his tenacious and smart former assistant coach.
The reporters are disappointed (though not as disappointed as Rebecca). Then Ted keeps going. Couldn't Nate have come up with something better? After eventually getting them onboard with the classic "I'm so dumb" / "How dumb are you?" joke structure, he unleashes a bunch of zingers at himself that charm the hell out of them (and wins Rebecca's approval after Keeley texts her thumbs-up). He even brings up his history of panic attacks before anyone else can. The only person who's not won over by the strategy is Nate, who barely has time to fume or process an approving text from his mother before Rupert's assistant shows up with the keys to a sports car. No more Mini Cooper for him.
Ted Lasso's third season has a lot of dangling threads left over from season two to attend to, and this premiere doesn't get to all of them. What, for instance, is going on with Sam and Rebecca? Or, for that matter, how are Sam's plans to launch a Nigerian restaurant going? Maybe they're going really well, and that's why Rebecca gave up vegetarianism? How are Beard and Jane doing? We'll have to wait to find out. Other threads get half-tended to. Jamie, still a seemingly reformed bad boy, has a role to play in "Smells Like Mean Spirit," but his lingering feelings for Keeley remain unaddressed. The other two corners of the love triangle that might have existed only in Jamie's mind, however, are spending the evening together.
It's not a romantic reunion. Roy and Keeley are spending the evening together for the sake of Phoebe (Elodie Blomfield) to inform her that they have broken up. (Which took place a while ago. Is it odd they're just now getting to it or that Phoebe hasn't noticed?) In telling her, they both speak at once, but they're not quite on the same page. Keeley says, "We're taking a break." Roy goes with, "We broke up." Ultimately, Roy's explanation prevails, but Phoebe has a different question: Why break up in the first place?
Roy's answer, "We're too busy," doesn't fly, and his elaboration prompts Keeley to try to soothe his anxieties about his changing job. Still, Phoebe, a child of divorce who counts "nothing lasts forever" as one of her "core beliefs," takes it in stride. That doesn't stop her from pressing the issue on the way home or offering the opinion that he's being — bad-word warning — "stupid." Roy has a hard time arguing back.
As the episode draws to a close, Ted asks some fundamental questions of his own. Why is he here? In London, not on earth, he clarifies. Coach Beard has no answers, and Ted has to get home anyway to talk to Henry, who's safely back at home. He's also wondering why Nate is away from the other AFC Richmond staffers and reminds his dad that they can still be friends, right? Ted doesn't hesitate before agreeing and returns Mini-Nate to the sidelines. He tries to get an answer from Henry that Beard can't give him: Why is he still here? Henry tells him he's there to win the whole thing before showing him a gift from "Mommy's friend." Ted might look more put-together at the end of this episode than at its beginning, and he may keep a smile on his face, but this news does not land well.
Biscuits
• Nate spent Ted Lasso's second season descending into egomania and paranoia. He's probably not going to end the show's run in that dark place, but the text from his mother serves as a reminder of why he's there now. His success has earned her approval. His father objects to his language. In many respects, he can't win. What he can do is seek alternative father figures — first Ted, now Rupert, whose Machiavellian qualities and disregard for others' feelings he has taken to emulating. Whether he can sustain this is another question, however, as is how long it will last when the glow of Rupert's approval fades. He can't be a Wonderkid forever.
• The first song of the season, playing as Ted makes his way back home, is "Wigwam" from Bob Dylan's 1970 album, Self Portrait. It was a notorious bomb in its day, though its rightly been reassessed in recent years, even if it still contains some pretty dreadful moments. "Wigwam" isn't one of them, however, and it matches both the mood of the album, which finds Dylan trying to figure out what to do next, and of Ted, who's stuck in a similar state of mind.
• Nate's walk-on music is "Follow the Leader," a track from Eric B. & Rakim's 1988 album of the same name. It's filled with lines in which Rakim asserts he's the real thing in the world of "rent-a-rappers." For Nate, it seems like an attempt to assure himself he's also the best at what he does and in the right place doing the right thing. But does he believe it?
• The "Believe" sign has been repaired and restored.
• Rebecca's reference to crying at the "John Lewis Christmas commercial" will probably baffle most U.S. viewers. John Lewis is a British department store famous for, among other reasons, annual Christmas ads that pull at the heartstrings. Here's the latest, which seems merely cute at first, but brace yourself.
• The Great Stink of 1858 might sound like a joke, but it's not. It polluted the Thames, sickened the populace, drove Parliament out of the city, and led to the creation of a massive and still-in-use sewer system.
"I look like Ned Flanders doing cosplay as Ned Flanders." Good line.